Boys' basketball endures 79-62 loss to St. Bonaventure
Green and gold meshed with red and black highlighted a packed gymnasium for an anticipated Friday night showdown between two league rivals. On Jan. 11, the Foothill boys' varsity basketball team played host to the visiting Saint Bonaventure Seraphs at Ventura College. The Dragons kept up with the Seraphs stride for stride for three quarters, but Saint Bonaventure took control in the fourth quarter and preserved a 79-62 league victory.
Final from Ventura College gymnasium: Seraphs 79, Dragons 62 @fths_athletics pic.twitter.com/BN4CoqjdK4

— Dragon Press Sports (@FDP_Sports) January 12, 2019
Early in the game, Nate Bova '19 established himself as the primary scorer for the Dragons. Of Foothill's 19 points in the first quarter, nine of those points belonged to Bova. After Bova had given the Dragons a 19-17 lead with a bucket coming off of a steal, the Seraphs drained a three-point field goal as time dwindled, giving St. Bonaventure a 20-19 advantage after one quarter.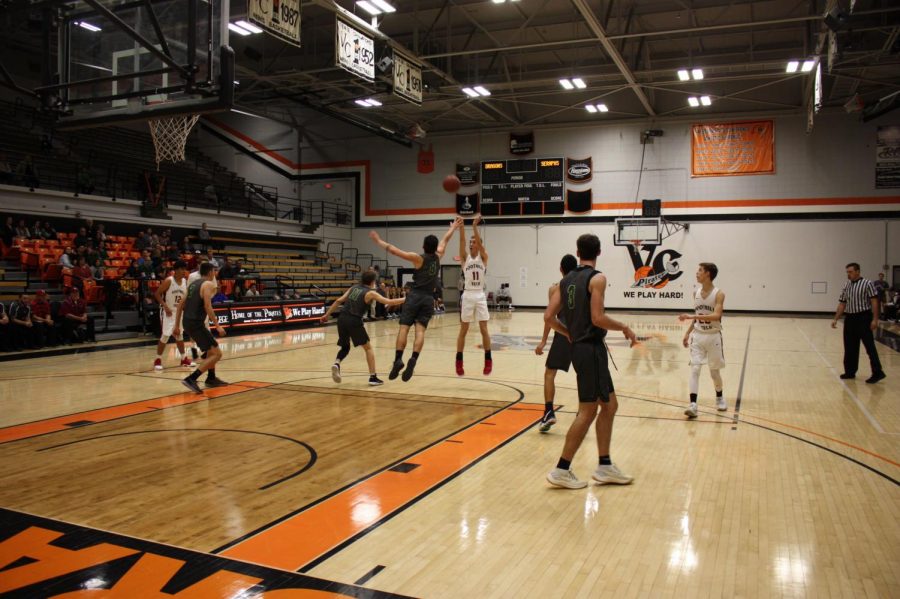 Bova finished the game with 23 points, noting that his shots "were dropping for me" and "that's good for our team."
After a few minutes had gone by in the second quarter, Foothill found themselves in a nine-point hole, but a 10-0 Dragons scoring run quickly flipped the script. The ten unanswered points culminated with a deep three-pointer from guard Jack Vielbig '19. The final three minutes of the half went back-and-forth, but the balance eventually tipped in the Seraphs' favor, giving them a 44-39 lead heading into the locker room.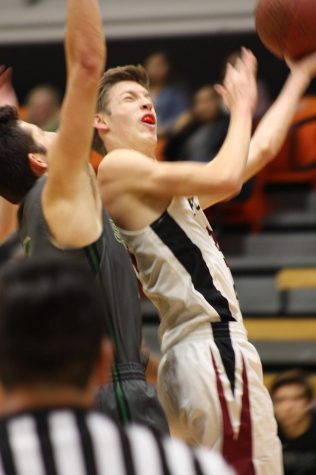 The following quarter was characterized by the long ball. In total, the third quarter produced five three-point field goals, four of which belonged to the Dragons. Bova and Vielbig were both responsible for two three-pointers, respectively. Foothill ended up inching closer by the time the fourth quarter arrived, with the scoreboard reading 59-55 in favor of the Seraphs.
But by the time the final buzzer sounded, the contest was anything but close. The Dragons were outscored in the fourth quarter by 13 points, making the final score a 15-point margin.
However, the end result did not take away from the team's valiant efforts to emerge victorious, according to Bova.
"We went out there giving it everything we got. We played well, we didn't turn it over that much […] so we were able to hang with [the Seraphs]," he explained. "They pulled away in the final minutes and ended up winning the game but we're proud of ourselves overall. It was a very hard fought game, we kept it way closer than anyone thought we would have."
Bova continued by stating that "it was everything for us. We knew coming into this game that we were the underdogs and it's going to take all our effort, all our heart to hang with these guys and that's what we did."
Head coach Dean Prophet emphasized that the Dragons remained competitive because of the ability to hit shots early.
"Well, we've always felt that if we shoot well, we can stay with any team that we play," he said. "So,after our first few possessions with turnovers, we were able to hit some shots to stay close," he said.
According to Prophet, the fourth quarter Seraph domination was mainly attributed to Foothill's fatigue factor.
"The fourth quarter I think some of our players that normally score ran out of a little steam," Prophet said. "We had to play them a lot this game and we were a little step behind in getting shots off and the legs were gone, so we were short on a couple shots."
On Jan. 30, Foothill has the opportunity to play this same Seraphs team. The game will be played at Saint Bonaventure High School, where the team will be celebrating Senior Night to commemorate the last regular season home game for the graduating Class of 2019.
Bova insisted that "we're gonna come out there with the same energy, same passion and try and steal that game from them."
"We've wanted to get these guys for the longest time. We tried tonight, we weren't able to get them but we have another chance at their senior night."