Since August of this year, Associated Student Body (ASB) Awareness Week Director Hannah Yale '20 and ASB Vice President Josiah Beharry '19 have been planning to stage a Pride Week with the intention of establishing Foothill as a welcoming place.
When ASB organizes such awareness-based events, they take into consideration: "What are the needs of the Foothill student body?" and "How do we best serve those needs?" according to ASB Coordinator Melanie "Captain" Lindsey.
In Yale's eyes, the LGBTQ+ community was one that needed attention, and she believes that a Pride Awareness Week would be helpful in showing that "Foothill is a safe place for everyone from the beginning of the year."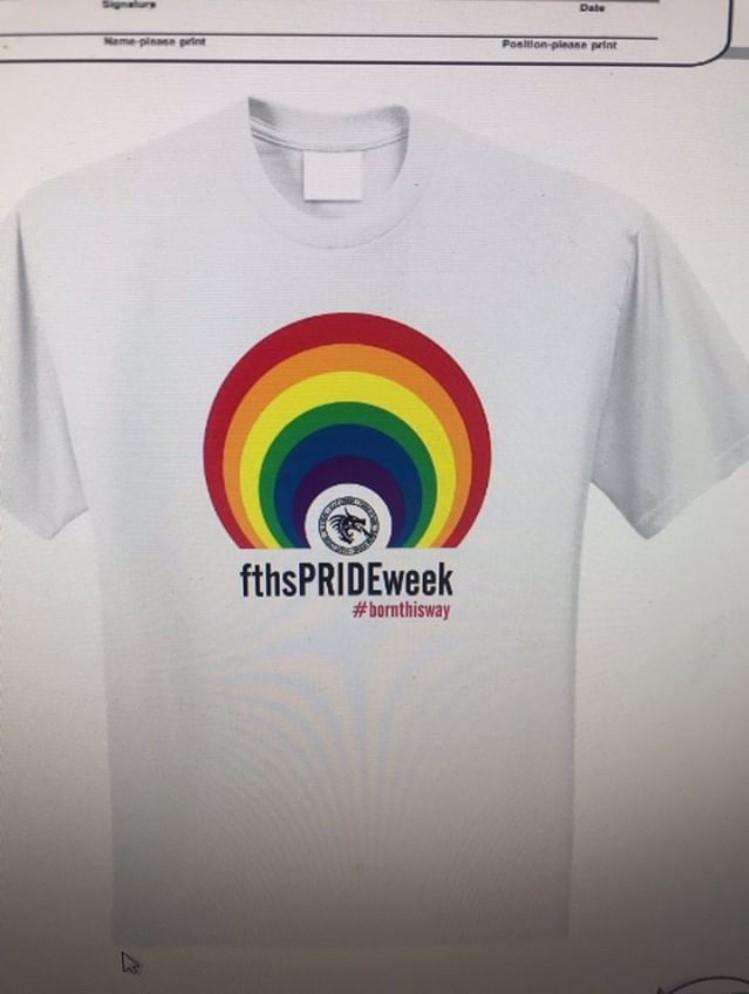 It turned out that Pride Week was more complicated to execute than Yale had anticipated. One of the hallmarks of the awareness week was a shirt that said "fthsPRIDEweek" on the front, which aroused concerns regarding whether Foothill as a whole is sanctioning this event. 
Principal Joe Bova explained that he and the staff "became aware of certain aspects of the Pride Week last Friday," including this shirt, "and it wasn't until the weekend that I got a chance to take a look at some of the more details of it."
Bova said it was then brought to the attention of school staff and the Ventura Unified School District (Ventura Unified).
The Ventura Unified School District Superintendent and Student Performance & Program Evaluation Administrative Specialist have not yet responded to a request for comment.
ASB was demotivated in organizing the event because, as Bova described, the school was assailed with parent complaints. Most of them regarded "school sponsorship of certain events," but also concerned the inclusion or exclusion of "other groups."
Complaints also noted that ASB wasn't supporting other "groups that may be, say, marginalized groups or groups that need advocacy," Bova clarified.
Furthermore, parents claimed that the school was endorsing a political agenda, which, according to the Board Policies of Ventura Unified School District, is not permitted, as teachers are required to present all issues "impartially."
Bova stated that there were two ways to conduct the event: either hold it through ASB or "have a club sponsor and run the activity." 
It was decided that "the cleanest way to do it" was to remove the event from the hands of ASB, and instead make it student-led through the establishment of a Queer-Straight Alliance (QSA) Club by Yale.
Despite the event being out of the hands of ASB, Bova believes that "everything is going to happen the same."
New shirts have been created, reading "FTHS QSA Pride Week," that will be sold in the student store for 10 dollars.
The action of making the event student-led was in compliance with Ventura Unified board policies, which expect "teachers to ensure that all sides of a controversial issue are impartially presented" and avoid "promoting any partisan point of view." 
Yale believes that this policy indirectly prohibits schools from sanctioning events concerning "controversial issue[s]."
Bova furthered that "as educators, we're supposed to be neutral parties—we're not supposed to be advocating for one particular group or another."
Similar to the gun rights march in April 2018, Bova stated that "when there's activities on campus that are, let's say, in support of particular groups," they "really have to be student-led and student-sponsored."