Gourmet burger chain BurgerIM comes to Ventura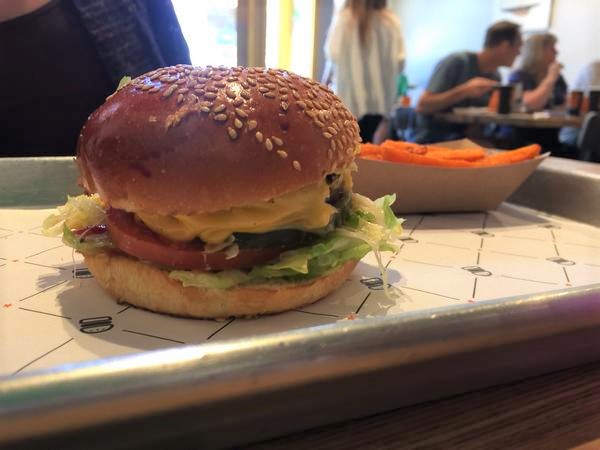 Out with the old in with the new: Main Street has gotten rid of the familiar sandwich restaurant of  Subway and replaced it with a new burger joint—BurgerIM.
The chain restaurant opened a new location downtown on Main Street and is arguably giving chains like In-N-Out Burger a run for their money. The joint not only serves delicious burgers, but also various sides such as wings, fries and shakes.
As soon as you walk in the joint, you are immersed in its modern, industrial atmosphere and greeted by employees with a friendly "hello" and a smile. These employees continue to personally check on you throughout your visit.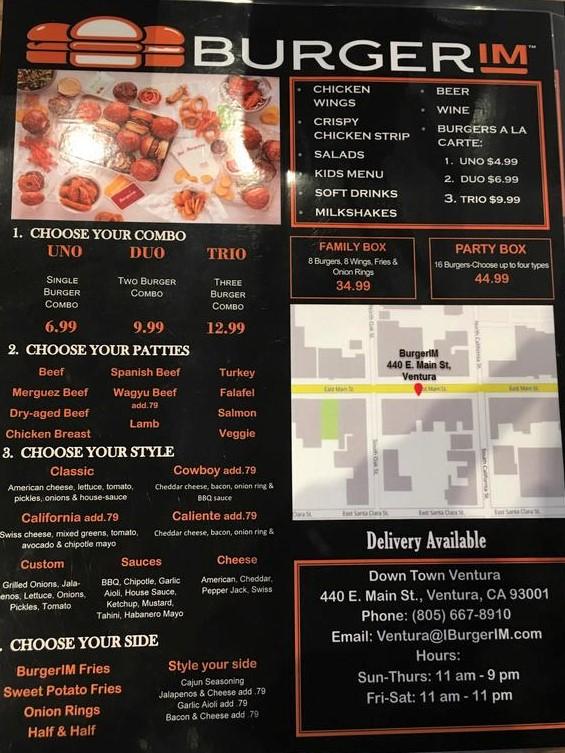 The menu is the most unique burger menu that has crossed my eyes. I ordered the Duo Combo which includes two burgers of your choice for $9.99. The options for the type of meat for the patty include fish, beef and meat-free patties. I picked dry-aged beef, which was cooked to perfection and had a beautiful taste.
Besides the available meat options, there were many different styles of burgers such as California, Caliente and Cowboy. If the ingredients for a burger don't quite fit what a customer has in mind, the menu has the option to make a custom burger or "craft your own style." With my custom burger, I went for a traditional burger by combining lettuce, American cheese, pickles, tomatoes and ketchup—all enclosed in a warm, fluffy sesame seed bun.
BurgerIM is not like typical burger places that only serve burgers and fries. They have a diverse menu with starters, salads and many different types of fries. I ordered chicken wings and the BurgerIM Fries topped with jalapeños and cheese. The chicken wings were really good, but I have tasted better. The meat on the wings had the perfect texture, but the sauce did not offer much other than a bland spice. The six-piece wings were $6.99—pricier than I would have liked, but still nice to have every once in a while.
The BurgerIM Fries surprised me with an unusual look; they were flat and circular, almost like a quarter. The BurgerIM Fries were $2.99 with an additional 79 cents for the jalapeños and cheese on top. I was glad that I ordered the fries with the jalapeños and cheese because the fries without toppings would have been significantly dull. The toppings really helped cultivate a beautiful flavor.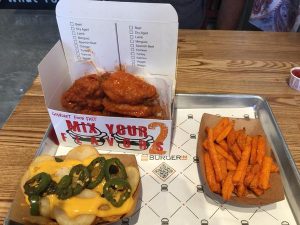 Additionally, I ordered the Sweet Potato Fries for $3.79, which again were more expensive than I would have liked, but still well worth it. This fry had a great savory and sweet taste which made my taste buds dance.
To top off this amazing food ensemble, I drank a strawberry, vanilla and chocolate milkshake; one flavor is simply never enough. For $3.99, a milkshake with perfect consistency was put before me. I found that my milkshake had quickly disappeared due to the delicious, creamy mix of mouth-watering flavors.

The arrival of the BurgerIM chain in Ventura definitely poses competition to local favorites, especially In-N-Out Burger. Try the amazing burgers, side dishes and diverse options for yourself and you'll see why.