Track and Field dominates dual meet
With League Finals and County Championships just around the corner, the Foothill track and field team seized their final opportunity for qualifying times in their only home meet of the season. On Tuesday, April 24, the Dragons crushed La Reina and Saint Bonaventure, taking both first and second place in over half of the sixteen events.
Scoring explanation: For each event, the first place winner earns five points for their team, second place earns three points, and third place earns one point. The team with the highest number of total points wins.
The 100 meter race was one of the few where Foothill didn't lead. However, two Foothill athletes still placed. For the girls, Dylan Mullaney '21 came in third (14.03) behind runners from La Reina and Saint Bonaventure, and Kekoa Akuna '18 took third for the boys (11.91).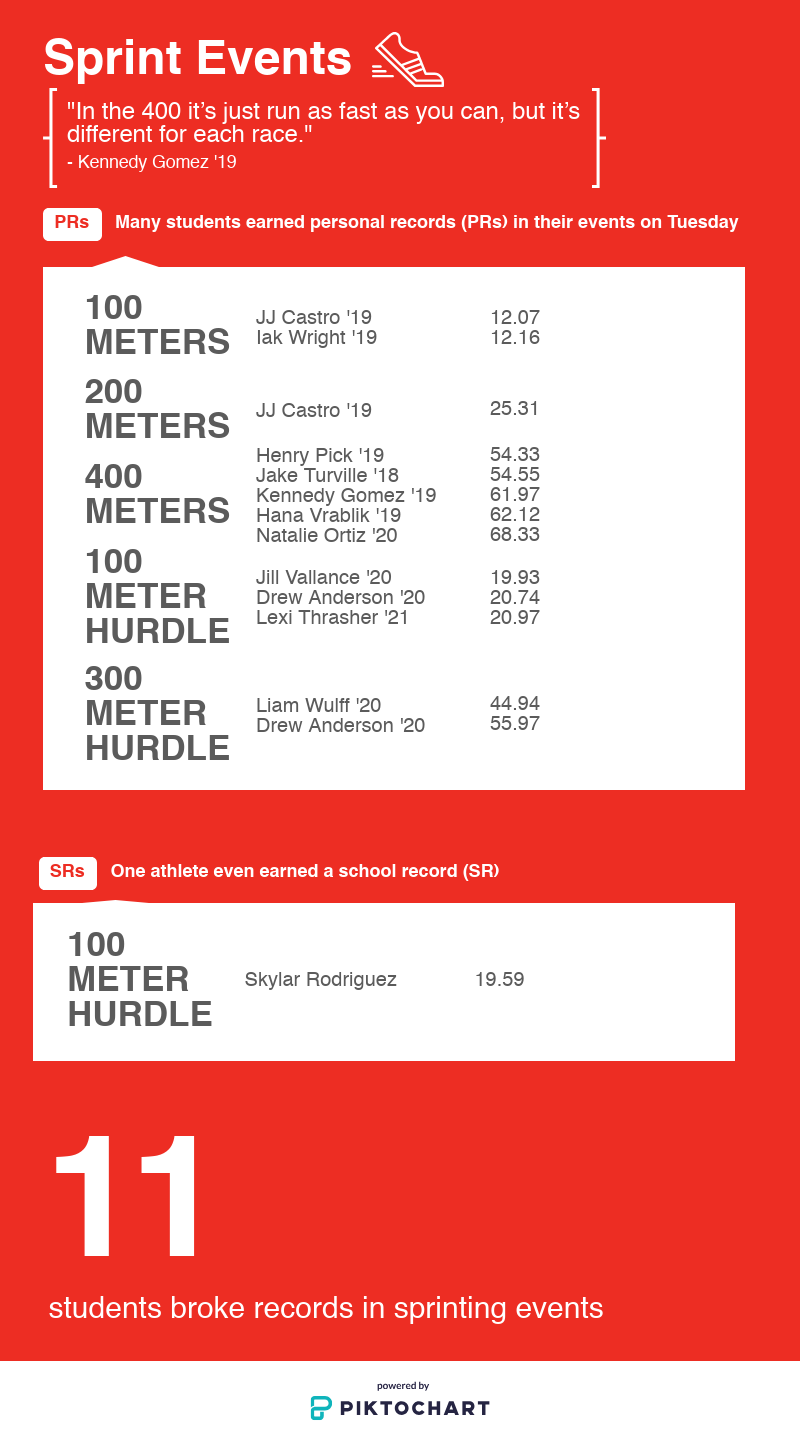 The 200 meter was the same story. Akuna came in third (24.44), behind the same runners from Saint Bonaventure that dominated in the 100. Aubree Smith '19 fell in between two runners from La Reina, earning a second place slot (27.71).
Head Coach Jason Dinkler pointed out that in "any track meet, there's always things that go really well and some that we kind of fell flat on." Even though the 100 and 200 meter races weren't Foothill's strongest performances of the day, "overall I think we scored really well as a team," he said.
The Dragons picked it up in the 400 meter race. Kennedy Gomez '19 placed first for the girls (61.97), followed by Hana Vrablik '19 (62.12) and Natalie Ortiz '20 (68.33).
Gomez enjoyed running with Vrablik because they were able to push each other to run faster. In meets like this, where the competition isn't as high as an invitational, "sometimes races get really boring when you have no one to run with," Gomez said. "Luckily, we have our teammates, who are pretty fast, too."
The same principle held true in the boys' 4×100 relay, where only one team participated. They had to rely on their teammates for support to achieve their 46 second split. The girls' relay team faced only La Reina, and ended up taking second (53.31).
For the 4×400 relay, the boys competed against themselves again, this time with three teams. Obviously, they earned first (3:36.46), second (3:40.55) and third (3:50.47). On the girls' side, Foothill's three relay teams raced against one from La Reina, and earned first (4:17.55) and second place (4:26.81).
The 4×400 is Estelle Santini's '18 favorite race because it's the last one of the meet, which means everyone is down on the field.
"In the other races, no one stands in the infield," she said. "It's only a couple people who are already warming up and this one it's like you depend on your other teammates to do good and it's people cheering you on, so it's like a whole team."
It's events like these that make track and field so special because "there's a bit of every sport," Santini said. "If you want to do arms, legs, endurance, fast, anything, and we really have a community."
Skylar Rodriguez '18 earned a season record in the 100 meter hurdles (19.59), beating two La Reina competitors, while Nathaniel Russell '18 (17.39) and Liam Wulff '20 (18.17) raced against Jack Cooper from Saint Bonaventure in the 110 meter hurdles, and earned first and second place.
Russell enjoys the home meet because "it gets people pumped up just being able to have either teachers or parents or stuff like that watching," but also wishes the competition was a bit stiffer.
Wulff raced again in the 300 meter hurdles (44.94), beating out Cooper once more. The girls' 300 meter hurdles' competitors succeeded as well; earning first, second and third place. Carly Leandro '18 took first (53.07), Drew Anderson '20 took second (55.97) and Lexi Thrasher '21 took third (56.74).
Seeing as a good number of runners on the track team also participate in cross country, it makes sense that the team excels in distance events. Perhaps that's why a rivalry has developed between the junior and senior boys on the varsity team. Dinkler chalks it up to "a male ego."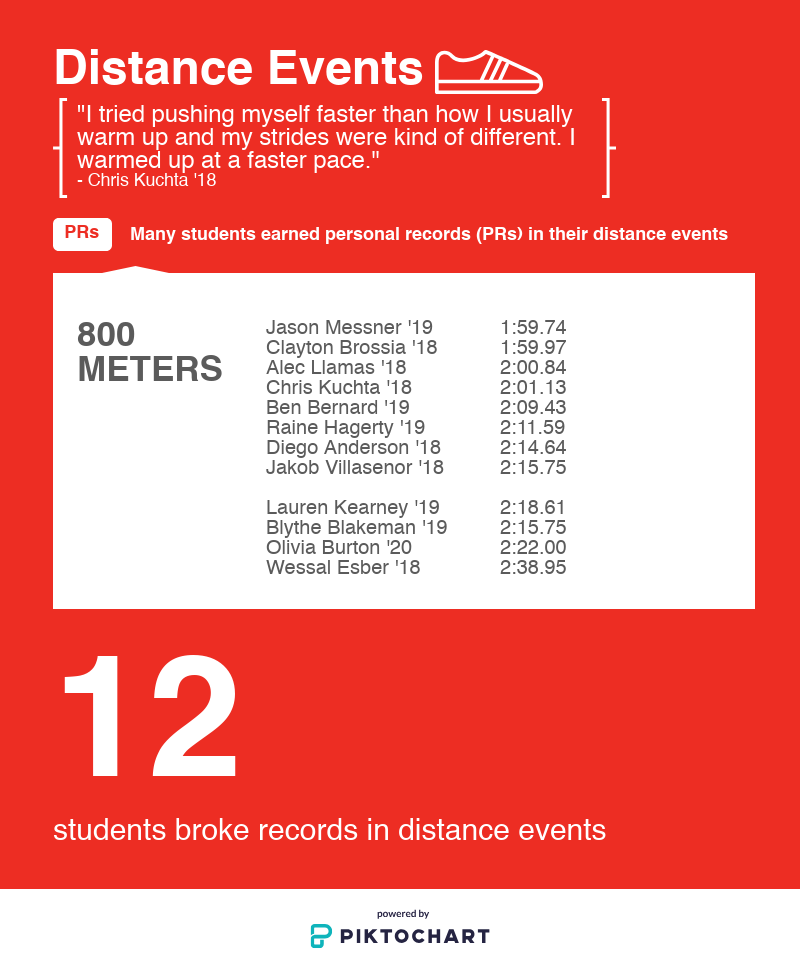 Origins regardless, the coaches "decided to make a throw down" by stacking up the boys' distance team against each other—all bragging rights on the line.
Jason Messner '19 stepped up to the plate and earned his first sub-two-minute time in the 800, (1:59.74). Clayton Brossia '18 came just behind him (1:59.97) with teammates Alec Llamas '18, Chris Kuchta '18 and Daniel Montes '19 following.
Kuchta enjoyed the race because "it was kind of like a reunion of all of our running and all we've done over the past few years and we all got to push it against each other in the race and kind of throw down what we can perform," as he put it.
The girls' 800 was a Foothill-dominated race as well, with Lauren Kearney '19 (2:18.61), Blythe Blakeman '19 (2:21.45), Olivia Burton '20 (2:22.00) and Gretchen Scherrei '20 (2:30.65) taking the top spots.
Foothill swept the 1600 as well. Raine Hagerty '19 (4:50.04) led the boys, followed by Daniel Guzman '18 (4:54.30) and Paul Marcoux '18 (4:56.69). The girls took the first five places, led by Scherrei (5:22.62), Addison Munroe '21 (5:36.59) and Elizabeth Egbert '18 (5:43.37).
While no Foothill boys participated in the 3200 race, the girls that competed claimed first and second place: Egbert in first (12:38.95) and Kami Kunes '20 in second (13:36.16).
On the other side of the field, shot put earned eight points for Foothill with boys and girls each earning second and third place. Marco Saucedo '18 threw 35-00.00 to take second, and Jesus Vargas '19 earned third with 34-04.00. Ky Zickafoose '18 threw 29-10.00 for second place and Arika Guzman '18 took third with 25-04.00.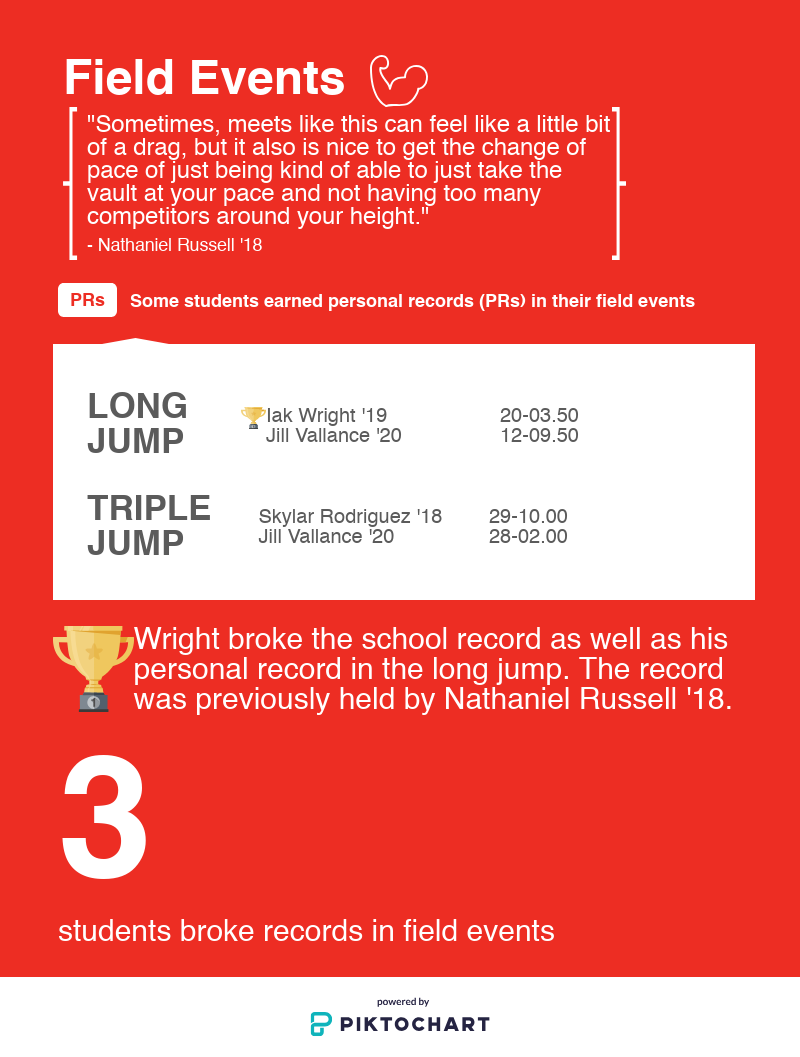 Bradley Brunski '18 took second in discus with 104-05, followed by Vargas (102-00). Guzman and Zickafoose took second and third again, Guzman with 87-07 and Zickafoose with 87-06.
For pole vault, known powerhouse Nathaniel Russell '18 performed worse than he had hoped, but still earned first place with 14-00.00. He hopes to do better at county finals and place in the high fourteens.
He also placed first in high jump with 5-08.00. His teammate Trey Jackson '18 took third with 5-00.00.
Carly Leandro '18 (9-06.00) and Thea Wulff '20 (9-00.00) took first and second for the pole vault, contributing eight points, and Ashlyn Carey '20 placed second in high jump (4-02.00).
In triple jump, Skylar Rodriguez '18 and Jill Vallance '20 led for the girls, while Iak Wright '19 and Jackson led for the boys. Rodriguez took first (29-10.00) and Vallance (28-02.00) took second for the girls, and Wright placed first (40-06.50) and Jackson second (39-05.50) for the boys.
In addition, Vallance placed second in long jump (12-09.50). Wright also performed well in the long jump, breaking a school record with 20-03.50.
Wright feels "pretty proud of myself right now for doing what I just did; pretty shocked actually," and thinks his team can use this new record as motivation later on.
"It's going to push them now and in the future to break my record," he said.
The official scoring for the meet can be found here.
Editor's Note: Jason Messner and Jill Vallance are staffers on the Foothill Dragon Press. They were not involved in the production of this article.