Boys' volleyball harpoons Sharks 3-0
With four league wins already under their belt, the Dragons boys' volleyball team took on Malibu High School in their first home game of the season. In swift fashion, Foothill Technology demolished the Sharks 25-14, 25-12 and 25-12.
The Dragons never trailed in any of the sets, as Kyle Cobian '18 started off with the three straight aces in the first set. The majority of Malibu's points came off of Foothill errors, as the Dragons controlled the pace and runs of the game. Tanner Nodolf '18 also had an ace, followed by a kill by Tommy Hurley '18, bringing the score to 10-3. Matthew Godfrey '20 also had a powerful hit to put them up 14-5.
Cobian continued to let his hitters eat, spreading the love to middle-hitters Miles Harvey '19 and Kevin Ochoa '18. Godfrey had another couple of kills, but the Dragons missed several serves, letting the Sharks hang around. Malibu missed the serve to lose the set 25-14.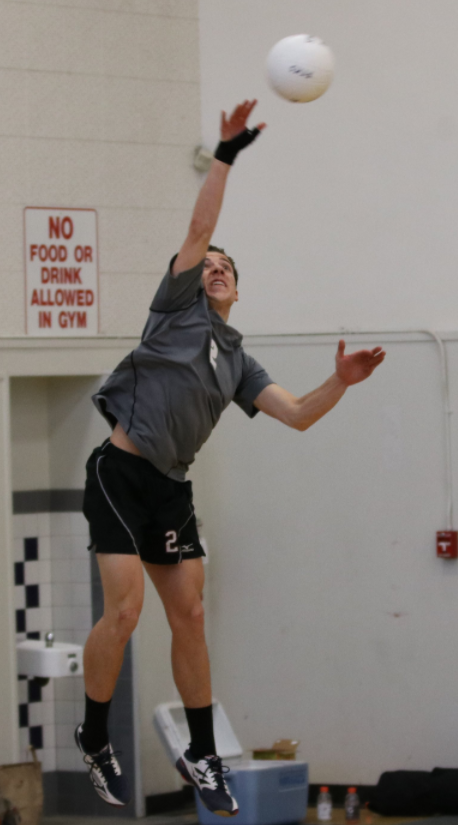 Harvey said that "our serving was abysmal tonight. I'm ashamed. But everything else was crazy good." Harvey finished with four kills and four blocks.
The second set was much of the same, as Dylan More '18 started off with a couple of kills followed by some missed serves by the Sharks. Chad Talaugon '18 had his first kill of the game off a set by Cobian and Harvey had his own personal 4-0 run to put the Dragons up 15-5. Collin Weaver '18 had a kill as the teams continued to trade missed serves, bringing the score to 20-11. Talaugon finished the set with a kill to secure a 25-12 set victory.
"Tonight was an easier match-up for our league," More said. "We played pretty well. Over the past four years we've bonded with a core group, and we should go far in league."
Weaver and Godfrey continued killing it in the third set, and the Dragons again glided to a 25-12 victory, finishing the match 3-0.
Coach Janine Cobian thinks the team played great, but that they "weren't pushed too much at a high level, but it was fun to get everyone in and playing different positions."
"Our passing is a little off," she said. "So we need to focus a lot on passing. I have eight seniors who have played together for a long time and they've gelled, so I think they'll be fine. All of our goals are to win league."
Foothill is 5-0 thus far in league and played Oxnard High School on Friday, March 16, in a non-conference matchup.