Valedictorians and salutatorians announced at 90's themed senior rally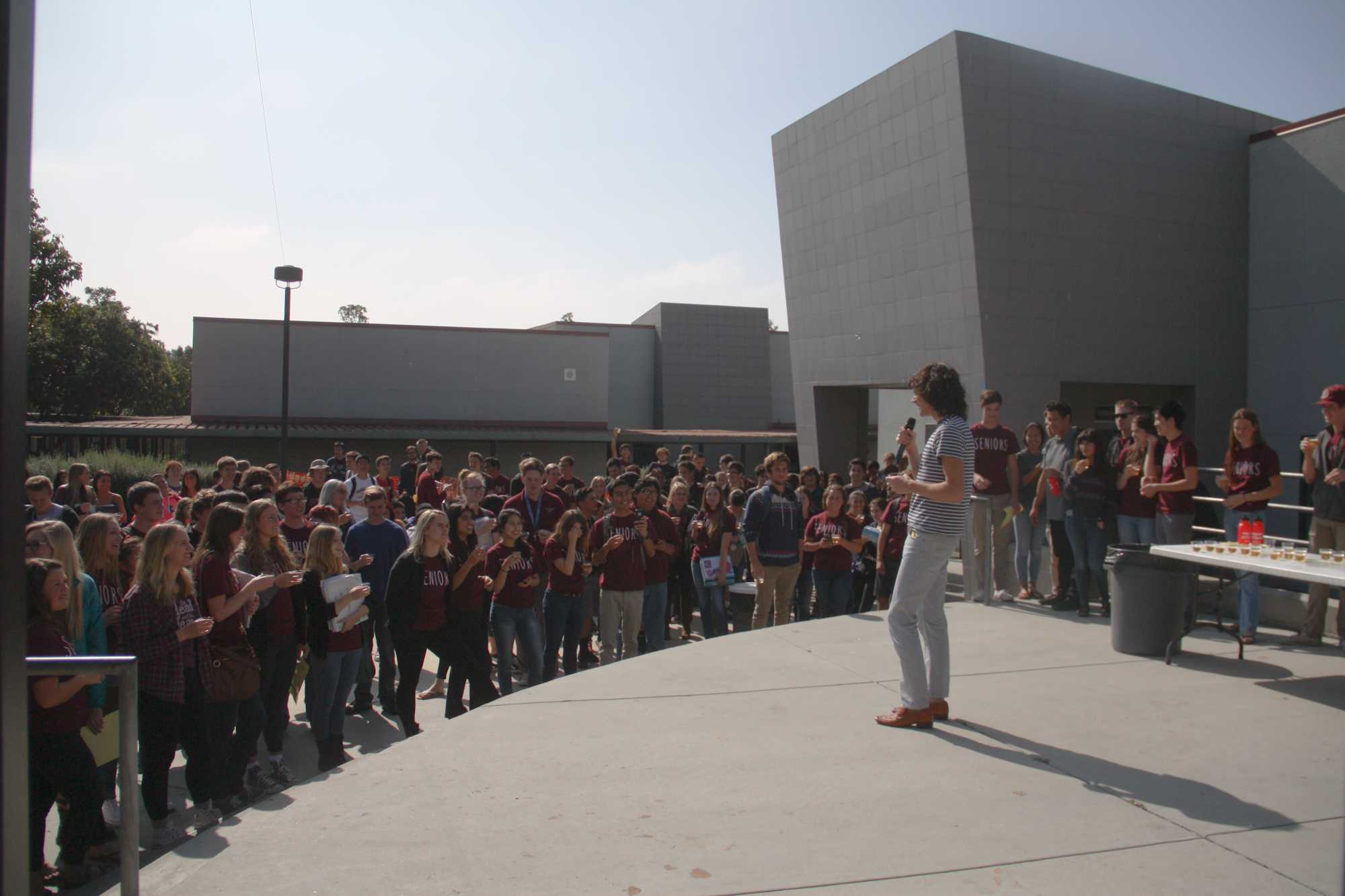 Foothill's class of 2015 poured into Spirito Hall during fourth period Wednesday for the 90's themed Seniors Only Academic Rally (S.O.A.R.). 
"I think [this rally] is important because the seniors get one last hurrah together. You get to recognize the students who have been working hard and persevering throughout the whole year," ASB Finish Strong Commissioner Maddy Do-Linh said.
"Welcome 90's babies!" greeted seniors on the projector, as well as ASB Advisor Melanie "Captain" Lindsey and Art teacher Justin Frazier dressed in full 90's garb.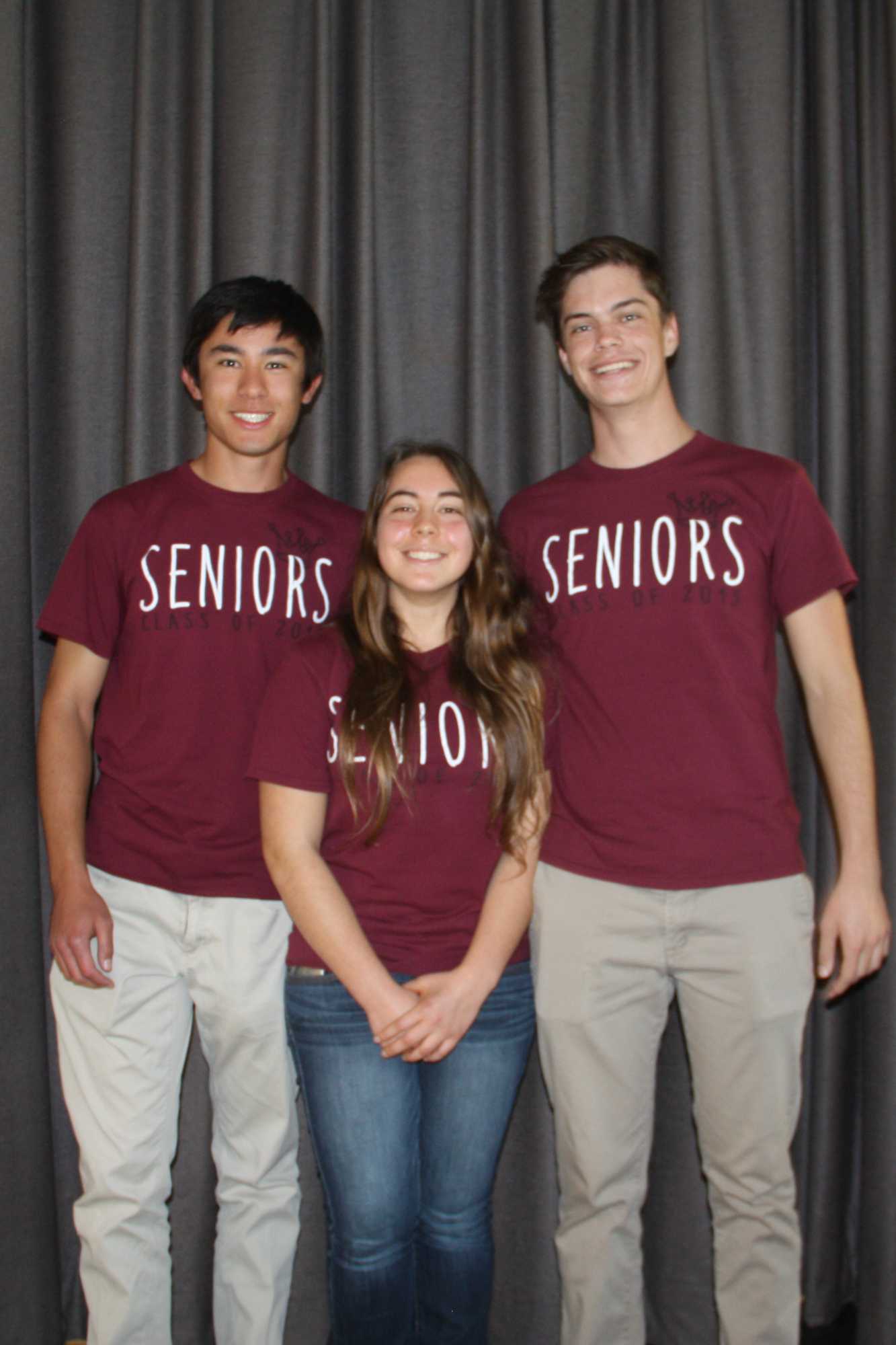 The rally began with awards. Teachers nominated students in each subject from every period. They recognized students who were: Most Achieved, Most Improved, Most Inspirational and Most Participatory.
"We are in awe of you guys," Lindsey said, congratulating recipients of the "Most Inspirational" award for persevering through difficult experiences in high school.
Seniors also got in teams to Jeopardy, in which they answered questions like "Who is this Senior baby?" and tackled trivia about 90's movies, music and TV shows. 
After the game, Principal Joe Bova recognized the seniors who had achieved the Magna Cum Laude (4.0 to 4.39 GPA) and Summa Cum Laude (4.4 and above GPA) honors.
Bova also announced the valedictorians and salutatorians. Foothill awards students with a 4.9 GPA the title of valedictorian, calculated based off of English, Science, Math and History classes, and students with a 4.8 GPA the title of salutatorian.
The three valedictorians for this year are James Florez, Chrystal Guzman and Jameson Mah.
"It was a lot of work, and it was a lot of blood, sweat and tears," Mah said.
Guzman said she felt proud to see her academic dedication pay off.
"I'm extremely proud because it's just nice to get some recognition because academics has really been a major focus for me," Guzman said.
"To see it really pay off and to be part of the other kids there, Jameson Mah and James Florez- they're plain geniuses. To be part of that group is really an honor." 
The salutatorians for this year are Sam Beppler, Carlos Cohen, Ema Dorsey, Amanda Gilchrist, Shelly Liang, Maddy Offerman, Devan Peterson, and Josh Ren.
After the rally, seniors gathered on the stage outside for the annual apple cider toast. They toasted to their friends and encouraged each other to make the most of their last months at Foothill.
Lindsey characterized the Class of 2015 through their attributes of freedom and independence.
"Last year's group was the most stressed human beings on the face of the planet. This year's not. I think there's a distinct difference in how they view the world," she said.
"They don't view it in the same 'in a box' standards that last year's class viewed it. They seem to have a lot more freedom in them. I think they're willing to go their own way without feeling like the rules have to apply."
Principal Joe Bova encouraged students to take advantage of their senior year, and view it in a positive light.
"Keep a positive attitude, because this is the only last semester of senior year they're going to have. Have fun with it," he said. "Don't have the perception that senior year is something to trudge through, because it's actually a pretty good time in your life."
…………………………………….
Background Photo Credit: Sienna Romero/The Foothill Dragon Press