Girls' volleyball takes tough loss on senior night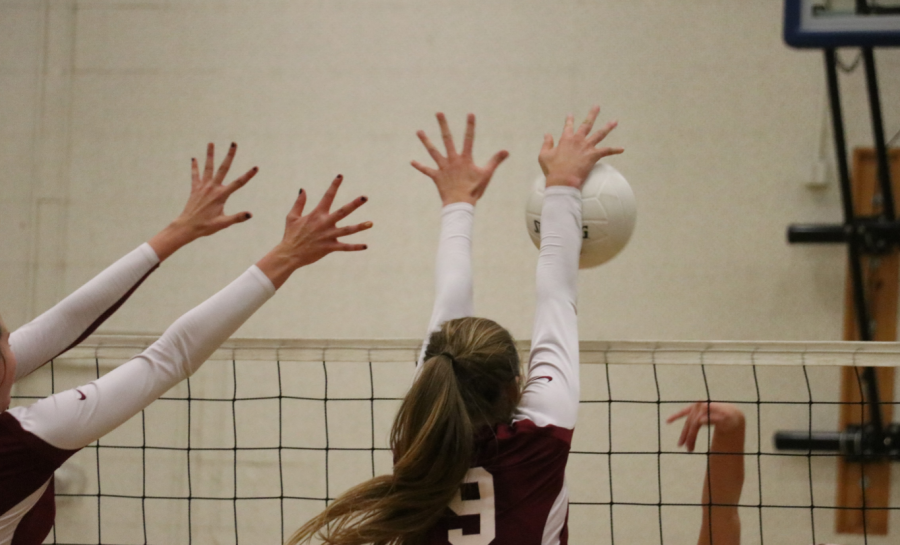 Jack Vielbig
October 17, 2017
At the last home game of the season on Thursday Oct. 12, girls' volleyball put up a fight against the highly ranked La Reina Regents, but lost 0-3 in the end. The evening began with Senior night festivities, honoring seniors Heather Ellison, Morgan Gallagher, Taryn Savard, Techelle Pagan and Faith Mackie '18 for their hard work and dedication that they put into the program since its inaugural year.
Mackie felt that the team had a strong mentality because they "went out there thinking, 'we're probably not gonna win, but we're going to play to the best of our abilities and play for our seniors.'"
The Dragons started the game off strong with a big block from Gallagher and a couple of kills from Lexi Malone '19. La Reina countered with kills from their hitters and after a kill from Pearl Esparza '19, the Regents held a 6-8 lead over the Dragons. The set went back and forth between the two teams with nice passes from Mackie, sets from Savard and kills from Malone and Gallagher. 
Foothill had cut the lead to 14-15 when La Reina went on a 10-5 run to close out the set 19-25. Esparza thought the team "bounced back well" and continued to play their style of play, despite being matched up against such a strong program.
The Regents came out swinging in the second set, putting the Dragons in a 0-4 hole. Haley Higgins '19 tallied the Dragons' first point of the set, but La Reina kept on coming, stretching their lead over Foothill to 4-16. The girls kept digging passes and hitting hard, fighting to try and get back into the set. Mackie and Esparza made some diving passes and Savard set up Ellison and Malone a couple of times, but they still lost the second set 13-25.
The third set started much the same way as the second, with La Reina's hitters relentlessly pounding hits at the Dragons' defense. After getting down 3-10, the Dragons mounted a run, with kills from Higgins and Malone, keeping the gap relatively small between them and the Regents. At 14-19, La Reina pulled away and won the set 16-25.
Despite the loss, the Dragons still have two league games to play next week and hopefully the chance to play in California Interscholastic Federation (CIF) playoffs. Last night's game won't be the last game for the seniors, but Esparza was still so proud of the way that they "built this program."
Coach Kris Gullatt thinks that his team has "set a tone where I think that we're just on the verge of the program we have the potential to be."
Most of the seniors on the team were freshmen on Varsity during the team's first season, and Gullatt says that the girls really pushed through "a lot of adversity" and that they "took their licks for two years, but now they're strong and have set a precedent for the levels below them."
With a smile (and some watery eyes), Esparza said, "they're my teammates and my best friends and I'm really going to miss them."