Girls' volleyball torches the Seraphs
Hang on for a minute...we're trying to find some more stories you might like.
In the hottest cross-town rivalry Ventura has to offer (for Division 7), Foothill Tech's girls' volleyball team took on the Saint Bonaventure Seraphs in a mid-season league match. Due to the high attendance rate from both schools, the game was held at Buena High School in order to provide more space in the stands for the rowdy students. The fans did not disappoint, hooting and hollering as the Dragons soared to a 3-0 victory.
The Seraphs came out with a strong start in the first set, winning four of the first five points. But the Dragons retaliated with a five point run, including a kill from Heather Ellison '18 and two blocks from middle hitter Lexi Malone '19. After several errors from both teams, the score sat at 9-10, Saint Bonaventure on top.
Pearl Esparza '19 and Malone continued contributing in the neck and neck set, but the tide turned with a nice tip by setter Taryn Savard '18 to give the Dragons a 16-13 lead. After a missed serve by the Seraphs and another kill by Malone, the Dragons extended the lead to 18-13. Esparza tallied a kill, as did Haley Higgins '18 in a 7-3 run to close the set at 25-16.
For Higgins, it was "very different to play Bonnie" because she spent her freshman year playing for the Seraphs. "It's good to see old friends, but I think we've created a little rivalry," she said.
The Dragons came out swinging in the second set, forcing many errors for Saint Bonaventure. After a kill from Esparza, they held a 9-3 lead. The Seraphs answered with a 5-point run to cut the lead to one, but Higgins stopped the run with a kill down the line.
"As a team, we need to work hard on staying focused for the entire game," Higgins said.
Saint Bonaventure proved unable to handle serves from the Dragons and continued to fail to return the fast hits. Savard set Malone up for 6 more kills over the rest of the set as the Dragons coasted to a 25-17 set victory.  
"We've made a lot of progress since the beginning of the year, and we're still improving," Malone said.
Malone started the third set off with a kill, followed by Savard setting up Alyssa McClain '20 for a big hit as well. The Seraphs kept it close at the beginning of the set, countering kills by Esparza, Malone and Higgins with kills of their own. It was 11-7 when Ellison served an ace with some heat on it, followed by a kill from Malone directly after.
The Dragons continued to pile it on, but Saint Bonaventure hung around due to missed serves.
"I think we had a lot of wishy-washy serves going on," Esparza said. "So we need to clean those up." Esparza said they wanted to "prove themselves" this year, since last year's match with the Seraphs went to five sets.
Savard had a block to bring the score to 18-9 and kills from Malone and Ellison put the score at 24-13. Saint Bonaventure scored a few points but Higgins finished them off with a big hit to win the set 25-16, and the match 3-0.
Coach Kris Gullatt said that his team "still has some things to clean up" but that he's happy with the performance. "I like playing Bonnie because it's really the only chance we have to play against a cross-town team. Buena and Ventura won't schedule a match with us, so Bonnie is our closest team." (For the record, Gullatt thinks that the Dragons could take on the Cougars and the Bulldogs.)
"I don't see any reason why we can't get back to being ranked number one," he said. "If we can beat Grace Brethren, then I will know that we're ready for CIF and ready to contend."
About the Writer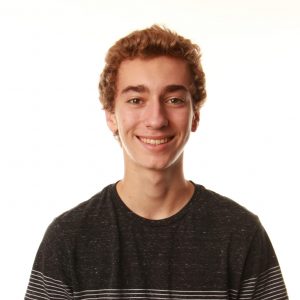 Jack Vielbig, Reporter
Third-year staffer with a love for penguins, semicolons, Heelys and Chex Mix.