Girls' Volleyball stings Camarillo Scorpions 3-1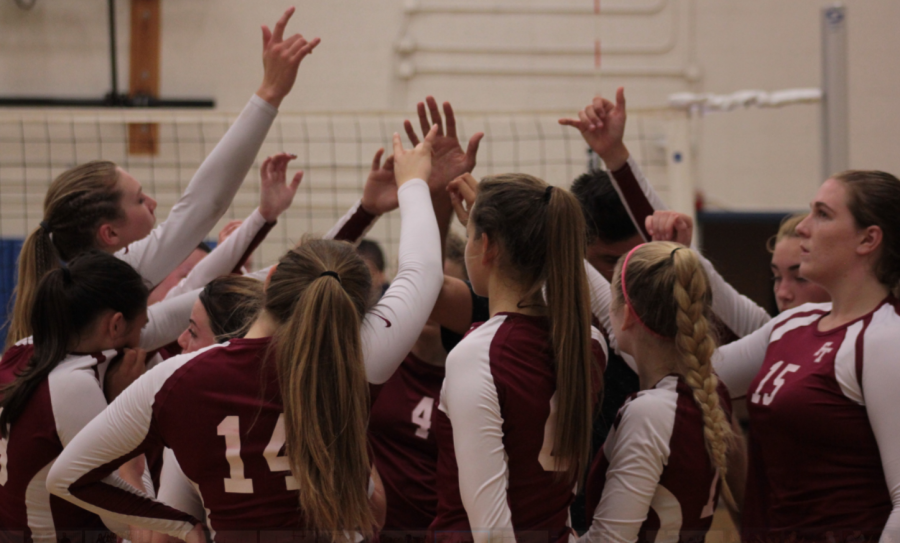 Jack Vielbig
September 7, 2017
On Tuesday the 5th, Foothill Technology's girls volleyball team took down the Camarillo Scorpions in a drawn-out back and forth match. After taking the first two sets, the Dragons dropped the third to the Scorpions, but won the fourth set to win the battle. This non-conference game came after the Dragons beat Cate for their first league win 3-1.
The first set started off with the Scorpions shanking a pass out of bounds for two straight plays. They redeemed themselves quickly with a couple of kills and a block against Foothill, leaving the score at 2-3. Camarillo kept up the run with a diving pass that left the Dragons scrambling as well as another two kills to cap the run at seven points straight. Heather Ellison '18 slammed home an outside hit to bring the score to 3-7, Dragons still down. Setter Taryn Savard '18 then set Ellison up again with a beautiful set for another kill.
Morgan Gallagher '18 had three big kills and a block over the next few plays, to counter two aces by the Scorpions, and Ellison had an ace to bring the score to 9-12, Scorpions still up.
After a kill by Camarillo, Haley Higgins '19 suddenly went on a spree with three kills and a block to tie up the set at 13 apiece. Savard then served an ace to give the Dragons their first lead in a while. Over the next few plays, the Dragons went on a 6-2 run that included two kills by Gallagher, one kill by Techelle Pagan '18 and a nice tip by Alyssa McClain '20.
The Dragons suffered a few errors, allowing the Scorpions to catch up and bring the score to 20-19. However, Foothill managed to stay collected even with the pressure rising. The team scored five straight points on an error by Camarillo, three kills by Gallagher and an ace by Ellison.
Throughout the first set, libero Faith Mackie '18 threw her body all over the place with efforts to save passes, while Savard continued to serve up sets on a silver platter for her hitters.
Coach Kris Gullatt felt that Savard had her best game of the season so far because she made a lot of "really good decisions with her sets and got a lot more points on her own."
"We need to play quicker and work on our covers for our blockers," Savard said. However, despite the team's challenges, she felt that they "battled hard" all night long.
With the second set underway, Gallagher picked up where she left off, earning three of the first five points for the Dragons. Savard also contributed to the Dragons strong 7-1 start with a nice tip. Camarillo had a few kills, but also had some errors which included net violations that brought the score up to 10-4. Savard had an ace and Angel Esparza '20 tallied her first kill of the game. Between Mackie's passes, Savard's sets and kills from all of the hitters, Foothill took a 20-13 lead.
Pearl Esparza '19 had three kills, as did Higgins. Even with a late run by Camarillo, the Dragons held onto their lead and won the second set 25-21.
The third set, however, didn't go quite the Dragons' way as Camarillo grabbed an early lead and never let go. The first few points seemed promising, as the Dragons were itching to close out the match with this final set. Gallagher had a couple of kills and the Scorpions had several errors as Foothill led 7-4. Then Camarillo went on a 13-4 run to take a 17-11 lead. Pearl Esparza had an ace during the run, but Camarillo seemed determined to stay alive in the set. One Scorpion tallied 4 aces in a row in route to a 18-25 set loss for the Dragons in the third set.
Although Camarillo carried their second set victory's momentum into the third set, the Dragons flipped the switch, determined to not let the match go to a fifth set. Gullatt talked about how his team has "been pretty resilient in plenty of games," and that this was another example of the Dragons "handling diversity."
Foothill came out fast with two Gallagher kills, an ace by Ellison, another kill by Higgins and three missed serves by the Scorpions. With the score at 10-3, Camarillo fought back to put it at 12-9. Ellison and Pearl Esparza had a couple of kills, and the Dragons took advantage of sloppy Camarillo errors.
The third set was when fatigue clearly set in for both teams, as many serves were missed by both teams, as well as an abundance of hits missed. Ellison had a kill to put the score at 21-12, with the Dragons on top and Ashley Pazen '20 got the two final points of the match with her first two kills of the game. They won the third set 25-16.
"For being such a young age on varsity," Ellison felt that Pazen really "stepped her game up."
Gullatt feels that in this early season, the girls have "picked up where [they] left off last year" and are "getting better every day." He said that their top goal this year is to win California Interscholastic Federation (CIF), but that they have to really work if they want to achieve that goal.  
"It's not a given, but if we do what we're supposed to do and we get better, then we should have a legit opportunity to do that," Gullatt said. "We've got to create the opportunity to win CIF."
The Dragons return to league play on Sep. 12, with a home game against Villanova High School.