Assistant Principal Ron Briggs' time at Foothill is drawing to a close as he awaits the Carpenteria School Board approval to become principal at Carpinteria Middle School. After he is officially approved by the Board on June 19, Briggs will contact the Ventura Unified Human Resources department to confirm by signing that he will not be returning for the 2017-2018 school year.
Briggs said that although it is not official yet, his job is "guaranteed."
As assistant principal, Briggs has spent three years working alongside Assistant Principal Lisa Harvill and Principal Joe Bova.
Briggs began his career in school by teaching at Hueneme High School for 17 years. For the first seven years Briggs taught there, he said "there was a lot of positive things that we highlighted."
When the No Child Left Behind Act was implemented during former President George W. Bush's presidency, Hueneme High School was ranked one of the lower schools in the area according to its API (Academic Performance Index).
"It was really frustrating. We went from a really good school to a really bad school," Briggs said.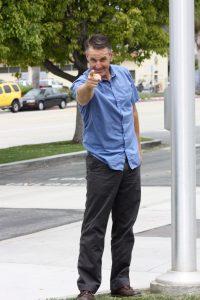 As students began to shy away from the high school and staff members were fired, Briggs thought it was "ridiculous."
The act was later modified so that schools would earn a higher amount of points for students who progressed from far below basic to basic rather than proficient to advanced. This "manipulation of numbers" ultimately made the school look better.
"So what I wanted to do is go, 'Okay, we still haven't fixed the problem of why our kids come into high school so low.' So, I thought I need to go into administration and maybe work at a low-income, low-scoring [school]," he said.
Briggs then got his credential for administration and was interviewed for positions at multiple schools, but was told he needed administrative experience.
He was then interviewed at Foothill, and thought, "'it's one of the highest performing schools around, it'd be good to see how that works.'"
Now, after three years at Foothill, Briggs said, "I'm ready to try to run my own school."
He was hired at Carpinteria Middle School and is excited to try to "make it a really amazing place."
Briggs said his co workers expressed their positive wishes for him, telling him "'it's been a great experience'"or wishing him good luck.
Not only has Briggs' time at Foothill helped him to accomplish his dream, Briggs says his time here has provided him with "a lot of really close friends" within the staff, teachers, students and parents.