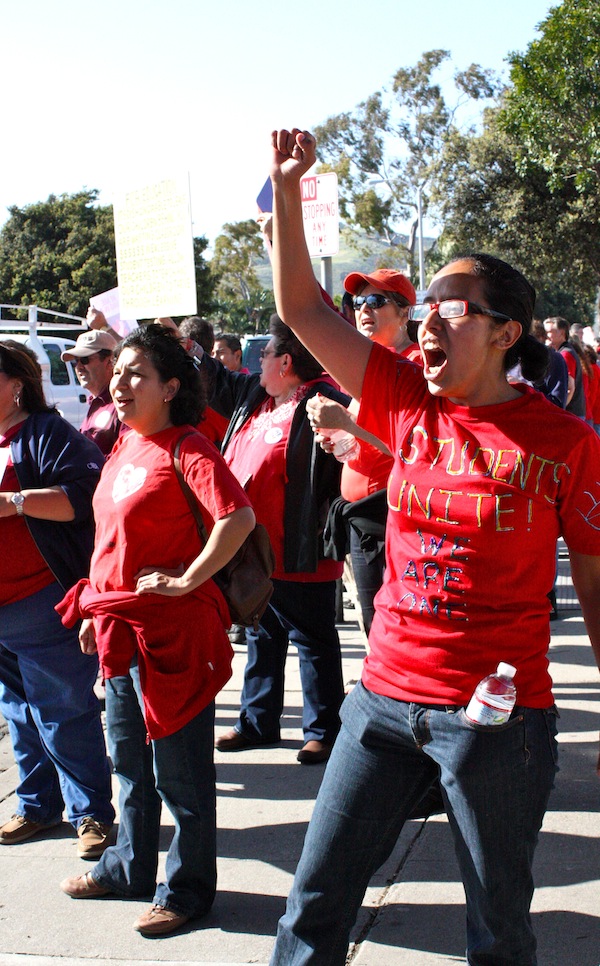 A sea of red lined Victoria Avenue Wednesday, and the honks were deafening as hundreds of people marched down Victoria Avenue with Buena High School's drum line, protesting budget cuts to the California public education system.
The crowd chanted along with teacher Chip Frazier, "We want what's right, not what's left!"
In 2010 California ranked 44th in the nation for spending per student, and 50th in the number of students per teacher.
The lack of funds and larger class sizes is especially difficult for teachers of special needs children, said Melissa O'Hara, who teaches special education through the Ventura County Office of Education.
The cutbacks to the public educational system are also affecting higher education, according to Professor Tina Itkoren of California State University Channel Islands, where tuition is going up.
As a result, less of the community will be able to receive higher education, she said.
Students also came out to protest.
"We're putting our children at an international disadvantage," said Buena High School senior and ASB President Bret Colman, noting other countries keep students in school for up to 50 days longer per year.
Next year, schools will have more furlough days than ever before. Ventura Unified School District will take 10, and Moorpark Unified School District will have 20.
The rally was about California's grim situation, but it was also about hope.
"Our public education system put a man on the moon," said Foothill junior Aron Egelko.
As Ventura County Supervisor Steve Bennett put it, the purpose of the rally was to be a "force multiplier" and get more people involved, so that real change will occur in public education in California.{sidebar id=11}