Boys soccer suffers 3-0 loss to Santa Clara in last home game
Hang on for a minute...we're trying to find some more stories you might like.
With cleats tied and umbrellas popped, the Foothill varsity boys' soccer team took the field against the Santa Clara Saints while shivering fans watched from above. On the night of their final regular season home game, the Dragons were simply outplayed, losing 3-0 in a soggy match.
The Dragons kicked off a somewhat uneventful first half, since for the first ten minutes no shots were taken, even after three corner kicks. At the eleven minute mark, the Saints took their first shot of the game, which ricocheted off of the crossbar and was recovered by goalkeeper Kevin Waechter '17.
In the next 20 minutes, Waechter recorded three saves and Jared Rodriguez '17 blasted a shot that nearly landed in the back of the net. Rodriguez felt that the Dragons "definitely dominated the first half" but that the team didn't execute enough to score.
In the 37th minute, after several quick passes, Santa Clara crossed it from the corner and a player was in the middle of the box to flick the ball in with the back of his heel for a 1-0 lead. Only one shot was taken for the rest of the half, by Miles Gillespie '17, but it missed wide right.
Cole Chilcutt '18 felt that the Dragons "played good possession ball" and "controlled the game pretty well" but just couldn't finish the way they needed to.
The Saints started fast in the second half, taking only thirty seconds to score after they kicked off. They passed a deep ball through the middle and their striker drilled it into the bottom right hand corner to make it a 2-0 game.
Waechter saved three more shots and the Dragons attempted four more shots to score until Santa Clara struck again in the 67th minute. After the ball was cleared out of bounds, the Saints capitalized off of a corner kick and scored yet again to make it 3-0.
The Dragons would have more chances down the stretch, with shots from Chilcutt, Rodriguez, and Noah Colby '17, but neither team would score for the remaining fifteen minutes.
With a chuckle, Coach Andreas Wedderien said that the main thing they could have done differently was to win.
"The main thing that we should have done, that we didn't do, was score," he said. Wedderien believes the opportunities were there but they need to "work on finishing" before next game.
Chilcutt believes that they "have improved throughout the season," and is looking forward to next year. The Dragons will play their final game at Saint Bonaventure High School on Thursday, Feb. 9.  
About the Writer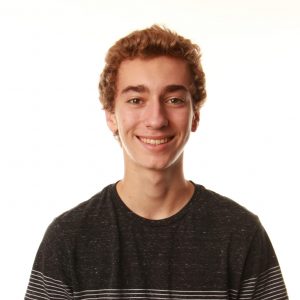 Jack Vielbig, Reporter
Third-year staffer with a love for penguins, semicolons, Heelys and Chex Mix.