Melt in your Ply-mouth Thanksgiving recipes
Grab your biggest pair of pants because Thanksgiving is around the corner! This nationwide day of indulgence provides the perfect opportunity to try out new recipes and perfect the classics. Add six of my family's recipes to your holiday menu and give your Thanksgiving comfort food a leg up.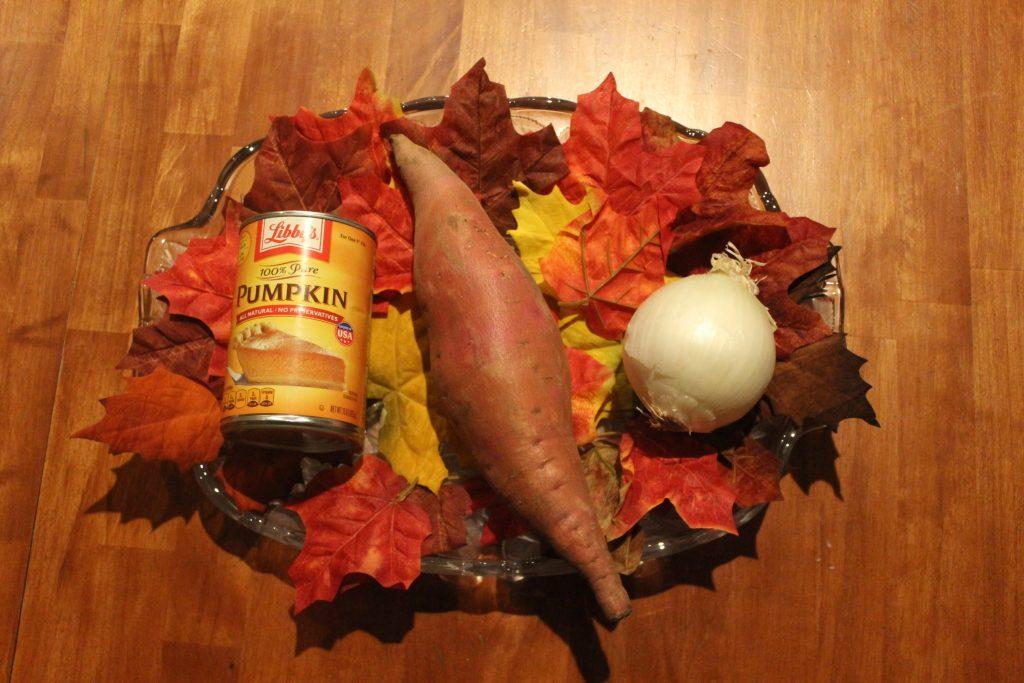 Classic ingredients with a new twist will leave you with a Thanksgiving feast you won't forget. Credit: Abby Sourwine / The Foothill Dragon Press.
Herbed Nuts
For when the big meal just can't come soon enough, this spicy appetizer will put your tastebuds at ease. Not too filling, not too light, and not at all lacking in flavor, these crunchy tidbits are great for gift giving, decorating, and (of course) eating!
Ingredients:
1 cup almonds

1 cup pecans

1 cup cashews

1 cup walnuts

1 tbsp. fresh rosemary, chopped

1 tsp. dried thyme

½ tsp. cayenne pepper

2 tbsp. brown sugar

3 tbsp. melted butter

2 tsp. sea salt
Instructions:
Toast all four kinds of nuts on baking sheet for ten minutes at 375 degrees. Combine all other ingredients in large saucepan. Cook and stir on medium heat for one minute. Add nuts. Cook and stir constantly until nuts are thoroughly coated, about 10 to 15 minutes. Cool on rack. When cooled, place in jars or other airtight containers and enjoy up to two weeks.
Thanksgiving Turkey Marinade
Achieving the perfect Thanksgiving turkey can be the ultimate challenge. This marinade will give your butterball the perfect combination of moist and savory and  leave your guests begging for more.
Ingredients:
Instructions:
Mix salts and liquid smoke until combined. Soak 48 hours, turning at 24 hours. Dry turkey well. Place in baking bag. Bake at 200 degrees for 10 to 12 hours.
Sausage Dressing
What is a turkey without dressing? No need to ponder that question long because you'll be wanting this stuffing for every meal. A turkey's perfect compliment, this dish knocks Thanksgiving out of the park with just one taste.
Ingredients:
1 lb. cooked sausage

1 medium sized onion

3 stalks of celery, chopped

10 cups cubed bread

2 cups chicken broth

Salt, pepper and poultry seasoning to taste
Instructions:
Brown sausage, onion and 3 stalks of celery. Toast cubed bread in a saucepan. Pour hot chicken broth over bread cubes in large bowl. Combine with sausage, onion and celery. Salt, pepper and poultry seasoning to taste. Can stuff the cavity of a turkey or bake in casserole dish for 35 to 45 minutes at 350 degrees.
Sweet Potato Souffle
Sweet Potatoes are a notorious Thanksgiving classic. Often, they are served with a gooey marshmallow topping. This crumbly-topped souffle is a different take on Michelle Obama's favorite fall vegetable and will probably make you love sweet potatoes just as much as she does.
Ingredients:
Sweet Potato Mixture

About 2 pounds fresh sweet potatoes, mashed

⅓ cup sugar

2 eggs, beaten

⅓ cup melted butter

1 tbsp. vanilla

½ tsp. salt

Instructions:

Sweet Potato Mixture

Mix together well. Spoon into greased two-quart baking sheet.

Ingredients:

Topping

¾ cup flour

½ cup brown sugar

⅓ cup butter

1 cup chopped pecans
Instructions:
Combine flour and brown sugar. Cut in butter until mixture is crumbly. Stir in pecans and sprinkle over potato mixture. Bake uncovered at 350 degrees for 35 to 40 minutes or until topping is golden brown and an inserted knife will come out clean.
Classic Nut Pie
Pumpkin Pie has long been associated with Thanksgiving, but that doesn't mean you can't mix it up with this sweet and crunchy crowd-pleaser. This recipe gives room for your preferences; you can use your favorite kind of nut (mine's almond) to make this dish your own. Once you taste how delectable this dish is, you'll want to enjoy it every way possible.
Ingredients:
3 eggs, slightly beaten

1 cup sugar

2 tablespoons flour

1 cup Karo corn syrup (light or dark)

2 tbsp. butter, melted

1 tsp. vanilla

(Plus 1 tsp. Almond extract if using almonds)

1 unbaked pastry pie shell

1½ cups nut pieces (walnuts, almonds, pecans, etc.)
Instructions:
Heat oven to 400 degrees. Bake pie shell for 2 minutes to ensure a crispy crust. Combine eggs, flour, sugar, syrup, butter and vanilla until well blended. Pour into pie shell. Arrange nuts on top. Bake at 400 degrees for 15 minutes. Reduce temperature to 350 degrees and bake an additional 35 to 45 minutes; until center appears set. Cool and serve with vanilla ice cream.
Pumpkin Dessert
Thanksgiving is not complete without something pumpkin flavored to bring that fall flavor. A blend of spices and textures, this dessert is the perfect finish to the big meal. Simple to make and fun to eat, putting this dish to the test on Thanksgiving is bound to bring high praise.
Ingredients:
1-29 oz. can pumpkin

1½ cans evaporated milk

6 eggs

½ cup sugar

½ cup brown sugar

½ tsp. ginger

½ tsp. ground cloves

½ tsp. cinnamon

½ tsp. salt

1 package dry yellow cake

1 stick of margarine

1 tsp. vanilla

¾ cups chopped pecans

Cool Whip
Instructions:
Blend and mix pumpkin, evaporated milk, eggs, sugar, ginger, ground cloves, cinnamon and salt well. Put into 9×13 pan. Sprinkle yellow cake mix over pumpkin mixture. Melt margarine with vanilla and then mix in pecans. Pour over pumpkin mixture. Bake at 35 degrees for 1 hour. Serve with Cool Whip.