When it comes to looking for a place to eat for Sunday brunch, sometimes you want more than the boring short stack of pancakes from IHOP. The new Traveler Café serves up a fresh variety of savory scramble bowls, crispy Belgian waffles and sweet, sticky cinnamon rolls.
Established in 2016, the Traveler Café is a family-owned business, with over three generations currently running and operating the restaurant. The name "Traveler Café" comes from their idea of incorporating flavors and ambience from all around the world. The food, atmosphere and overall experience certainly creates a mini "vacation" for your short time away from home.
As you turn down E. Front Street, you can clearly see the bright red letters proudly displaying the "Traveler Café" name. With a compass in the background, lighted maps on the wall, and different cultures and destinations highlighted through pictures and souvenirs, the theme of travel is perfectly incorporated into the large room.  
The menu is hung right at the front entrance, along with their display case of house-made pastries. The friendly server immediately takes your order, swipes your card, then lets you take a seat anywhere indoor or outdoors.
Although the normal hours are from 8 a.m. to 7 p.m., the Traveler Café has a special Sunday brunch from 9 a.m. to 3 p.m. They have special additions to their menu for the occasion, including Lemon-Ricotta Pancakes and "Eggs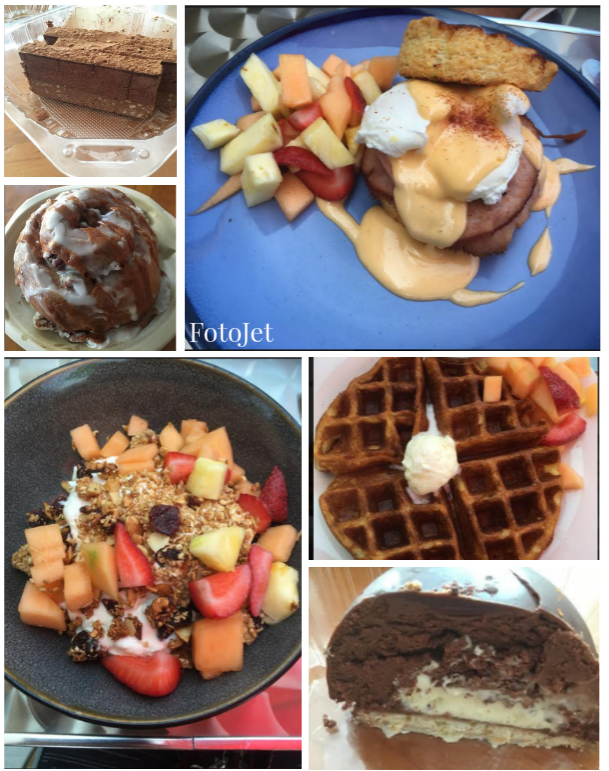 Benediction" (a new take on the classic dish).
Because I was with company, we decided to each get different items to try. First up was their yogurt parfait: a huge bowl of plain yogurt with lots of fresh fruit and topped with heaps of their crunchy, house-made granola.  Not only was the portion plentiful, but their granola had just the right amount of crisp sweetness to counteract the creamy yogurt, and the fresh element of fruit added the perfect refreshing touch.
The next dish I tried was their Bacon-Chunk Waffle. Light and fluffy, sweet and savory, and overall a heavenly treat. The crisp waffle mixed with the savory bacon and the sweet syrup drizzled on top is a meal made in heaven.
Their Eggs Benediction is a unique twist on the classic dish. Rather than the eggs and ham being served on an English muffin, it's served on their homemade biscuit. It adds a fluffy component to the classic savory combination, which definitely makes it stand out as a delicious breakfast.
Along with their classic breakfast menu comes a plethora of desserts and pastries to die for. Their cinnamon rolls, bran muffins and French macarons are all proudly displayed at the front of their counter.
Because everything looked too amazing to simply pass on, we all decided to split three of their unique treats. Their cinnamon roll was not only the perfect balance of sweet and spices, but it was filled with a sticky, nutty center, adding a unique (and tasty) element. The cookie-crusted chocolate mousse "shell" was elegantly presented, rich and the perfect balance of texture.
But what really stood out was their nameless chocolate-peanut butter concoction. A peanut buttery, cookie-like bottom, a layer of light, slightly crumbly chocolate creme, and a thin shell of chocolate on top, it was unlike anything I had ever tasted before. The classic flavor combination was taken to a whole new level, and this treat alone was definitely worth coming back for.
I rarely am compelled to post an on line review but this gem is just too good not to share. Ventura's Traveler Cafe! https://t.co/V5kB22c3yM

— Laurel Nevarte (@LaurelNevarte) March 14, 2016
When it comes to the prices, Traveler Café does not disappoint. Although not the cheapest dining, it is definitely worth it for the portion sizes and experience. Most of their breakfast items range from $6.95-8.95, and compared to other Sunday brunch spots, it falls into the cheaper side.
The service was both friendly and efficient; they welcomed all the customers with a smile on their face, and were more than willing to answer anyone's questions or concerns about any of the menu items.  
Traveler Café is new to Ventura, but will definitely become an extremely popular dining spot. Between their excellent food, fast and friendly service, decent prices, and tasty treats, it's definitely going to feel like a little vacation for your tastebuds.