5 easy Mason jar lunches
Packing lunches in the morning can be a sloppy mess. Throwing whatever you find in the fridge between two bread slices. Encountering that Tupperware of last week's leftover dinner and shoving it into your backpack and calling it a day.
Everyone's also had those mornings where you were so thrown off by something that you forgot to pack one and were left starving all day. Packing your lunch at night most likely will solve the problem and if you have some mason jars laying around, there are ways to utilize them for quick and easy lunch ideas.
A major benefit to using mason jars is the amount of unneeded plastic waste is reduced. Americans generate about 10.5 million tons of plastic waste a year. About 14 billion pounds of trash, which a lot of it is plastic, is dumped into our oceans each year. So, with that said, here are 5 ways to use a mason jar for lunches on the go.
 Salad

A healthy salad you can pack the night before. Credit: Lauren Shields / The Foothill Dragon Press.
A salad for lunch can not only be simple, but an easy way to get all the nutrients you need to go along with your day. The trickiest part to the salad is having all your solid ingredients soaking in the dressing all night.
An obvious trick to this problem that most people don't think of is putting the dressing on the bottom of the mason jar. On top of the dressing, place the most non-absorbent and heavy vegetables, like carrots, cucumbers, peppers, celery, and/or onions. These will keep the rest of the toppings from getting soggy and slimy. It is best to stack the lighter foods towards the top.
Make sure to not turn the mason jar upside down before you eat it, because then the dressing will get all over the veggies and make them soggy, or leak out of your mason jar. But, when you are ready to eat your salad, shake the mason jar up and enjoy!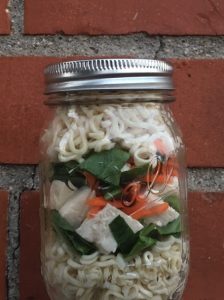 2) Ramen
Most people know ramen as being a cup of dried noodles and vegetables that you add hot water into and enjoy the noodles while avoiding the dried up and half-cooked veggies.
Because that hardly sounds appetizing, try cooking the ramen noodles, putting them in a mason jar, and adding fresh ingredients. There are countless non-dried of toppings that could be added into this meal such as tofu, hard boiled eggs, green onion, peas, bok choy, spinach, carrots, jalapenos, and many more!
After adding all your ingredients, pour hot or boiling water into the mason jar, then add a seasoning packet from the dried ramen packet or, if you're feeling creative, create your own!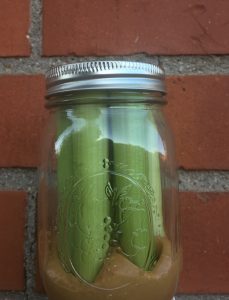 3) Celery and Peanut Butter
Although celery and peanut butter would not keep you full like ramen or salad, it is still an easy thing to pack the night before you go to school.
To make this effortless snack, spread peanut butter on the bottom of your mason jar and stick your celery into the peanut butter. This method makes it easy to scoop out peanut butter with your celery.  
If you are an athlete, it should be common knowledge that you need protein to build muscles to become stronger, therefore this would be a perfect snack to add to your lunch so you are refueled for your workout or the rest of the day.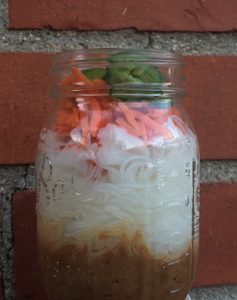 4) Deconstructed Spring Rolls
Spring Rolls may look the most complicated out of all these recipes but they are actually quite simple.
Just like the salad, place the dressing to the deconstructed spring roll, which could be peanut sauce, a garlic-soy sauce, or just plain Sriracha, on the bottom of the jar.
On top of the sauce should go the rice noodles, because they are the least absorbent out of all the other ingredients.
There are many varieties of toppings that could be added like, tofu, jalapenos, lettuce, imitation crab meat, avocado, carrots, or lime juice.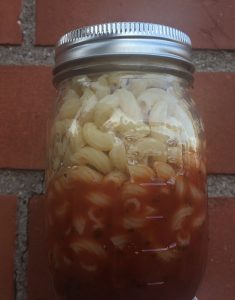 5) Pasta
Pasta contains an abundance of carbs that are needed daily to fuel your body. This short and quick mason jar lunch only needs a minimum of 2 ingredients, noodles and sauce.
If you are feeling creative, you could add capers, cheese, mushrooms, spinach, and/or any kind of meat.