Almost everyone has consumed a package of Instant Top Ramen at some point in their lives, but not a lot of people have tried a genuine bowl of freshly cooked ramen. Kao Ramen by Mama, a new restaurant in Downtown Ventura, delivers large portions of slurping surprises. Their unique flavors give everyone something to thoroughly enjoy, and lots of leftovers to eat days later.
The owner of the restaurant, known to most as "Mama," became popular for the local Thai restaurant "Rice by Mama." When her Ramen restaurant opened, people were excited to try this new style of cuisine.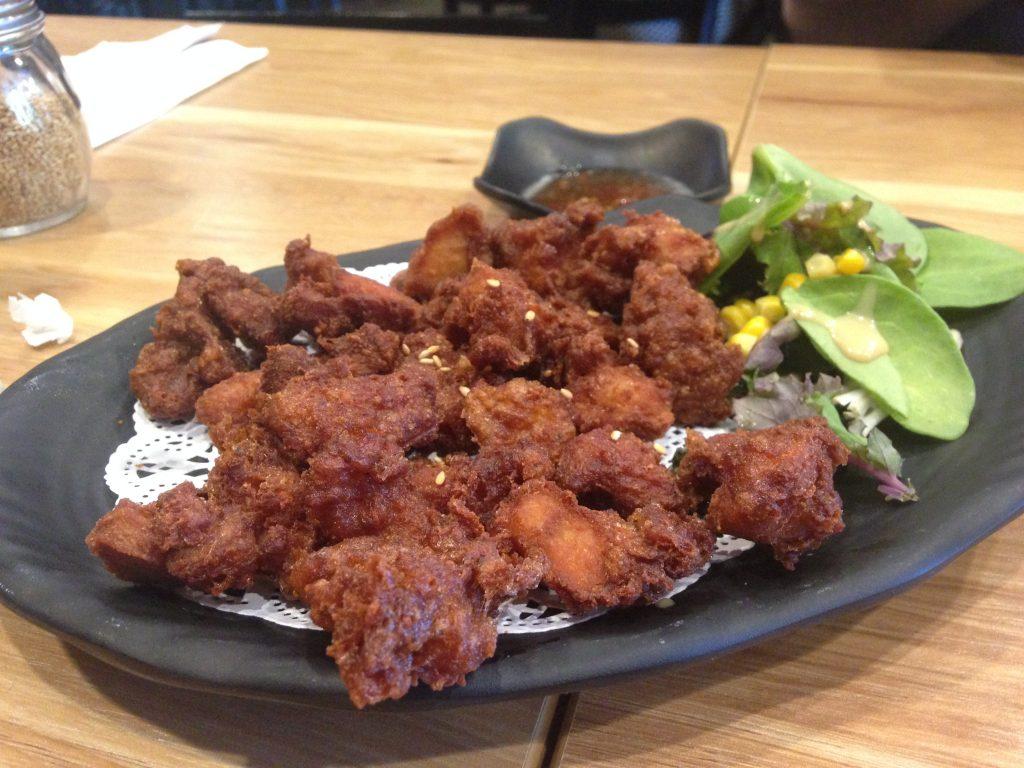 Upon arriving I was immediately greeted by friendly, smiling faces, and since it wasn't quite yet the "dinner rush" when I went, I was able to seat myself. Though a small area, they make the most of the space, fitting a decent amount of people without making it too crowded. Chopsticks are placed at each seat, and menus follow shortly after.
The faint smell of cooking cuisine is enough to immediately make your mouth water. When looking at the menu, I was both surprised and impressed to see they don't serve just Ramen. They have a variety of rice bowls and salads along with the wide range of Ramen flavors, as well several different appetizers, including things like steamed edamame and gyoza.
The prices of the food may seem a bit expensive, but with the amount of food they deliver, it's well worth it. Their appetizers ranged from $3 – $8 depending on the portion and complexity of the dish. The salads were between $8 – $10, the rice bowls between $6 – $12, and the ramens between $9 – $11.
Because my friends and I were extremely hungry, we decided to start out with an appetizer. We ordered the Karrage, which is the Japanese equivalent of popcorn chicken, served with a sweet and sour sauce.
The "fried" layer was perfectly crisp; it added a nice layer of crunch without overpowering the taste. The sweet and sour sauce brought everything together, adding a "tang" that excited tastebuds.
When it came to ordering the entree, we all decided to stick with what Kao Ramen is known for: ramen. We ordered three different kinds of Ramen: the Chicken Ramen, the Kao No. 1 Ramen, and the Mama Style Ramen.

On the menu it is clear you have a choice on the level of spiciness you prefer; it ranges from 1-5, with 1 being barely spicy and 5 being "mouth on fire" hot. Because none of us were really able to handle the heat, we kept it tame at level 1.
The Chicken Ramen included spinach, bok choy, green onion, fried onion, black garlic oil and white meat chicken, served in a chicken broth. It cost $9.95, making it one of the cheaper Ramen items.
The chicken broth resembled a richer, thicker, chicken noodle soup. The chicken was tender and juicy, and each additional mix-in added a new, unique flavor. If you are new to the ramen world, this is probably the best one to start out with.
The Kao No. 1 Ramen is one of their most popular ramens (along with Kao No. 2). It's a combination of Chashu (simmered/braised) pork, green onion, sesame, corn, green onion, garlic oil, seaweed, bamboo, spinach and (hard boiled) egg, engulfed in a Tonkasu (pork) Broth.
The meat, although in large pieces, was tender and easy to eat, and the broth added a creamy texture that couldn't be beat. Although a lot was added into this ramen, no flavor overpowers the other. Each shines on its own in an overall super tasty way. This ramen was $10.95, but with the amount of food and add ins, it was well worth it.
In Ventura: Fuji Sushi out, Kao Ramen in. Brought 2U by owner of nearby Rice by Mama restaurant. @DowntownVentura pic.twitter.com/0hpkGrRFss

— Lisa McKinnon (@805foodie) April 2, 2016
Mama Style Ramen was definitely the most unique of all the ramen bowls. The main "meat" is your choice of chicken, tofu, or ground pork (pork was our choice), along with shitake, bean sprout, green onion, spinach, garlic chips, sesame, lime and chili, all served in a Tom Kha coconut broth.
The broth was what made this ramen so tasty; the coconut milk added a creamy, slightly sweet flavor that was perfectly counteracted by the slight spice. It was definitely unlike anything I had ever tasted before, and although different, definitely worth a try. The ramen was also $10.95, which once again is worth it considering the massive amount of food.
Kao Ramen by Mama serves unique, delicious cuisine that is perfect for any time. With "Mama" in the name, it's clear any person of any age can enjoy the Ramen experience. There's a wide variety of food to choose from, and all of it is easily shareable if you don't want to take home an excessive amount of leftovers (although that can sometimes be half the fun).
Whether you're a ramen fanatic or a newbie to the unique flavors, there's something tasty for everyone to try.
Background Photo Credit: Julia Fickenscher / The Foothill Dragon Press