A dream made at Dreamworks Studio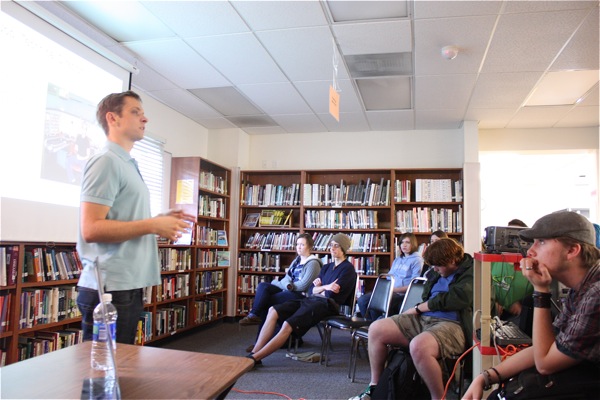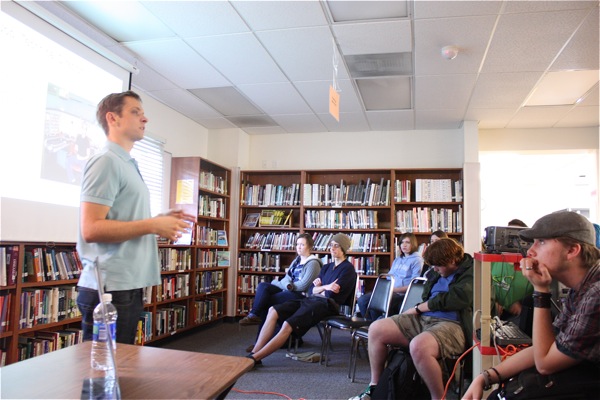 Zachary Carter stood in the Media Center in blue jeans, a light blue shirt and high-tech looking Vibrum Shoes, while a lit screen behind him proclaimed: "A Career in Computer Animation." Foothill alumnus, and now a Technical Director at Dreamworks Animation, Carter has made his dream come true.
"The path I took was kind of interesting and exciting," Carter said of his experiences.
He spent three years at Foothill, drawn by the idea of computers and technology. His class of 2003 was the first class to graduate from Foothill. He attended the University of California of Santa Barbara afterwards, and studied computer science.
"I knew Pixar was involved [with computer science]," Carter said, "I taught myself the specifics, because neither school specialized."
From there he got internships with various companies and tried as hard as he could to figure out his path.
"I didn't know how to get there. What route could you take?" he said, "I found blogs written by interns and looked at job postings. I got a sense of what they looked for."
It was a solo adventure for Carter as he tried to set himself apart from the rest of the competition. He decided that getting experience would give him an edge. Finally, his Junior year in college he received a paid internship. Then, Pixar contacted him.
Before he knew it, he was on the Greyhound headed to Berkeley for an interview. There, Pixar gave him an internship and housed him.
"What I learned from my roommates was that to be hired was computer science, not graphics [in the industry]," Carter said.
Afterwards, he realized that he needed a job. He decided to go to a conference in San Diego for a week. He printed out business cards and resumes and spent many hours talking to people at the conference and getting his name out.
"Dreamworks called me within hours for an interview," he said.
After a successful interview, Carter got a job as a Technical Director. He laughs as a nerdy photo appears on the Powerpoint presentation behind him. He describes his typical day, which includes free meals and yoga.
"I took a route that isn't typically taken."
An animated movie takes three to five years to make and a single image may take up to sixty people. Carter points at an image of a panda on the screen and admits that he sometimes gets impatient with graphics when he tries to create them.
Carter doesn't express any regrets about his job, however, or the work it requires. "I wanted it really bad, you have to work for it. You kinda have to sell yourself."
But now, Carter is thinking about changing his route.
"I got what I wanted, but now I'm in a place where I want to do something else," he said, mentioning his love of the outdoors and rock climbing.
"There are so many opportunities in life, I want to go back and experience them," he said. "My advice is to shoot for the moon, but if you land on the stars, it's okay."