Over half of freshmen will be released from FIRE Monday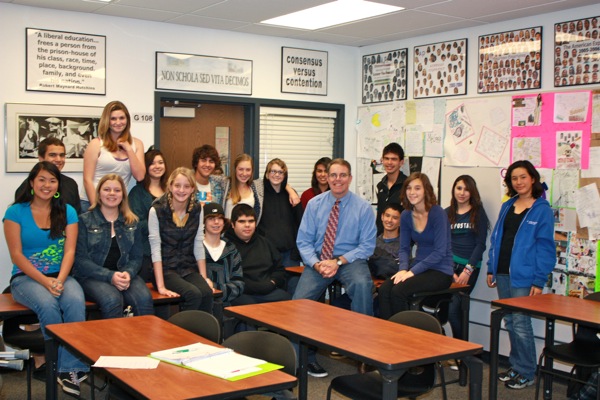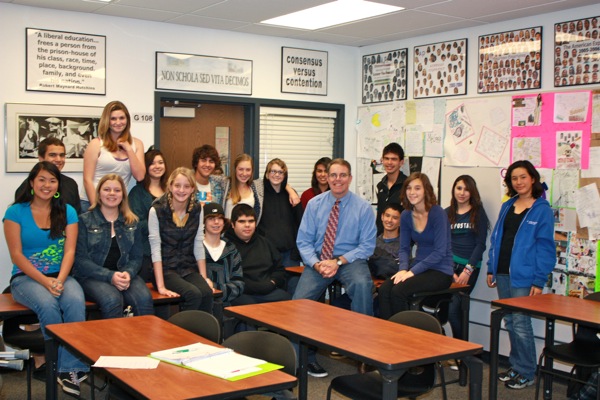 Foothill teacher Richard Geib sits with his first semester FIRE class for one of the last times as many of them will leave the program on Monday. Credit: Gemma Stoll/The Foothill Dragon Press.
Final grades are in and anticipation is running high for freshmen as many have a chance to get out of the Foothill Intervention Reinforcement Enrichment program, or FIRE, and achieving Renaissance status at Foothill.
FIRE is an intervention program that eases freshmen into the high-school atmosphere and Foothill's expectations. 
"The program helps freshmen adjust to high school with the assistance of mentors, who teach organization and support students.  Students are given a strong foundation in FIRE as they make academic adjustments and new relationships with teachers and students in their FIRE classes and on campus," Carr said.
Of this year's freshmen, 67% out of the total 260 students have their last day of FIRE Monday, Feb. 14. Freshmen have it harder than the upperclassmen when it comes to being allowed to leave the program. 
"Upperclassmen get out of FIRE with a GPA of 2.0 or greater," said FIRE director Connie Carr, "The freshmen need a 3.0 to get out of FIRE for the semester."
This means the freshmen must get at least straight B's, or an average of that, to get out of FIRE for second semester.
Freshmen Megan Witters and Hailey Tallman agree that FIRE has helped them transition into high school and keep up their grades.
"FIRE is an awesome place to make friends, chill out, and get stuff accomplished so we're not left out in the dark," Witters said.
"It's really helpful having time set aside to get some homework out of the way and talk to teachers when you have questions," Tallman said, "I'm excited to get out [of FIRE], but I'll miss my FIRE class and teacher." 
Witters and Tallman were both enrolled in Richard Geib's FIRE class.  
Many FIRE leaders also have had a positive experience with the program seeing as 55-60 leaders will return for the second semester out of the original 66.
"After a semester of bonding, I'll miss my FIRE kids because now they've been set free," joked FIRE leader and junior Taylor Rios.  "Being a FIRE leader has really given me a better respect [sic] for freshmen by being able to participate in their learning experience." 
Rios is planning to continue being a FIRE leader next semester.
For those looking for volunteer hours or an opportunity to help others, applications are available for next year's FIRE crew here.