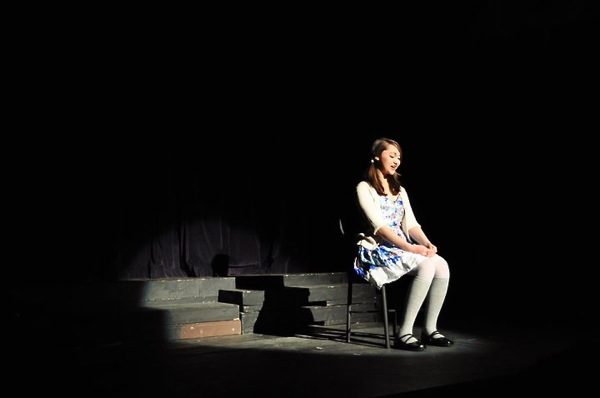 Audience members talked amongst themselves excitedly as they anxiously waited for Ventura High School's Winter Showcase to begin Friday.
Directed by Stefoni Rossiter Burgi, the show featured a number of drama students as well as the members of the "WHAT?" Improv Troupe.
The showcase displayed over twelve acts that varied from drama to comedy and everything in between.
At the start of the show, the three MCs (junior Dylan Horwitz, junior Kaitlyn Fern, and sophomore Jessica New) introduced the audience to the first act entitled "The Boys Next Door," which revolved around two awkward neighbors who were obviously infatuated with each other.
Sophomore Ashlyn Weatherford, the actress in "The Boys Next Door", felt that she did "pretty good". In between the two-day rehearsals and nighttime performances, Weatherford clearly enjoys her time onstage.
"Theater gives me kind of a 'high'. It's my passion," she said.
The next two acts "Swimmer" and "Elephant" were more intense than the previous one, but audience members were laughing again during the Charlie Brown lunchtime monologue. Charlie Brown was played by freshman Katherine Rollins, whose female rendition of the character brought smiles to several people's faces.
Before intermission, Ventura's "WHAT?" Improv Troupe entertained the audience with improv games such as Park Bench, ABC's, Revolving Monologues, Soap Opera, Threepeat, and Pocket Lines. Many of these games are also played on the popular comedy improv show "Whose Line is it Anyway?".
Audience member Judy Rollains described the actors as "Amazing [and] talented. I felt like I was watching the Saturday Night Live crew."
After a brief intermission, sophomore Lani Akuna and senior Claire Burgi starred in "Independence," a dramatic act about a strained relationship between a mentally unstable mother and her daughter.
The crowd was completely silent during another intense act, "American Psycho" clapping only when the psychotic serial killer (played by sophomore Joey Santia) finished his last lines.
Comedy gradually found its way on the stage again  with "Diary of an Angry Black Waitress", an act written by Monique Djoumessi. Djoumessi starred as a rude waitress that turns a couple's date at a fancy restaurant into a nightmare. The act that got the crowd wildly cheering laughing by its end.
Finally, "Man-up" featured junior Michael Hernandez and senior Garrett Sanders as two ridiculously superstitious basketball players. Throughout the skit, the boys engaged in comedic cheerleader-like chants every time they detected bad luck lurking around.
Ventura junior Brandi Ruscher said, "[The showcase] got our humor down."
Foothill junior Kieran Giamichele agreed, noting the "WHAT?" Improv Troupe as one of his favorite acts.
During curtain call, New announced that Ventura would be presenting a few showings of the musical "Hairspray" in March. As all the actors took their bows, they showed their enthusiasm for what would be another chance for Ventura to showcase more of its talented students.