Foothill band decompresses through their music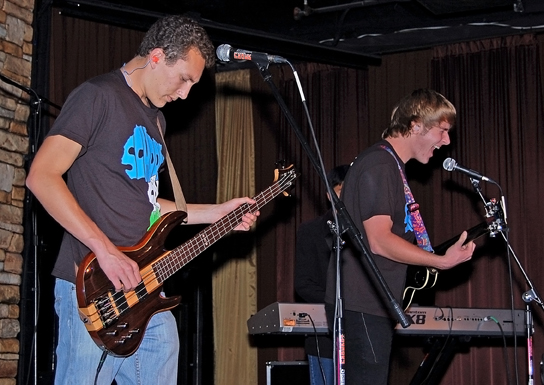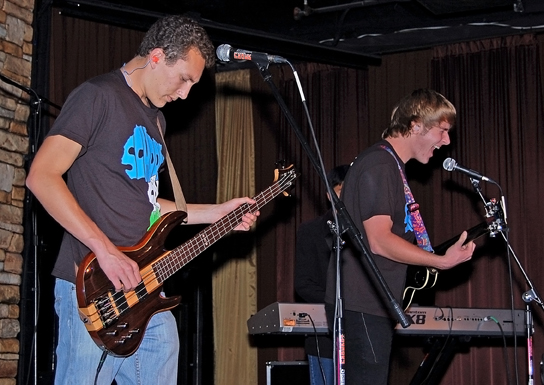 In the midst of the students who were sitting inside the IPOD, three of The Rhine's members sat at a table, discussing their beginnings as a band.
"Bill came up to me and said, 'Hey, my band's going to college, I don't have a band.' That was at the end of July," True Randall mused, "At first I thought, What would I do? I play guitar, but Bill plays guitar. So I learned bass, and started practicing."
The Rhine, a local band including three of Foothill's own, is a way of life for its members. Its members each bring their own sound and talents: Bill Grundler is lead guitar and singer, True Randall is bassist, Michael Huang plays the keyboard and Andrew Laubacher sets the beat as the drummer.
The Rhine as an ideology was developed before any songs," Grundler said.
"Music to us is eating and sleeping," Randall added. "I was sitting in my office at 11:30 p.m., trying to work, but I wanted to play some music, so I did."
Grundler is quick to step in and say that in between writing an essay, he has taken breaks to write music.
The rest of the guys find this hilarious. "I write music at night," Randall joked in a deep voice that is usually reserved for narrators of horror movies.
It seems that all that this band listens to is classical music. And most of their sound is based on classical music, with a twist of symphonic metal and jazz.
"I literally stole chords from Mozart to use in my songs," Randall said, a mischievous smile on his face. "There's even a little rasta."
"Like shepherd's pie and ice cream," Grundler joked.
They're excited about their new songs that they will play at their upcoming concert on Feb. 11 at the Ventura Theater.
"People go to local shows and have a good time, we're trying to offer something different," Grundler explained, "We like to keep the shows high energy."
Grundler and Randall write most of their songs, but they practice their music together whenever they can.
"I'm in the middle of writing a song," Grundler said, "But it's good."
As individuals, most of the members are well-versed in music. Randall has played since he was in second grade, Huang has practiced piano since he was four, Grundler has been "singing for forever" as he puts it. Laubacher just picked up the drums a months ago, but he seems just as talented as the rest of his band members.
As they talk amongst themselves, the conversation turns to school.
"I don't want to say that school gets in the way," Randall started, "But it makes it hard to organize everybody."
"It drains inspiration, or hope," Grundler added.
Randall's face turned serious, "Some of the best songs are written when you're hopeless," He said.
Despite the stress that school places on the band, they remain confident and playful.