Prospective students flood Parent Info Night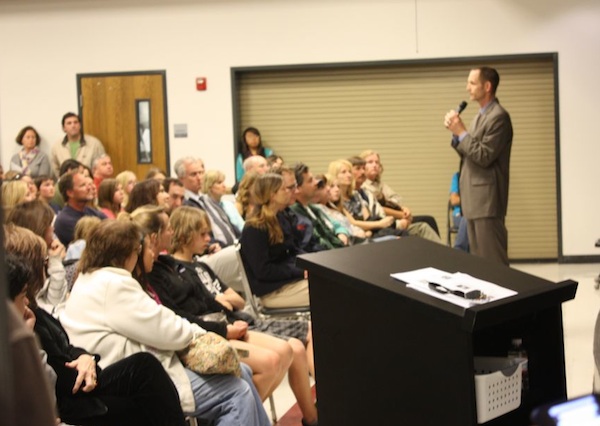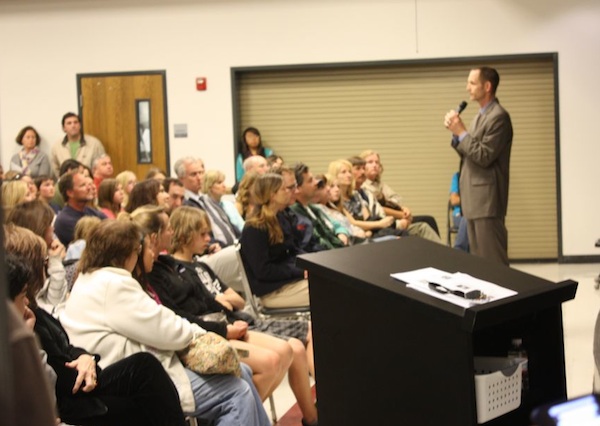 Principal Joe Bova speaks to parents and eighth grade students about attending Foothill. Credit: Gemma Stoll/The Foothill Dragon Press.
Spirito Hall's doors opened Thursday to hundreds of prospective students and their parents at Foothill's Parent Information Night. 
The hall was flooded for each presentation, lasting about an hour each, with a school tour separating the two presentations.  Parents and students lined the walls and clogged the doorways to the hall.
"This night was definitely a success," said Foothill P.E. teacher Emily Stevens. "Even though the Buena versus Ventura girls' basketball game is happening right now,  and I'm missing it!"
Principal Joe Bova led the presentation, explaining to potential Foothill students and parents about the school's lottery process, programs such as Education in the Digital Age (EDA), the Bioscience Academy, FIRE intervention, community service requirements, and the Foothill Dragon Press.
Bova was present, along with assistant principal LaSonja Brown, media center director Linda Kapala, and each department chair.  Many Associated Student Body members also attended, directing tours and answering many parents' questions.
Bova's presentation was aided by Brown and a PowerPoint.  After the presentation, a Q & A session commenced, and all the teachers and ASB members sat down on the stage in front of the audience to answer questions about the school.
Applications for the 2011-2012 school year are available at Foothill's school office, online at on the Ventura Unified School District website, and on Foothill's school website.  The application window for the school of choice is open until 4 p.m. on January 28. Results of the lottery, performed offsite by district staff, will be sent by mail to the applicants in late February.
"I learned a bunch, and I'm really excited to apply here," Cabrillo Middle School eighth grader Allison Champagne said.