Review: A night of Jazz that lacked pizzazz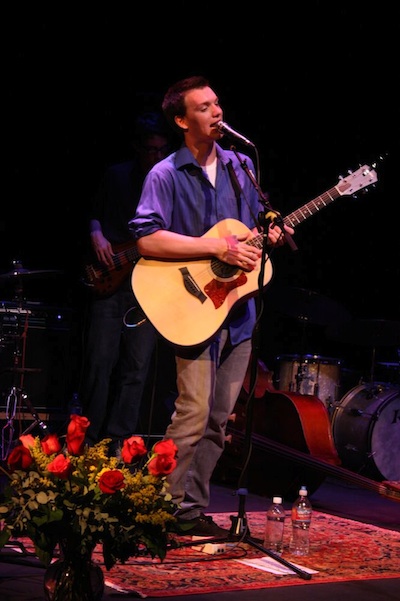 Sweat gleamed off Mark Cross' forehead as he belted out the encore requested of his band while opening for Joel Clemons and the Lemons Saturday night at the Rubicon Theater in Ventura.
Joel Clemons and the Lemons, the featured act of the night, gave a passable performance; but they were outshone by the opening act, Mark Cross.
Cross, a senior from Moorpark High School, took up playing the guitar a year and half ago out of "sheer boredom." Cross, along with three other attendees of Moorpark High School, formed their band during the past summer. Their music video, "Just Another Day", can be viewed on YouTube.
Cross' rich voice and the band's upbeat style began to sound rather similar from one song to the next, but their performance was nonetheless impressive for such a young band that writes their own music.
Their best song, "Let's Say" had smooth vocals that pulled the audience into the song and kept them captivated until the very end, when they demanded an encore. However, when Cross ventured into higher pitched songs, like the encore "Vultures" by John Mayer, the overall quality began to waver.
Major inspirations for Cross are artists like John Mayer and Jack Johnson; their influences can easily be heard in the band's unique style. They featured a relaxed West-Coast sound in each of their songs.
As he rested backstage before returning to the theater to listen to Saturday's feature performance, Cross expressed the idea and motto that keeps him playing and working his best everyday. "If you wake up in the morning and you're not good enough for yourself who are you good enough for? So, feel your best the whole time."
Following the exceptional performance of Mark Cross, it was Joel Clemons and the Lemons' turn to entertain the relatively small audience which may have been because of the somewhat pricey $25 tickets.
Joel Clemons and the Lemons have been playing together for about five years and have surprisingly found a record company willing to produce nine separate albums.
Although he has been playing and performing since he was able to walk, Clemons still admits to feeling a nervous tingle before each of his shows.
"I know I love performing because before I go on stage I still get butterflies. I think if I didn't care, if I didn't want to go out and do well, I'd be like 'Oh, whatever' you know?" said Clemons.
The jazz pianist glided on to stage with a wink and a shrug, stretched his fingers victoriously, and plunked himself down at his bench. He was obviously confident in his ability to stun audiences with his grandeur, but must have been shocked when he discovered his audience was comprised of approximately forty people in an expected full house.
Clemons was absolutely right when he described his own style as "elevator music;" his songs fit perfectly into the jazz genre, with a bit of a modern twist. His theatrical voice, however, was entirely out of place, as well as his egoistical stage demeanor.
Most songs played were off the album "Hollywood Hotel" with songs like "Do It Like James Brown" and "Baby's New Shoes," as well as much of the album "Fade to Blue" featuring "Downtown Desesperado" and "Longings."
Each of these songs sounded uncannily similar to the last, most likely because they all featured the exact same subject: his rapturous affairs with various "city women." Some audience members appeared to grow uncomfortable due to his exceedingly tasteless lyrics and stage presence.
The Lemons burst back onstage for an encore at the end of their performance, but discovered that only one person had called out for one and that the rest of the audience had already gone.