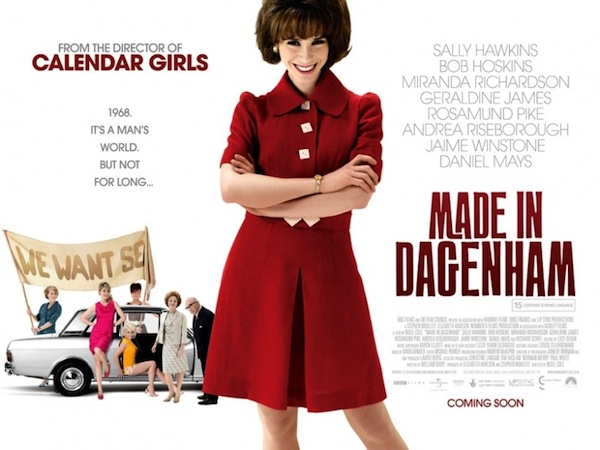 A 1968 Ford Mustang, a thing of eclectic and timeless beauty, proudly made in the great nation of England, but by whom? Men mainly, but also by a small band of 187 hard-working women in the small suburb of Dagenham; and for some reason they're all really pissed off. Equal pay for equal work, regardless of sex, is the name of the game here, and these women will fight, come hell or high water, for the equality they know all women deserve.
Made in Dagenham tells the true story of the campaign for equal working conditions for women, taking on in 1968 by a group of brave ford factory workers as they protested and rallied for what they knew was right.  Rita O'Grady, played by  Sally Hawkins (Golden Globe winner for her role in Happy-Go-Lucky), becomes the begrudging "front woman" for her fellow female employees as they decide to go on strike until they receive equal wages for equal hours. 
The film chronicles the slow but steady expansion of one small group's cause as they spread their message up the social hierarchy of England, from the lowest factory workers all the way up to the Secretary of State for Employment and Productivity, Barbara Castle (Miranda Richardson). What began as a small-scale protest for equal pay by a group of 187 female factory workers, eventually went on the spur the passing of mandatory workplace equality legislation around the world.
All of this makes for a film that is both compelling, but inspiring as well.  The style and feel of the piece is distinctly 60s, falling into many stylistic clichés along the way, while at the same time actually contributing to overall mood and tone of the film.  Dagenham succeeds on nearly every front, with great performances delivered all round, and a sense of place and tone that feels just right given the subject matter.
While maintaining a serious sense of purpose, by strongly trumpeting its message of civil rights, Dagenham isn't afraid to throw in a bit of humor when appropriate, with many hilarious moments throughout. Only helping to strengthen this point are the many stellar performances delivered by the likes of Hawkins, Richardson and Bob Hoskins.  Everyone onscreen comes across as extremely authentic in their respective roles, creating an atmosphere of action and protest that can't help but draw you in.
While far from the most dramatic and gripping film ever made, Made in Dagenham succeeds as being both an important testament to women's rights and a lighthearted film to watch.