Brittany Bernardi "is good at everything"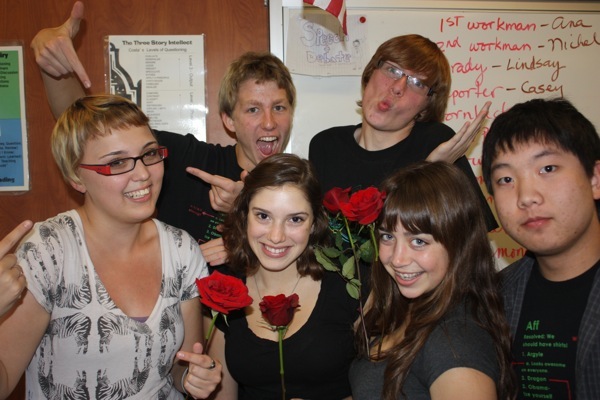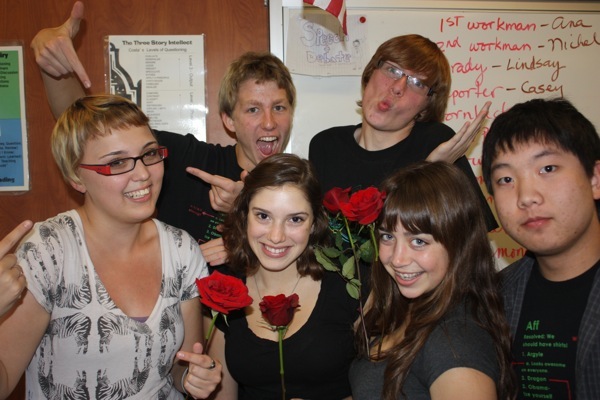 Looking into the crowd, the spotlight is on you. You tremble, and eventually start to speak; the dark theater dilates your pupils, fighting to adjust to the spotlight.
Most people shrink away from public speaking, but a select few can defy the number one fear in America.  Speech and Debate Secretary Brittany Bernardi, a Foothill senior, is one of the lucky ones; she's simply gotten used to it.
Bernardi has been involved in Speech and Debate, now the school's biggest club, since her freshmen year and has been writing original compositions since she was a sophomore.  "Freshmen year I mostly did debate.  I still do debate, but I like writing my own pieces a lot better," she explained.
"I got involved in speech freshmen year because I took drama that year.  I joined because of all the people.  There are so many cool, interesting people in speech," Bernardi said enthusiastically.  "Speech is definitely a family.  We spend half the time 'team bonding' – eating sushi, puffy things, and staying up till 4 am together."
The speech team has a ton of inside jokes, but none of which will "translate, especially for the Dragon Press.  They're a little, well, out there" Bernardi said.
Speech is full of chaos.  "We deliberately put ourselves in situations that stress us out because it's really fun.  We like to stress ourselves out till we fall over, but we have the most fun ever!" Bernardi said.
Speaking of fun, Bernardi's last state competition was an eventful one.  "Mr. Villa decided it would be funny to leave me and Molly Roberts at this smoothie place.  We walked out and saw his van driving away! He came back for us, but we were freaking out," she said.
Foothill English teacher and Speech coach Jennifer Kindred's favorite memory of Bernardi at the state competition was Bernardi's use of jazz hands in her piece.
According to Bernardi, the funniest people on the speech team are Bryan Hickman, Jim Bern, Karen Fox, Kevin Kunes, and herself.  "I don't know how Bryan wasn't voted class clown on senior bests! He's the funniest person ever. Karen's just hilarious when she's performing.  And Kevin and Jim are, well, Kevin and Jim.  Enough said."
Junior Kevin Kunes said, "Brittany is someone who can make mundane experiences very exciting.  She is a docent at a hospital for her senior hero project and as she was rattling off the history, she made it really interesting when I normally would have nodded my head and pretended to listen."
"Anyone can join the speech team," Bernardi said, "But you can tell pretty early if they will stay.  The speech team is very inclusive, but assimilation is key.  Adam Braver – he's awesome.  He fits into our family really well."
Bernardi's original composition, "Grayson O'Connor is Good at Everything" won first place at the Original Prose and Poetry Division at the Fullerton invitational tournament l, held on Oct 22 to 24.  Her piece is categorized under prose, which is another term for a short story, and is nine minutes long.  Bernardi immediately called Kindred after winning the title, and called her mom second.
Kindred said, "We are all proud of Brittany.  She won first place at an invitational – something that had never been done before.  She's awesome at voices.  She could totally make a living from being a stand-up comedian; she's so good at it.  I actually wanted to enter her in a KTYA competition last year, but she wasn't 18 yet."
"My piece is basically a heartwarming comedy about sabotaging people who think they're better than you," Bernardi said.
It isn't mandatory to compete in speech tournaments; but it's an important part.  "You wonder, 'What are these people doing here,' if they never go to a single tournament.  They usually drop out," Bernardi said.
Current Foothill Drama teacher Karen Rodrigues is grateful to have Bernardi in her drama class this year.  "Brittany's experience in the speech team makes her a role model in drama, and thoroughly enhances her expertise in class.  She's incredibly enthusiastic and over the top," she said.
Even in her freshmen year, Bernardi still made an impact in drama class.  Kindred, who was Foothill's previous drama teacher, praised Bernardi through a short anecdote.
"There was this group of senior boys in my class sitting in the corner over there that always goofed around and didn't take the class seriously, but one day after Brittany performed, they all stood up and gave her a standing ovation," Kindred said.
Bernardi jokes that her favorite hobbies include doing backflips, going to space camp every summer, taking her pet cow for walks, and "baking things and doing competitive things with them" and that she participates in "cookie chucking," which she says is similar to dodgeball with baked goods.
Bernardi qualified for state composition last year, and narrowly missed it her sophomore year.  She is competing at a speech tournament at Simi Valley High School this weekend.
Editor's Note: This article was modified Dec. 13 to make clear that Bernardi was joking about her favorite hobbies.