Foothill for Africa rocks Epic show (video, 36 photos)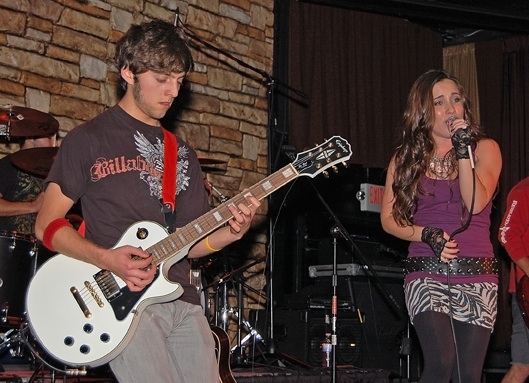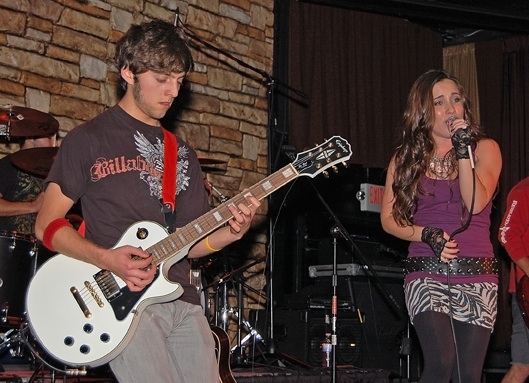 Sophomore Andre Sehati played guitar along with singer Britney Christian at Foothill's Schools for Salone Benefit Concert Saturday. Credit: Alex Phelps/The Foothill Dragon Press.
Foothill for Africa leaped towards their goal of raising $50,000 to build a school in Lungi, Sierra Leone Saturday at the Schools for Salone benefit concert.
Foothill seniors Bill Grundler and True Randall coordinated the event and raised $2,123. According to Foothill teacher Cherie Eulau, 125 people came to Epic Ventura to support the cause.
Red Terrain was the first band in the lineup. Izzy Morones, who attends Ventura College, played drums and sang. Her brother Emilio, a junior at Ventura High School played the bass and Ventura High junior Shane Haggerty played lead. Rio Mesa High School junior Dante Escrofani, was the band's lead singer and keyboardist. Nick Roberts is a junior at Linfield Christian School and is Red Terrain's rhythm guitarist.
They have only been practicing together for three weeks and Saturday night was their first show. They heard about the opportunity from Grundler and jumped at it.
"I thought it went really well considering we've only been together for three weeks. We were working really hard to make sure it sounded good," Izzy said.
Foothill seniors Emily Dixon and Kate Bailey were impressed with Red Terrain's performance, and loved their cover of a Tokyo Police Club song.
North Woods made their second appearance two weeks after their first show and were the second band of the night. Their bassist Trent Ruiz, a senior at Foothill, got them involved with the benefit.
After reading A Long Way Gone by Ishmael Beah as sophomores, seniors Melissa Carroll, Wyatt Machan, Skylar Leaf, and Ruiz realized how important it is to help build an educational facility in Sierra Leone.
Melissa Carrol finds the pictures of the current school in Lungi truly inspiring, and fully supports Foothill for Africa.
In regards to their performance, Foothill seniors Nick Herson and John Love adored it. "Wyatt's singing was the highlight of the night," said Herson, "It's like Ringo singing a song for the Beatles; it doesn't happen that much but when it does, its really really awesome."
Former Foothill student Britney Christian and her band was up next. Christian started singing in public when she was four, started recording her songs when she was a freshman and left during her senior year to go on tour. 
Her songs have been featured on shows such as Laguna Beach, The Ghost Whisperer, CSI, and Guiding Light. She also recently won a competition called "The Next American Star".
Foothill sophomore Andre Sehati and junior Garrett Lyons played guitar in her band. 
"It's always exciting to use the gifts that you have to raise money for good causes, I'm always happy to do things that could benefit other people," Christian said. Her band gave an extremely energetic performance and had the whole room dancing.
When asked what Schools for Salone means to him, Bill Grundler of The Rhine said, "I've always believed everyone should have the same opportunity to see out their talent to its full potential." Music is the most important thing in his life so he decided to incorporate it into his senior hero project.
"Schools for Salone means giving others a chance to live the lives they want to live," said The Rhine's keyboardist, senior Michael Huang.  He has always wanted to do humanitarian work in Africa and felt like this show was a good way to start.
Saturday's benefit concert also marked the launch of The Rhine's first EP, which they dedicated to Sierra Leone. The Rhine recorded with Tim Franz who gave his time to help the band, "He's one of the most generous people I know," said Grundler.
Senior True Randall, The Rhine's bassist, took care of all of the business with Epic and Grundler booked the bands.
"I am very happy with how the event turned out," said Grundler, "You could feel the excitement in the room from seven to eleven. Not only were we all bands, workers, and fans doing something worthy, but we were having a blast!"
{vimeo width="600″ height="400″}17507736{/vimeo}