Senior gives back with diabetes fundraiser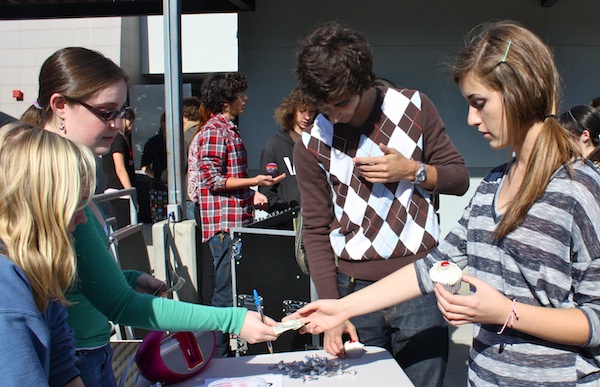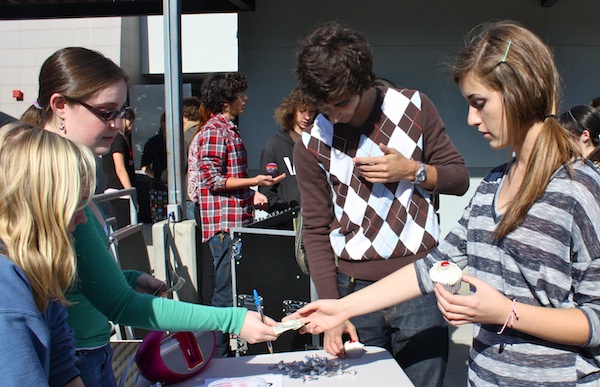 Junior Emily Rath buys a cupcake from senior Madeline Bell who was trying to raise awareness about Type 1 diabetes. Credit: Karen Fox/The Foothill Dragon Press.
Senior Madeline Bell, a student living with Type 1 diabetes, had an additional deadline on top of university applications: a fundraiser for Diabetes Awareness month.
Approximately 3 million Americans have Type 1 diabetes, also called juvenile diabetes, an autoimmune disease that strikes children and adults suddenly and lasts a lifetime.
People afflicted by juvenile diabetes depend on injected or pumped insulin, as their pancreas does not function properly. Bell has had her current insulin pump since she was in sixth grade.
Because of the risks associated with hyperglycemia and hypoglycemia (high and low blood sugar, respectively) Bell had to be completely in control of her blood sugar, something that required near-constant supervision.
"It used to be a lot worse," Bell said, "I would have to have an injection every time I ate, plus one a day."
Discoveries in recent years by the Juvenile Diabetes Research Foundation (JDRF) have finally taken away her 2 am wake-up call to test her blood sugar.
"My entire life revolved around what I could eat," she said, "It's gotten more normal because of research."
Improvements include shorter needles and waterproof insulin pumps. "It really allows for more flexibility," Bell said.
She usually participates in the JDRF's annual Walk to Cure Diabetes to raise money to fund current research on improving and ultimately curing juvenile diabetes.
This year, Bell was unable to make it to the walk, and decided to bring the message to Foothill. She sold cupcakes and held a drawing on the stage during lunch last Tuesday, raising $77 to donate to JDRF.
"They look glorious," junior Elena Schink said of the cupcakes, which were sugar-free and had Splenda icing.
Bell had planned to have the event focus more on awareness, but there was an issue with the sound system, so she had no way to contact students in the quad.
Darcy Perez, the ASB advisor apologized for forgetting the sound system. 
The sound system was finally found, though by the time Bell figured out how it worked, lunch had ended.
She said while it would have been helpful to have the sound system, Perez was a huge help in the planning process, and allowed the paperwork for the event to be submitted late.
"It was really short notice, but I wanted to have it during Diabetes Awareness month," Bell said.
"Madeline did a great job taking initiative," Perez said.
Bell is considering a second fundraiser sometime in second semester, when the campus is less full of stressed out upperclassmen. Bell herself spent FIRE getting her college applications in order before rushing to the stage to start setting up.
For more information on juvenile diabetes, visit the American Diabetes Association site.