BREAKING NEWS: Newsweek ranks Foothill 77th best in nation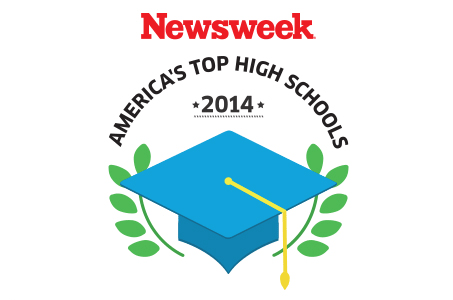 Newsweek's annual "Top Schools" list, released Monday, ranked Foothill as the 77th of 31,000 high schools in the United States. This is the first time Foothill has been ranked in the top 100 by Newsweek.
This year, Newsweek also released a "Beating the Odds" list, which recognizes high schools that prepare low-income students for college and are closing the "achievement gap." Foothill was ranked as 54th on this list.
"This recognition is the result of the hard work of staff and students over many years at Foothill.  It is a well-deserved recognition and I am so proud to be part of this school," Principal Joe Bova said in an email to the staff. 
Included in the Newsweek calculation is enrollment rate, state standardized test scores, graduation rates, SAT scores, ACT scores, AP enrollment, counselor-to-student ratio and change in student enrollment from 9th to 10th grade.
Foothill was also recognized with a yellow star, which indicates that, "the school's low-income students are performing at or above average" on state mathematics and English assessments. 
Eleven other California high schools ranked higher than Foothill on the "Top Schools" list. None had a greater percentage of students living in poverty than Foothill. Newsweek reports that 29.68 percent of the student body is living below the poverty line. 
Several local schools, including Oak Park, Westlake, and Newbury Park, were just outside of the top 100 range.
Bova finished his staff email by writing, "GO DRAGONS! […] P.S. Getting closer to #1."