With largest freshmen class ever, Foothill starts year "way over capacity"
The 2014-2015 school year has begun at Foothill, and along with it has come changes in regards to campus population, Magic Mountain, new staff, and technology.
"[Foothill is] way over capacity," Principal Joe Bova said.
Of the 1,059 students who were accepted or re-enrolled on campus, 1,038 took their spots. The freshman class has 289 students, the sophomore class 260, the junior class 247 and the senior class 242.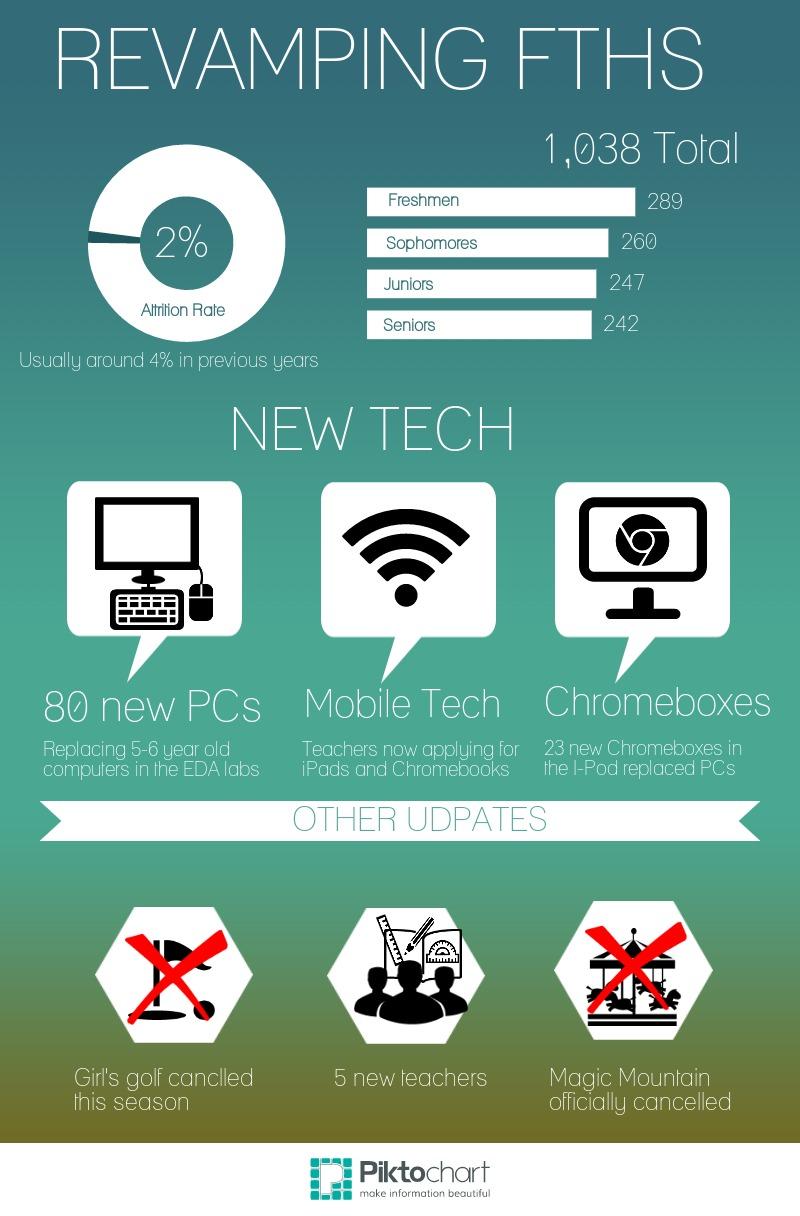 The "attrition rate," or amount of students who decide not to come to Foothill after being accepted or already enrolled the previous year, was half what it usually is, Bova said.
Foothill administrators were uncertain how many students would attend Foothill due to the addition of a sports program. As a result, 359 acceptance letters were sent out, a sharp increase over previous years.
Yet a much larger majority of new students decided to take their spot at Foothill. Twenty more students are enrolled than last year.
Bova said the hallways will be overcrowded, but hopes the problem will be partly alleviated by students spending lunch in FIRE or off-campus. New tables were bought last year to account for a growing campus population.
Based off of previous years, Bova guesses that about 4 to 5 students will switch to El Camino, Adult Education, Buena or Ventura, or will have to move. He guesses the final amount of students will be around 1,030. 

New staff on campus; 3 staff members leave
Jacob Milhon was hired as a special education teacher.
Wayne Powers was hired to teach Math 1. He has brought his "brick" system along with him, which he used at Balboa Middle School.
Ron Briggs was hired as Foothill's Assistant Principal. Previous Foothill Assistant Principal Carlos Cohen has been transferred to work at Ventura High School.
Jason Edgmond, Foothill girl's basketball coach, was hired as a full-time Physical Education teacher.
Due to a lack of members, girl's golf has been cancelled. Janie Dunn will remain the girl's golf coach, but Bova does not yet know if she will get paid this year.
Foothill will be hiring a staff member for a half-time position to manage athletic equipment and do custodial work.
Magic Mountain trip officially cancelled
After some indecision being voiced by Assistant Principal Katie Tedford at the end of the year regarding the state of the Magic Mountain trip, the administration officially announced that the trip has been cancelled.
Bova stated that due to the end of STAR testing, there is no longer a competition over test scores and the trip will not take place, "unfortunately and fortunately."
"I'm glad the kids have fun, but it's a huge task to take the whole school to Magic Mountain. We won't miss the logistical part," Bova said.
While there are no plans for a large school activity to replace the trip, Bova said ASB Director Melanie "Captain" Lindsey has "big ideas" for Renaissance activities this year.
Foothill replaces old computers; teachers to apply for iPad and Chromebook grants
Teachers, administration and staff will continue to grow Foothill's technological prowess in classrooms and computer pods.
Eighty new PCs will replace 5 to 6-year-old computers in the Education in the Digital Age (EDA) computer labs.
In addition, new Google Chromeboxes have replaced PCs in the I-Pod. Chromeboxes run on the same Google OS software as mobile Chromebooks, but are mounted to a desktop monitor and keyboard.
Throughout the year, teachers will be applying for grants for Chromebooks and iPads to expand the iPad Academy and Foothill's mobile technology. The grants are expected to bring in new technology on a rolling basis throughout the year.  
Background Photo Credit: Josh Ren/ The Foothill Dragon Press