Scream band Of Beloved hits the 805 music scene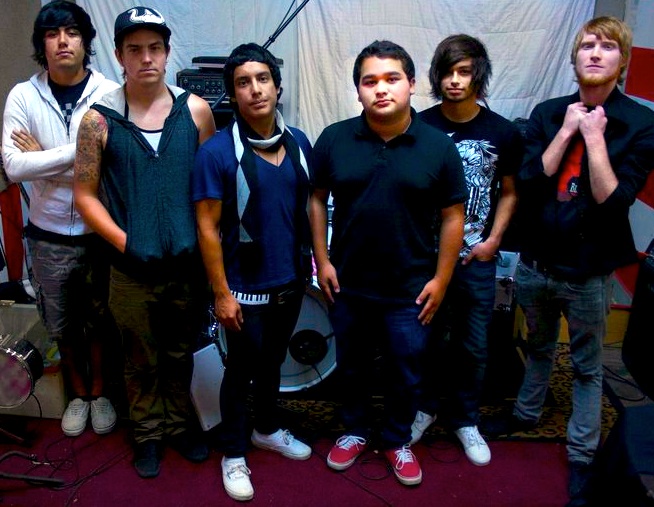 The cliché of band life among teenagers is play all night, sleep all day, and never showering as you share a bus and life with your band members, who are also your best friends
The reality is the hardship of producing music that appeals to adolescents, generating money for equipment, establishing peace among members at all times, and putting in numerous hours into practice.
A band from Santa Barbara named Of Beloved is desperately attempting to reach a higher fan base, recreate their band, and realize their desire to be noticed in the 805 music scene that is Ventura and Santa Barbara counties.
Most teenagers quit their dreams of playing in a band once they realize the difficulty of maintaining a music group through the onerous periods. However, a few bands posses the intrinsic trait of persistence and patience as they give their tears, sweat, and blood.
The Santa Barbara band Of Beloved is unique due to the fact that they produce metalcore/scream music. Their sound is similar to the signed bands, The Devil Wears Prada, In Fear and Faith, and Motionless in White.
Of Beloved consists of five members. There are three original members: 19-year-old Jason Gould plays the keyboard/synthesizer, 18-year-old Gabe Hernandez is the screamer of the band, and 17-year-old Ulises Gomez is the lead guitarist.
Recently, two new members joined the band. While they have not been announced to the public through their official Myspace and Facebook sites, the band decided to share the development with The Foothill Dragon Press. Singer Ramiro Espinoza, 23, and bass player  Justin Medeiros, 21,  who plays the bass, are the newest additions. Derek Taylor, 19, has played the drums for the group but plans to quit once their songs have been recorded. As a result, the band is searching for a new drummer.
"The band just took a long time to get off the ground; I just wanted different things and I'm in a new band," states Derek Taylor as he justifies his reasons to leave Of Beloved, "I'll still help the band record and I'll definitely miss the nights that every member spent the night under one roof mostly playing FIFA."
Even though the group has been through several members, Gabe Hernandez commented, "I feel good about them [the new band members], like really confident and that we can do more because they seem more experienced than past members."
Of Beloved has experienced the many hardships that are granted with establishing a popular band including band members leaving, obtaining flexible practice schedules for all the members, and agreeing on a sound. Currently, their main goal is to finish writing and recording lyrics.
Jason Gould also added, "We want to get a set at a stage at Warped Tour eventually."
They have changed their name a few times, gone through 12 members, and thrown out most of their old lyrics.
Of Beloved has shared the stage with numerous of other local bands at Jensen's in Santa Barbara and Albertos New York Giant Pizza in Lompoc. Both venues have recently closed so now the band is in pursuit of new places to play live shows. They also participated in Skinnie Magazine's Top 100 Bands competition and were invited to play in round three of the competition, but could not afford the gas.
Jason Gould proclaims with a smile, "My most memorable time with the band was when we were playing a live show and Ulises just fell down on stage. I guess there was a crack on the stage and his foot got caught in the crack and he just fell. "
"One time they said they were going to do a Tik Tok [by Ke$ha] cover and I didn't believe them. Then on stage, all you hear is them going, 'wake up in the morning feeling like P Diddy' and it was hysterical but really good," exclaimed Kristin Rizk, Foothill junior. "They get so into their performance when they are on stage that in one performance, a third of them ripped their pants."
Without a doubt, Of Beloved has the key necessities of persistence, patience, and the strong desire to produce meaningful songs. The members have fun moments and face every obstacle they are presented with instead of quitting, which is something most teenage bands never do. This local band, Of Beloved, is definitely dedicated to their music and to developing their band and fan base.
Photo: Of Beloved band members include, from left to right, Ulises Gomez, Derek Taylor, Ramiro Espinoza, Gabe Hernandez, Jason Gould and Justin Medeiros. Photo courtesy of Tayna Tsareva.