Seniors reflect on their high school journey behind the scenes of graduation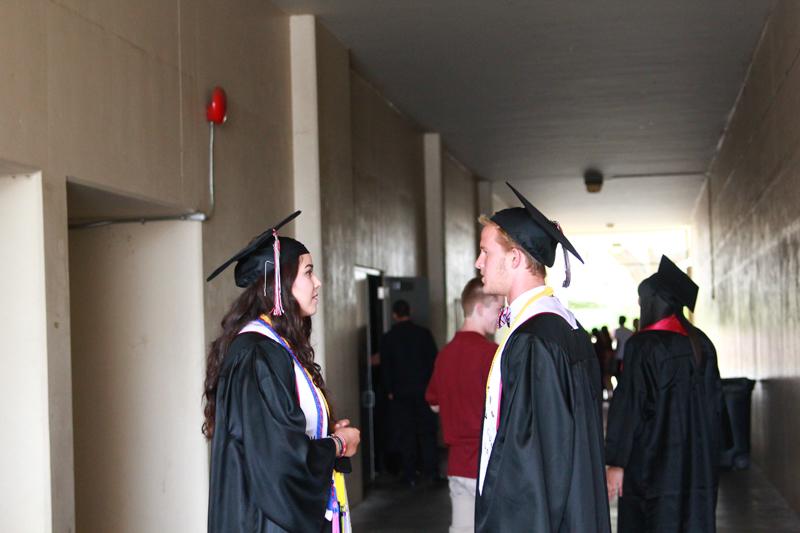 Fidelity Ballmer
June 12, 2014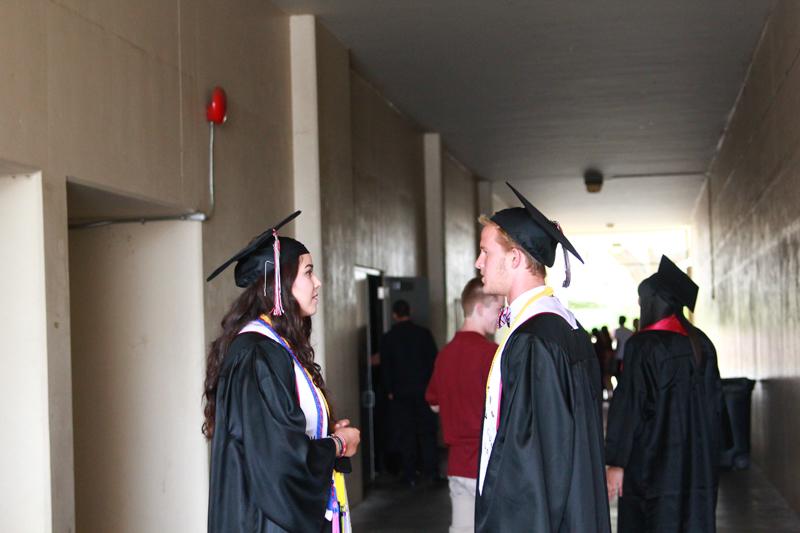 Jittery seniors dressed in caps and gowns behind the Ventura College stadium chatted excitedly this afternoon. About to depart for their graduation ceremony, they shared their reflections and emotions on their high school journey that was about to come to a close.
"I feel happy, obviously, because this is a huge accomplishment. But then, I also feel sad," senior Emily Sim said. "It's really bittersweet because I hate saying goodbye and I hate the thought of not seeing these lovely people here again next year. But I'm definitely excited to go to college."
"Graduation represents all my hard work finally paying off and just working up to this point where now I've graduated, I've earned walking across the stage and turning the tassel. I worked really hard for that," Sim said.
Many said they enjoyed their time in high school, but also experienced some hardships. Senior Andres Sanchez reflected on the death of his brother this year and those who helped him through it.
"Losing my brother this year, that was my whole struggle. We were really close and to this day I wake up with the hope that he's still alive. I want to say I'm excited, but I'm more emotional about [graduation] because I know he wanted me to graduate. I'm doing it for him, otherwise I don't know what my life would've been like," Sanchez said.
Sanchez said he appreciated the help of Foothill staff members and friends throughout his difficult senior year.
"I feel like if it wasn't for Mrs. Vega, the counselor, I don't think I would've graduated from high school. I would have either transferred or dropped out of high school. […] She was there for me, and so were my friends. That was probably the worst year I've had in my life," Sanchez said.
Senior Andrea Fuller also said the Foothill counselors helped her through her experience at Foothill.
"Mrs. Freeman and Mr. Boyd really helped me through my four years. As a freshman and sophomore, I didn't want to be at Foothill. I wanted to leave. I wasn't passing my classes, but especially Mr. Boyd at the time told me to stick with it and keep going and he's the reason I'm here today, as well as Mrs. Freeman who helped me through all of the heart breaks and everything."
Fuller said her biggest struggle in high school was learning to accept a smaller school, rather than the bigger school she wanted to go to initially.
"[It was] getting over the fact that I didn't want to be here, but growing to love everybody and all the teachers that have been here," she said.
Senior Anastasia Barnaby said that her graduation was more for her family than for herself.
"To me, it shows that I have accomplished something greater, that I can do more. It's more for my family than it is for me. I know I could do it, but for my family I think seeing me graduate is really special to them and means a lot to them," she said.
Senior and valedictorian Ami Ballmer said high school is the transition into adulthood.
"High school is a transition, it's a time where you can really grow and start to find yourself as an adult, instead of a kid," Ballmer said. "I think it's a time in which you can really find who you are."
Sim agrees, and said that high school is where you really begin to mature.
"I think high school is a place where you learn who you really are and who your friends are and who is really there for you, what your passions are and what you're good at," Sim said.
"You find people who are your type and that you want to keep in touch with in the future and people who are not your type and that you should stay away from."
They also reflected on the bonds they have with teachers, and how they differ from the conventional teacher-student relationship.
"Mr. Fitz meant a lot to me. He would joke around with his students and you got more comfortable with him. Most of the teachers I've had I liked because they try to connect to you and make the learning experience more fun more than any other high school would," Barnaby said.
Sim enjoyed her relationship with Mika Anderson, who she said helped keep her calm and happy.
"Mrs. Anderson really helped me throughout high school and we had kind of a bond," Sim said. "She made sure I was on top of everything, made sure I was in line, but she was also there for me as a friend, to 'destressify' me."
Senior Jeffrey Longo said he appreciated the personalities and support from teachers.
"The teachers, Mr. Villa and Mr. Weldele; their humor is irreplaceable," Longo said.
From walking into Foothill on their first day to turning the tassel, seniors also reflected on what they think has changed most about themselves.
"I think it was coming out of my shell. I did Speech and Debate with Mrs. Kindred my first year and I think that helped a lot. Over the four years, I made new friends that helped me come out of my shell. How much Foothill is into their students more than any other school helped me," Barnaby said.
Senior Levi Williams said that his determination and motivation has increased due to teachers pushing him to achieve more.
"Freshmen year and sophomore year I was like, 'This is not going to happen. This is so tough. I'm not going to get through this.' But junior year, more teachers pushed me through and my determination definitely went up. Mrs. Pelfrey was there for me, and Mr. Fitz-Patrick this year," Williams said.
Williams gave his advice to students still attending Foothill, asking them to enjoy the journey.
"Make sure you get the most out of it. I know it's hard, but it's worth it to enjoy it while you're there because it goes by in the blink of an eye. I know that's really cliche, but it seems like yesterday I was walking in there with scared knees and nerves. Just keep your head up and push through it, because it's worth it," Williams said.