Zach Plahn: Our chaos, under control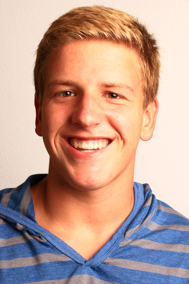 Journalism and I have a shaky relationship at best.
Frankly, when applying for classes at the end of my sophomore year, I had no intention of enrolling in journalism for another two semesters; it consists of an extensive amount of free and idle time: time which I could be spending in AP Psychology or something more productive and interesting than writing conservative opinion articles for an overwhelmingly liberal population.
I'm the kind of person who likes to learn and be challenged, and after my first year at the Foothill Dragon Press, I thought I had taken away all I could from the class, and was ready to move on. However, my parents, whom I do love dearly, forced me to take the class again, arguing that I had a "talent" for writing, and shouldn't give it up so easily.
So here I am today, writing another opinion article that you probably won't think twice about, having watched the same PowerPoints, twice, having gone through the same lectures, twice, having received the same paper handouts, twice, and having gone through the same photograph lessons, twice.
At the end of it all, I couldn't thank my parents enough. After drenching my persona in self-inflicted arrogance and haughty pride, I am humbled to admit to you that I am unbelievably glad I took journalism twice.
My writing, which at the beginning of the year I thought was flawless, is now vastly and overwhelmingly improved, still far lacking from perfection, but improved nonetheless. My ability to meet a deadline in any class, though not ideal, is much better than before. My understanding of the professional world of journalism, photography, and writing is still wanting, but journalism has fixed some major, otherwise irreparable flaws.
The point is: everything worked out. I took journalism again, against my will, and it's one of the better things that has ever happened for me academically speaking.
Though I may not understand why some decisions were made, though I may not understand my circumstances or my problems or my seemingly desperate and hopeless predicaments, everything will turn out the best possible way for me, even if, in my eyes, the best way seems to be the complete opposite direction.
My eyesight is below an extremely bad level, on good days. No glasses can fix my eyes, and no doctor can change them. I'll be stuck with my shaky eyes until the day they can't see anymore.
I'll never be the most well-rounded kid out there. As I was boasting in my seemingly unbeatable 4.2 GPA, and varsity water polo status when discussing college applications, a close friend of mine brought up his 4.9 GPA and the fact that he was talking back and forth with Harvard's water polo coach regarding a full ride.
I am not discouraged though. I have faith, and I have hope: not just faith in faith, or hope for the sake of hope, but faith in God and His grace.
Wait! Before you go straight to the comment section to post how offensive and ignorant I am, give me a chance to explain. I have faith in God, and that He has a perfect and awesome plan for me.
I have a dream job; working for Disney. If He wants me to go there, that's where I'll end up. If God wants me to flip burgers, that's where I'll be. I'm not saying I am anywhere near close to understanding God's will, but whatever my circumstances are, they are that way for a reason. I may not know the reason, I may not agree with the direction my life is headed, and I may even hate it, but it is headed that way for my best interests.
Reality check; bad things happen, all the time. Whether it's being forced to take a class you can't stand, or having your community devastated by horrifying shootings, there is a purpose to all of it.
Yellow and black are the two most threatening colors to the human conscious. Red and yellow are the two most appetizing colors, while blue the least. So much happens at the sub-conscious level that we don't even think about.
What if I saw a red car while driving to school tomorrow? I see this red car; my hunger is unconsciously and accidentally triggered, and I think to myself, "I'll stop at Fresh and Easy to buy a protein bar. I don't know if I had enough for breakfast." So instead of turning right at the intersection of Telegraph and Day, I stop early, and turn into the Fresh and Easy parking lot, where I simply park, and enter the store.
Now let's say I saw a blue car. What's going through my head now? Is it an expensive car? Is it an exotic one? Is it a mini-van? What if the car is yellow, green, or white? How will these factors, which I cannot control, affect my mind and the decisions I make? What if there is no car? What if it is a police car?
What if someone cuts me off, or what if I cut someone else off? There are an infinite number of possibilities, relying on an infinite number of factors that could or couldn't happen at any given millisecond of our everyday lives. Who knows if a shooter will walk into Foothill tomorrow and kill my friends and family? Who knows if I wake up tomorrow on the right side of my bed, or the left?
We want complete and utter control of our fate so badly. We want to command our destiny, to change our stars, to be able to have the power to plan our lives the way we want them to go so desperately, yet we will never be able to. No matter how hard we work, no matter how hard we climb and reach and overcome and labor and fight and grasp and win and struggle and manipulate, we will never have total control of our lives.
I might take journalism again next year, and I might not; whatever the case may be, I praise God that I can put my life in His perfect will, having faith that whatever happens is according to His divine purpose, rather than putting my faith in myself and my ability to control my circumstances.
I can't even control how the color of the sky affects my attitude.It's all up to Him, and whatever shots He calls, though they might not seem like it to us, and though we may not understand, or want to understand, they are happening so that we end up right where He wants us, right where we need to be.