Foothill 10th graders field-tested the Smarter Balanced Assessment Consortium (SBAC) test last week. The new test provided a challenge to the Ventura Unified School District to coordinate and irritated many participating students.
The SBAC, developed by an organization by the same name, tests students based on the Common Core standards that were recently introduced to schools across the country.
The standards swept into California in November, and were met with mixed reactions.
Although some were skeptical of the standards, the SBAC test drew more positive reactions.
"The Smarter Balanced assessments are a key part of implementing our new academic standards and preparing all students for success in college and careers," wrote Joe Bova, Foothill's principal, in a letter to parents.
The assessments will "provide an academic checkup by measuring real-world skills such as critical thinking and problem solving," Bova wrote. They will also provide information to show teachers and parents areas of mastery and difficulty for students.
Forty-four states, the District of Columbia, four U.S. territories, and the Department of Defense Education Activity have adopted the new Common Core standards and are working to implement them.
According to Smarter Balanced, 23 of these are administering the SBAC field test this season.
@SmarterBalanced FT helps ensure #assessment Qs are accurate & fair for students. Learn more in the new blog post: http://t.co/k3roXdSDtx

— Smarter Balanced (@SmarterBalanced) April 25, 2014
"Twenty-three states and 5 million students were taking the test at the same time," said VUSD Director of Student Performance and Program Evaluation Rene Rickard, who oversees standardized testing under for Ventura Unified. Every school in the district tested different grade levels (ranging from 3-11) in various subject areas.
According to the Smarter Balanced Assessment Consortium, the field test was a "test for the test."
The field test allows for a trial run of the testing software, questions, training materials, and the assessment administration.
"What this test will serve to do is allow developers to see what worked, what didn't work, how to change things, and then develop scale scores and performance levels for the future," Rickard said.
The SBAC field test was unique in that students, the schools, and the school district will not receive their scores. Rickard said this created a "low-stakes environment" for the test takers.
"If you don't get it right, it's okay. Whereas in the real thing, you want to do well," Rickard said.
The SBAC was developed to be less of a "fill in the bubble" test, although there are still a few multiple choice questions. Instead, the SBAC's goal is to test a student's ability to apply knowledge.
Sophomores took a "performance task" as part of the SBAC. After learning a brief vocabulary lesson on Monday in their English classes, students were asked to apply what they had learned to answer question prompts and write an essay.
"What you do is you read, you engage, you find what the prompt is asking you, and then your performance is how you respond through writing," English teacher Yui Hung Li said as he explained the performance task.
California Standardized Testing (CST), the exams the SBAC is replacing, did not mandate that students show their work, only that they reached the correct conclusion.
Tedford said that, in this way, the SBAC tests a student's thought process more accurately than the CST.
"It's not 'What can you memorize?' It's 'What can you do with it?'" she said.
The SBAC, when administered "for real" next year, will be a Computer Adaptive Test, which means that as a student progresses through the test, the computer picks questions from a pool that best fit the student's abilities.
In this way, the tests are individually built to a student's ability level. However, the structure of the test is still the same for everyone.
The test also has the computer grade all writing. Li said he had reservations about this new system.
"What happens is then essays are graded as an algorithm," Li said. "I can't really say scientifically how they're doing it […] but as a teacher, yeah, it's a little bothersome that a computer is going to be reading this."
"But at the same time, we don't know how it's going to pan out; we don't know how it's going to look. I'll wait to see how it all turns out before I make a judgement."
[soundcloud url="https://api.soundcloud.com/tracks/147478105″ params="color=cc2020&auto_play=false&hide_related=false&show_artwork=true" width="100%" height="166″ iframe="true" /]
Field test originally planned for ninth grade students
The California Department of Education had originally intended that Foothill would test their ninth graders. However, less than a month before the testing date, it was decided that the 10th graders would take the field test instead.
Tedford said she was "less than pleased" when she heard that the plans needed to be changed. Foothill already had a schedule planned for the ninth graders.
"I suspect that the reason was as the state is looking at who they're testing and what they're piloting, that they were heavy on ninth grade and short on 10th grade English. I'm sure that decision was made based on demographics […] because they're trying to create a balanced sample," she said.
Foothill accommodated for the change, and created a new testing schedule for the 10th graders. Students took the tests in the EDA classrooms and Media Center during their English and World History periods.
Next year, it will be the 11th graders (this year's 10th graders) taking the test "for real."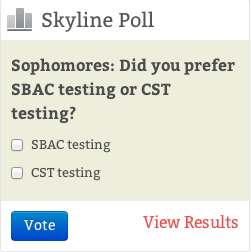 Ninth grade Geometry teacher Bill Huffman had changed his lesson plans to allow for Common Core practice by introducing "Common Core Mondays," during which freshman students took the SBAC practice tests in the Pod.
"When they switched that, it was 'Alright, sorry freshmen, we're not testing' […] It isn't even that bad because, you know, for next year. Seeing it is just going to help them take it in future years," Huffman said.
Freshman Payton Granier said that she felt happy and relieved that 9th graders were no longer taking the test, but a little nervous that she wouldn't have the experience under her belt for when the real test rolls around.
Technology coordination challenges VUSD
Because the test was administered online, access to and familiarity with technology was a huge hurdle for VUSD.
"Technologically our district was in very different spots," Rickard said. "For example, [Foothill] is familiar with technology, so it may have been easier for [Foothill students] to keyboard," she said.
"But then you have the third graders, who may have never had any typing. And then you have the 'drag and drop' and other tools that were embedded in the software that some of the kids weren't familiar with."
Over spring break there was a lot of work getting computers to every school in the district. The VUSD Technology Department had to make sure every testing school has at least 40 viable workstations, either laptops or desktops, that they could use for this test.
They also created two mobile computer labs for schools that did not have enough space to build a permanent lab.
Since all the schools would be testing in the same time period, bandwidth was a concern early on. Bandwidth is the amount of data that can be transmitted throughout an internet system at one time. With so many district computers online at once, there were concerns that the system would crash.
"I think that [the SBAC] offers a wider variety of questions than the CST's [and] makes it less repetitive and tedious," said Sophomore Ashley Amaldahas.
Ventura Unified avoided problems by "working closely with the County Office (our internet service provider) and by purchasing new infrastructure hardware (switches)," Julie Judd, Chief Technology officer at VUSD, wrote in an e-mail to the Foothill Dragon Press. 
"I learned as a band director (27 years) that a successful performance requires many hours of planning, rehearsing, and attention to detail – and a great team to make the music," she wrote. "I feel blessed to be in Ventura Unified conducting the technology orchestra and working with so many wonderful people who help make that beautiful music." 
 Tedford hopes that because of the SBAC, the school district will spend more money on technology for all schools.
"If schools know, and classrooms know, that their kids are going to be assessed using technology, I hope that increases technology for those kids. […] I hope that it brings funding," Tedford said.
Approximately $800,000 was spent on technology in preparation for the SBAC, Judd said. She said the money came from the state of California for the implementation of the Common Core State Standards and SBAC.
The "Class of 2016 isn't very happy" about the possible cancellation of the Magic Mountain trip and being "guinea pigs"
Many 10th graders said they were annoyed at being the field testers for the SBAC.
Alex Beamer is a one such sophomore. Beamer was "aggravated" that the testing grades were switched at the last minute.
"I feel like my class is the 'guinea pig' class," he said. "We learned that we were going to do it this year, and that kind of [angered us.] Learning that we have to do it next year [angered us] more," Beamer said. "There's talk of a junior project, and last year we were the first ones to do the 'America Eats' project. Class of 2016 isn't very happy."
Beamer said he believes that human-grading for essays is more accurate that computer-grading, and that this test was just an attempt to technologize an already functional system.
Sophomore Ashley Amaldahas said she also disliked the "guinea pig" factor, but saw the Smarter Balanced test as an improvement.
"I think that [the SBAC] offers a wider variety of questions than the CST's [and] makes it less repetitive and tedious, because instead of just getting passages and answering questions about them, like we did with the CST's, we can answer the questions more creatively," she said.
Another 10th grader, McKenna Sullivan, said she is on the fence about the new test. She feels that both are "equally ineffective at gauging intelligence" and was upset that the tests took time out of class.
To sophomore Reid Crilly, the new test seemed like "a discordant attempt at making English class hip and modern."
[soundcloud url="https://api.soundcloud.com/tracks/147571793″ params="color=b61515&auto_play=false&hide_related=false&show_artwork=true" width="100%" height="166″ iframe="true" /]
Crilly was also disappointed to learn that the traditional Magic Mountain trip may not be possible next year because of the cancellation of CST exams.
"It [the trip] certainly provided a nice escape from the latter-year tedium as well as an easier method of hanging out with friends,"Crilly said.
Tedford is unsure whether the Magic Mountain trip will be a possibility for next year.
"We are well aware that Magic Mountain is a huge motivator for our students, but we are also aware that it is a huge expense, and in the past few years the funds we have used to pay for Magic Mountain in the past have decreased," she said.
In the past, whether or not Foothill students went to Magic Mountain was determined by the school's CST and High School Exit Exam scores. All were combined into an Academic Performance Index (API) score.
However, new California state law mandates that API scores can only be determined 60 percent by standardized test scores. The other 40 percent must come from other indicators, including graduation statistics and career and college readiness.
Foothill administrators are unsure how the SBAC will ultimately affect API scores and the Magic Mountain trip.
Li said he sympathizes with his students, many of whom say they are upset about experiencing the new education changes, but ultimately believes that they gained more than they lost from the SBAC testing experience.
"Everybody's going to want to complain about being the guinea pig," he said jokingly, "but it's not like we're sticking needles in them or anything."
Background Photo Credit: Kazu Koba/The Foothill Dragon Press