Tri-County National College Fair to be held Thursday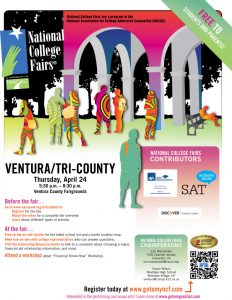 With over 2,000 four-year colleges in the United States, making trips to all of the colleges students are considering can be a long and expensive task. Now, students can visit 120 colleges right here in Ventura.
The Ventura Tri-County National College Fair will be held this Thursday evening from 5:30 to 8:30 pm at the Ventura County Fairgrounds at West Harbor Boulevard. One hundred and twenty colleges will be represented there.  The fair is free to students and parents.
Cecilia Johnston, a college applications educator, said that there are many reasons for students to attend a college fair.
"The most important [reason] is to expand the scope of their college search beyond the 'usual suspects' such as the UCs and CSUs. There are over 2,000 four year colleges and universities in the United States, it is important to explore all of your options, both public and private. Students will rarely get an opportunity for 'one stop' college shopping amongst so many schools," Johnston said in an email.
For tips on what to do before the fair and what to ask colleges during the fair, click here.
The colleges will have booths set up, and students can visit the college representatives to ask any questions they may have, or visit the workshops being provided by the colleges there. For the list of colleges attending, click here.
All of the attendees will receive a list of all the colleges at the fair as well as a College Fair tips and Samples worksheet which will help with their college visits. There will also be many workshops for attendees, including: "​Financial Know-How for College Students" from 6:40 p.m. – 7:10 p.m. and "How to Pay for College" from 7:20 p.m.– 7: 50 p.m.
Johnston recommends that students look at the list of exhibiting college booths first and pick 10 to 15 colleges that they are interested in to get the most of their trip. She also advises students to register online so that they can avoid the booth line.
Linda Kapala, operator of the media center, said that students will have certain barcodes that the booths they are visiting will scan. This will let the colleges know that the student is interested.
"This is also a great opportunity for the student to let a college or university know that they are interested in attending that school. Many schools keep track of a student's 'demonstrated interest' in their school and that can help a student get an offer of admission and/or a merit scholarship. So make sure that you have a few questions prepared to start the conversation," Johnston said.
It's not too late to register. Click here.