Foothill Students take Sacramento by Storm with Youth and Government
Hang on for a minute...we're trying to find some more stories you might like.
"Youth and Government" is a program founded by Clement Duran in the mid 1930s to motivate the youth to become involved in politics. Their motto is "democracy must be learned by each generation."
Foothill Junior Sukhpreet Bains got involved in Youth and Government because she was interested in their Trial Court Program and going into the field of Law.
There are many programs within Youth and Government, commonly referred to as Y&G, so students are not restricted to the legislation aspect of government.
Bains commented, "there is a great media program, lobbyists, the Senate and Assembly, National Issues Commission, Board of Education and Forums."
Students participate in Training and Elections 1, informally known as "BOB 1," to train for their positions that they hold in February in Sacramento.
Senior John Thomson got involved in the media program within Y&G. He commented about his experience at Sacramento.
"I was a technical producer for Y&G's broadcast show. We aired two shows a day in every hotel room with a total of 40 minutes unique video footage," said Thomson. "I spent hours running around setting up video equipment and arranging interviews with important people in youth and government. I even got to talk to California's real secretary of agriculture which was a really unique experience."
There were close to 3,000 students at the Sacramento Convention, with big names such as Debra Bowen, Secretary of State of California, in attendance.
 Senior Myles Parrino said, "I would suggest this to other people because not only are you totally doing yourself a favor by letting yourself have the most fun you'll ever have but that the program will test your social skills, whether that is public speaking, active persuasion, or just being the outgoing person that you have not let yourself be before."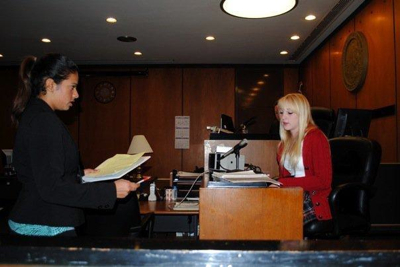 The overwhelming response from students was that Y&G becomes a family, and the benefits outweigh any cons such as the cost of participating in Y&G. The Ventura delegates meet weekly at the Ventura Family YMCA.
Thomson, who thoroughly enjoyed his experience commented, "I haven't met a single person who hasn't enjoyed Y&G and I don't think I ever will."
Photos: (Bottom) Sukhpreet Bains and Ariana Johnson in Sacramento. (Top) From left to right Kendalyn Grayson, Noelie LeBlanc, Sukhpreet Bains, Ariana Johnson,  Myles Parrino, and Nicole Nisenbaum in Sacramento. Photos by Matt Zinik, courtesy of Sukhpreet Bains.