Foothill demonstrates AVID to SoCal schools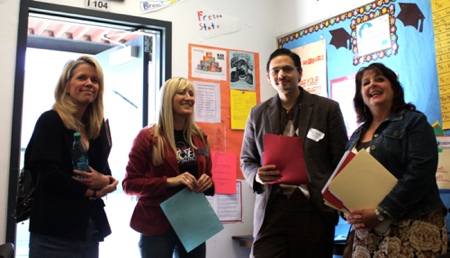 Hang on for a minute...we're trying to find some more stories you might like.
Schools from across Ventura County sent about 80 representatives to campus on Wednesday, February 3, to observe classes and learn how Foothill teachers integrate AVID strategies into core classes.
Foothill officially became a National AVID Demonstration School on November 20, receiving national recognition and extra funding for the AVID program. With the title came the new responsibility of hosting other schools, so they might learn to incorporate new techniques, methodologies and strategies into their own classes.
Foothill Principal Joe Bova said that "the goal of the visitation, from the region's perspective, is to increase the number of schools that offer AVID."
Bova went on to add that "it's pretty disturbing that so few schools have AVID to support students that may not have that support at home."
Educators attended a general session in the morning, panel discussions on topics such as AVID college field trips, then visited classrooms and attended a closing session in the afternoon.
In Anthony Villa's math classroom, AVID observer and principal at Carpinteria Middle School Felicia Sexsmith watched as the Calculus AB AP class reviewed the multiple choice final they had take the previous Friday.
Villa is known for his unusual methods in teaching, often involving unique metaphors to help students grasp difficult topics. When taking derivatives of functions on Wedensday, he compared the 'chain rule' to the classic Pixar film, Finding Nemo.
Nemo is eaten by an anglerfish, who is eaten by the shark Bruce.  This cleverly represents the way that one function 'eats' another, and may even be 'eaten' itself, Villa explained.
"It's a visual analogy that reminds (the students) that they have to look at the problem in smaller pieces and put them back together," he said.
Villa apologized for his obscure comparison, to which Sexsmith remarked, "If they remember it, then they get it — it's cool with me!"
Claire Adam's 6th period health class took Cornell Notes (a key AVID strategy) on bones and the human skeleton. Observed by Patricia Casiano, ELD teacher and coordinator at Rio del Valle Middle School, Adams warned of the dangers of bone marrow cancer.
"It's important to keep your bones healthy!" Adams stressed.
"And away from your dogs!" one witty student retorted.
The class, including the observer, laughed.
Both Bjork and Casiano were especially impressed with Foothill's block schedule, campus layout, small class sizes and the F.I.R.E. program.
The two compared FIRE to an extended AVID period without the specific AVID framework, such as tutorial request forms.
Rio Vista Middle School teacher Wendy Bjork didn't even know that Foothill existed, despite teaching in the region for over 22 years. She regretted this, and said that if she had known about the school sooner, she would have sent her own son here.
At the end of the day, observers attended a closing session, where they discussed what they learned from the visit and how they can better implement it into their own schools.
Bova concluded, "It's our belief that every school needs AVID,  and our hope is that they would see our school and see that AVID isn't just for low socio-economic schools. It's for everyone."
Photo: Above, health teacher Heather Ferris chats with AVID visitors from other campuses. Her AVID class was observed by teachers wanting to learn new college readiness teaching strategies. Photo by Trevor Adams, Editor in Chief, The Foothill Dragon Press.