Foothill's robotics team recieves over $10,000 in funding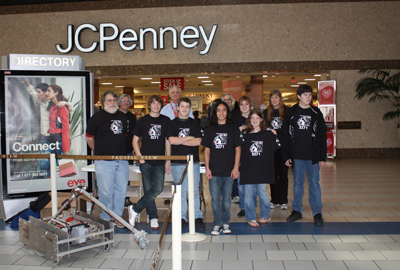 Hang on for a minute...we're trying to find some more stories you might like.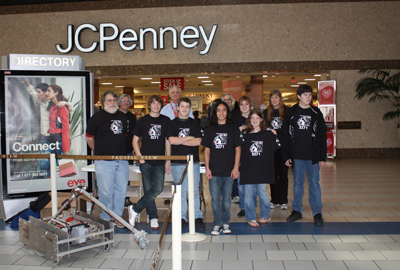 Busy shoppers paused in front of JC Penney's to marvel at a marked off area ran by a group of students. However, it wasn't the students they paid attention to – it was a metal robot that carefully picked up a soccer ball and placed it in an inflatable tube that caught the public's eye. The students who created the robot sported black t-shirts proclaiming that they were Foothill Technology High School's Robotics Team–Official Number: 3271.
The Robotics Club, comprised of about 10 students, recently received over $10,000 in funding.
"It takes a lot of money to get this started," stated club President Logan Smith.
The main sources of support came from JC Penny and NASA. Each gave $5,500 to help get the team started.
JC Penney manager Steve Phillips explained why JC Penney decided to help fund the club.
"They've done well in the past and represented their school well."
Only 57 teams in the country recieved this scholarship.
"It's quite a privilege," commented Smith.
The club's goal is to build a robot for the FIRST (For Inspiration and Recognition of Science and Technology) Robotics Competition or FRC. They will be one of 278 rookie teams to participate in the competition, only a fraction of the total 1,809 teams participating.
The competition requires teams to design, build, and program a robot in merely six weeks. The robot has to be finished by Febuary 23.
"It's a tough deal," Smith reflected. "We've got to meet every day."
The competetors participate a game called Breakaway. Teams work together to score points by moving soccer balls across fields into goals, often guarded by other teams. The field has two mounds that separate it into thirds. Robots can traverse the field by braving the mounds or going by way of tunnels located below small towers.
If a robot hangs on a tower, it can gain some bonus points; if a robot can hang on a hanging robot, even more bonus points can be scored. The first round of the game requires the robot to run autonomously. The second round allows for the robot to be remote controlled.
Saturday was the team's demonstration of a robot made for a past FRC. The robot was made by Rio Mesa's robotics team. The robot's batteries had to constantly be swapped out with newer charged batteries.
"It runs off a motorcycle battery. The robot can only run five to ten minutes on a charge." explained Mary Brodey, team member Nicole Teitle's mother.
Even with the pauses, spectators were amazed to find out that it was made by high school students.
"I think it's pretty cool, absolutely," said passerby Nora Lopez, who found it great that students are so interested in computers and technology.
"It's a great afterschool club where students can learn science, math, technology, etcetera all in a fun afterschool environment," said team dad Greg Smith.
The point of the club, as president Smith put it, is to "go out and do something."
Photo: The Robotics club poses with "Jabberwalkie", their robot. Photo by Steven Martinez, The Foothill Dragon Press.