10th grade puts on an industrial-sized trial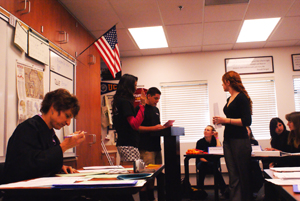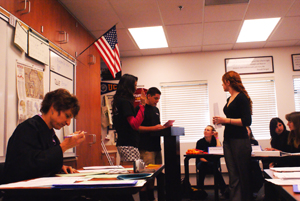 Seniors in Cherie Eulau's AP Governent class hold a fake court case.
It's a typical afternoon for 10th grade world history teacher Cherie Eulau and her students at Foothill Technology High school. The classroom is buzzing, the students are dressed up in suits, ties, and high heeled shoes, and Eulau herself is wearing a judge's robe and sitting at a desk that has been moved to the front of the class.
The sophomores at Foothill are putting on a trial, to determine whether or not the Industrial Revolution was an advantageous change for the world.
According to Ms. Eulau herself, the unit question is simply, "What is the effect of change?" The students seem to be rather excited about it this year, posing as attorneys for prosecution and defense and impersonating important figures from the 19th Century, such as Charles Dickens and Karl Marx. With their very own bailiff and judge, it seems as if one could be stepping back in history, where trials went on for hours.
Sierra Mcavoy, a prosecution attorney, calls to the stand one of her peers.
"Ms. Bentley, you worked in a factory, correct?" And the trial goes on.
The 10th grade World History teachers have put on this trial as an alternative to learning about the Industrial Revolution. In a way, they are following all the state standards, and at the same time providing an entertaining activity to help the students learn. The idea of it is to make the students question what the cost of the Industrial Revolution was.
"Can you make that specific please?" asks Henry Ashworth, another young attorney.
Sure. The class is split into two different sides, those who stand witness for defense and those who stand witness for prosecution. Everyone is learning something, whether or not they are portraying the real-life characters. Eulau makes the rest of the students, whose turn it is currently not, write down who is on the witness stand, what side they are on and how good of an argument that they had put up for their side. This way, there is a jury in the court.
The issues range from health problems, child labor, and poverty. The students commence to ask and answer questions, with Eulau's guidance at their fingertips.
One nervous attorney on the Defense side stands up, and asks a faulty question. The other side stands up and shouts out "Objection!" The class erupts in laughter. Eulau calms them down, with a smile on her face. "Order in the court!" And the students turn their shining faces back to business-like and serious.
The bailiff swears in another witness, and the attorneys proceed to question. Then a folder is snapped shut, and prosecution is done with the cross-examination. The trial will commence tomorrow during 5th Period. No further questions.
Photo Credit: Judge Eulau presides over the case of the century. Photo by Maya Morales.