The book series you missed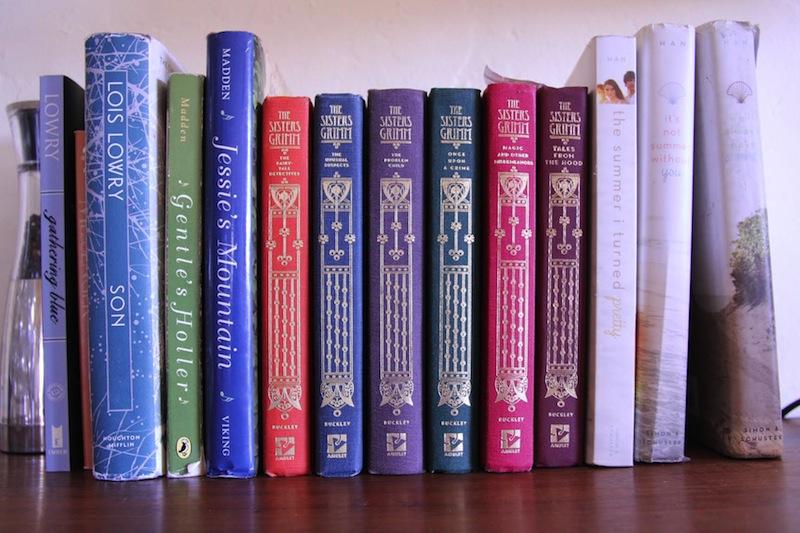 When you use a book to divulge yourself into a new world where the characters become your friends and you understand them, but you've finished the book and there are no more pages to read and no more story to tell, is when you need to turn to a series.
 Now, everyone knows about "Harry Potter," "The Hunger Games," and "Divergent," but those aren't enough and we don't want to wait for the next hit series.
 Here are a few favorites that may be unheard of or forgotten, or not well known as series, but no matter which category applies to you, you should definitely read these.
 Maggie Valley Series by Kerry Madden
Book 1: "Gentle's Holler" (2005)
Book 2: "Louisiana's Song" (2007)
Book 3: "Jesse's Mountain" (2008)
 This series, by Kerry Madden, is made up of three realistic fiction books taking place in the North Carolina hills. The books revolve around a large family with more children than you can count on one hand, who struggle to make it by. The main character, Livy Two, is always making up songs and playing guitar while trying to take care of her blind sister, Gentle. Although it may be for readers a bit younger than high school, this book is valuable to read at any age because it teaches the importance of family and sacrifice, as well as chasing your dreams.
 "Louisiana's Song" has been my favorite book since I first read it in fifth grade and I reread it every single year. I have recommended it to friends, who then forced me to give them the second and third books.
 The Sisters Grimm by Michael Buckley
 Book 1: "The Fairy-Tale Detectives" (2005)
Book 2: "The Unusual Suspects" (2005)
Book 3: "The Problem Child" (2006)
Book 4: "Once Upon a Crime" (2007)
Book 5: "Magic and Other Misdemeanors" (2007)
Book 6: "Tales From the Hood" (2008)
Book 7: "The Everafter War" (2009)
Book 8: "The Inside Story" (2010)
Book 9: "The Council of Mirrors" (2012)
"The Sisters Grimm" series is about two siblings, Sabrina and Daphne, whose lives suddenly change when they discover that they are the descendants of the legendary Brothers Grimm. After the mysterious disappearance of their parents after a household break-in where the police can't find anything but a scarlet handprint, they move in with their grandparents, discovering that the world of fairytales they grew up hearing about actually exists and that they will become the "fairytale detectives." The books continue with more and more cases, like stopping a giant from destroying their house, and as they progress and age, so does the style of writing and problems they face.
 "The Sisters Grimm" is by no stretch of the imagination a book for younger readers. Much like the style of "Harry Potter," the readers age with the novels. I read the first one in fifth grade, and the sixth one in eighth grade, but I go back and read them over and over again because few books exist about fairy tales that aren't too grim or too childish.
 Even if it's only for the nostalgia, everyone should read these books.
 The Summer Series by Jenny Han
Book 1: "The Summer I Turned Pretty" (2009)
Book 2: "It's Not Summer Without You" (2010)
Book 3: "We'll Always Have Summer" (2011)
 If books could be categorized as chick flicks, this series would be. There's no other way around it, these books will most likely only be enjoyed by girls, but they are so phenomenal that they deserve a spot on this list. Belly is about to turn 16 and celebrate her birthday at the beach with her family friends just like she always does. It is no secret from the beginning of the book that Belly has feelings for one of the family friend's Conrad, though Conrad's brother has feelings for her. Throughout the series, Belly faces difficulties more serious than "Does he like me back?" She must decide at the end of the third book who she really loves and who she will spend the rest of her life with.
 As described by one of my friends, this book is not really a love triangle, but really a dodecahedron, and a messy one at that. I wasn't aware that this was a series when I first read it, because I picked up the third book, which I then discovered was the best one after reading the first two, so I would advise anyone who loves reading endings first to read the last book first.
 I really love this book because it's not the same old love triangle story, but a crazy jumbled up relationship mess, which is much more realistic.
 The Giver Series by Lois Lowry
Book 1: "The Giver" (1993)
Book 2: "Gathering Blue" (2000)
Book 3: "Messenger" (2004)
Book 4: "Son" (2012)
 The best series is saved for last. It seems as though many people have read "The Giver" but few know it is the first in a quartet. In fact, for a long time Lowry said it would only be a trilogy, and then surprised fans by writing a fourth and final book. "The Giver" series takes place in a dystopian society where upon turning the age of twelve, each child is assigned a job by the Elders, who practically control every single thing in everyone's lives like what you will do in life, who you will marry, and who your children will be.
Everything that the main character, Jonas, knows to be true, changes when he is given the position of the Receiver and comes face to face with just how horrible his society is. "Gathering Blue" takes place in the same society, but with different characters and is more of a pairing to "Messenger," while Jonas's story picks up again with "Son."
 This series is my favorite series of all time. I reread "Messenger" more times than I would care to admit and cry every single time.
 The only thing that every reader must know about this series is that you have to read it in order. "Gathering Blue" is the oddity of the quartet, being more about the life in the society than anything else, but you simply have to read it to understand "Messenger."
 Even if you just want to know the ending, you simply won't understand anything that is going on unless you read it in order