Foothill's Information Night receives hundreds of interested parents and students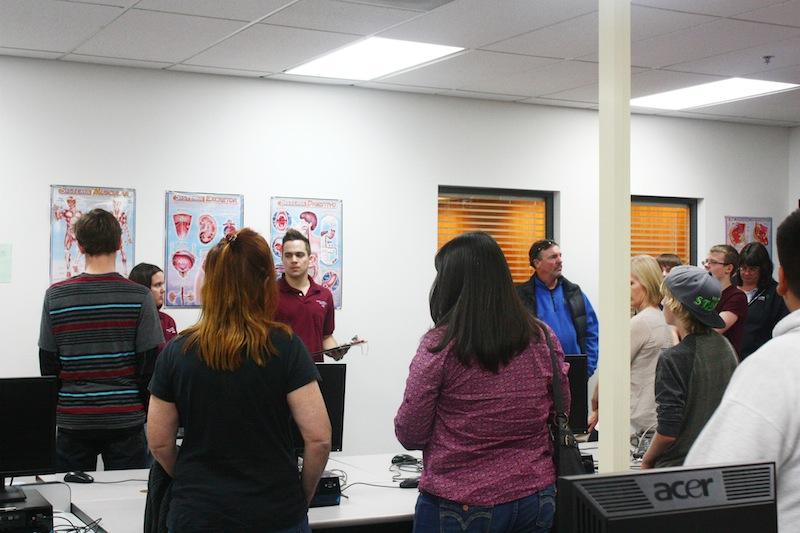 Parents and potential incoming students pushed past tables of decadent treats, trying to make their way into a filled Spirito Hall. Thursday's Parent Information Night offered two sessions along with tours to answer prospective applicants questions.
Counselor Steve Boyd sat outside among parents who weren't able to get inside the crowded hall. Boyd has been apart of parent information nights since the very beginning, and remembers the attendance to be quite different.
"The very first night we had one of these, in Ventura [High School's] cafeteria, it was just myself, three kids, and two parents," he said.
Parents waited for the next information session, while Principal Joe Bova and other staff members explained to parents some of the schools most unique aspects.
A personal component to the information night are the guided tours led by the Associated Student Body [ASB]. ASB president, senior Carson Graves,  expects the night to be a great opportunity for parents to get interested in the schools environment.
"In the past, info night has really been the sterling symbol of what Foothill is. It shows parents and incoming students what Foothill is all about. It gives us a chance to showcase Foothill's incredible facilities, incredible academics, and the caring teachers," Graves said.
[soundcloud url="https://api.soundcloud.com/tracks/129991151″ params="color=ff6600&auto_play=false&show_artwork=true" width="100%" height="166″ iframe="true" /]

 Marilyn Corbin, along with her son Fisher, came to the information night hopeful to learn more about what the school has to offer.
"Well I don't really know anything about Foothill, expect for the fact that it's doing really well and has great programs so we wanted to learn more," she said.
Corbin's son was not as enthusiastic to be potentially attending Foothill. His motive, along with most of his friends, was because of parental pressure. Corbin however, believed it was important to bring her son anyways to show him his options.
"He has already decided he doesn't want to go to Foothill, but we are asking him to keep his mind open and I asked him to do his own research and persuade us why he should go to Buena instead. He has to look at both schools before he can do that, and it's beyond his friends going there," she said.
Unlike Fisher Corbin, 8th grader Jordan White was certain that she wanted to go to Foothill.
 "My brother goes here so I got kind of interested in it, before my brother even heard of it. I knew about this school and wanted to come," White said.
Summer White felt relieved that her son had already been through the application process, ensuring her daughter's spot.
"My son knew he wanted to come here, and I was worried because his name had to be drawn and he had all of his chips in this school. He didn't even think about going to Ventura or Buena, so I'm really glad he got picked because I work with a lot of people whose kids didn't get picked that year," she said.
All prospective students applying to Foothill must go through an arbitrary lottery system. Bova estimates about 260 to 280 spots will be available for the incoming class. Last year's applicants reached to 560, allowing around 50 percent of applicants to be accepted.
Bova was expecting a decrease in the amount of interested parents and students, in light of the recent addition of sports at Foothill.
"I was hoping it was going to be less this year because of the whole sports turn over but I'm anticipating we'll get about the same amount or maybe more," he said.
Graves was prepared for more interest because of the school's addition of sports.
"This year, it's actually going to be special now that we have athletics, so I assume they are going to have lots of questions about the new sports programs and it will be interesting," he said.