"Affluenza" plagues the lawless upperclass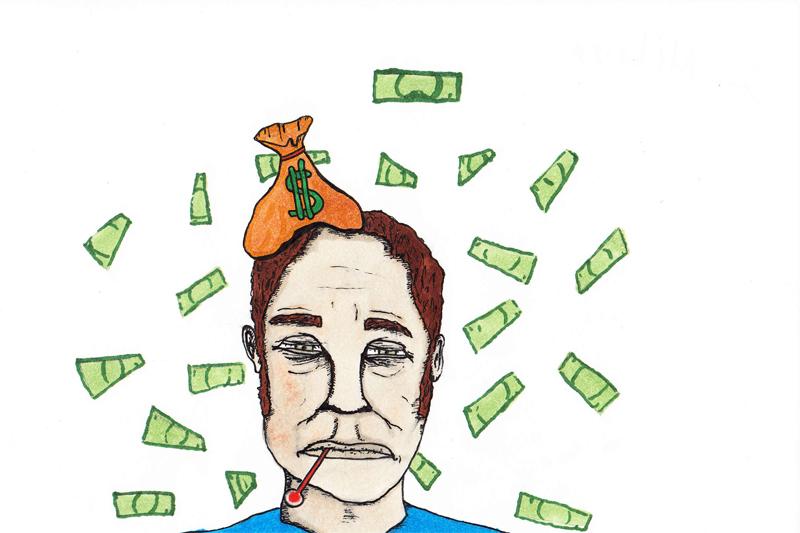 Influenza.  The endemic slithers its way past immune systems every season even if warded with a vaccine for it the year prior.  Everyone's hosted the virus at some point, and surely no one clings to it in self defense.
The same cannot be said however for a devastating new virus developed in a distant lab which has been recently let out of its test tube, promoting the death of four innocent people: "Affluenza."
This term was originally coined in 1997 with the release of the book "Affluenza: The All-Consuming Epidemic," by John de Graaf, David Wan, and Thomas Naylor.  Within the original connotations, it had to do with overbearing consumerism, more specifically, "a painful, contagious, socially transmitted condition of overload, debt, anxiety, and waste resulting from the dogged pursuit of more."  
For those familiar with "The Great Gatsby," Jay Gatsby epitomized this condition.
Yet in the outrageous story of a rich boy in Texas, "affluenza" meant a lack of responsibility for the vehicular manslaughter of four civilians while under the influence of alcohol. Ethan Couch's slimy, and certainly well-paid, defense attorney argued against a well deserved 20-year prison sentence on the grounds of his own definition of "affluenza," that Couch could not be held responsible for his reckless behavior because his rich and negligent parents had never taught him about consequences.
Still, the most sickening part of the story is, the defense worked, freeing Couch from serving any jail time for his actions in trade for a lousy ten year probationary period and "intensive" therapy at a rehabilitation center in Newport, which his parents will pay $450,000 for, as long as they don't have to deal with him.  A $450,000 rehab center sounds more like a resort than therapy to me.
This ruling sends a striking message to all of America, especially those who sit in the throne of the upper class: if you have money, consequences don't apply to you.
Couch no longer has anything to fear.  If and when he someday leaves a high-class bar drunk off his feet, searching for his car, he probably won't think twice about getting in and driving home.  And who could blame him?  In his eyes, nothing worthwhile could possibly go wrong.
Car wreck?  He'll buy another.  Loss of human life?  Life without wealth is meaningless.  Loss of his own life?  Youth plus alcohol equals immortality.
Even yet, this message extends to those who live lives similar to Couch.  All those reckless teenagers who come from affluent families now know, if they didn't already, that their parents' piles of money can keep them from the budget-limited grasp of justice.
The absolute irony of the situation is that by letting Couch off with a slap on the wrist, the court only prolongs and enhances the situation which they decided caused his actions in the first place.
No one would ever teach a child not to kick a soccer ball around the house by giving them a donut and sweeping the broken vase under the rug (certain new age parents excluded.)  Backwards and enabling behavior like this is sure to only cause confusion and psychological damage.
Yet this is effectively what the Texas courthouse has done.
With this sort of contradictory and confusing action, young Couch's limited view on the world is only narrowed further.  And to a certain extent, the "affluenza" ruling holds true.
Who can blame Couch, who has been brought up his entire life with a silver spoon up his butt?  How can he be completely accountable when he knows no difference between right and wrong, other than that his parents and his pampered experiences have shown him that his every action is right?
It is like expecting morality from a despot.
Still, ultimately, he deserves truthful, unbiased punishment.  Let the cold steel bars and unpadded cots of prison serve a wakeup call to the reality of life.  The best thing possible for Couch's development as a human being would be to experience the rugged consequences of his actions, something which surely will not happen in his lifetime.
Standing tall, the two-faced monster this verdict creates is a double standard.
Take any black or Hispanic adolescent from any inner city and they would be thrown behind bars like an expired sack of potatoes.  Take any recorded drug user from any high school and the court will gladly smite them down as the vermin of the earth.  Take any person at all and put them in that Texas courthouse and justice would swiftly be served, unless of course you're Ethan Couch, or any other rich white boy.
This one simple case projects one simple message: if you're rich, you can get away with murder.
Getting away with murder however, isn't always this black and white.  Getting away with murder is using riches to bend political power for personal gain.  Getting away with murder is causing an economic recession through scandalous practices and being bailed out by the government.  Getting away with murder is slashing funds for social welfare to prevent higher taxes.
Getting away with murder happens every day, and it puts forth a distorted double-standard to our posterity and society.
I'm not trying to say that all rich people are inherently evil.  To believe that all rich folk are corrupt and all poor folk are virtuous would be too simplistic.
What I am saying is that although they're actions may differ, the rich and the poor and the middle are all simply people.  All men are created equal, if you will.  Perhaps it's easy to regurgitate this phrase which in most cases we don't seem to believe in its truth.
As long as we let spoiled brats like Ethan Couch elude the law on absurd defenses like "affluenza" we certainly won't.
Still yet, the rich and the poor and the middle are all simply people…and its time we started treating them like such.