School Board candidates vie for seats at public forum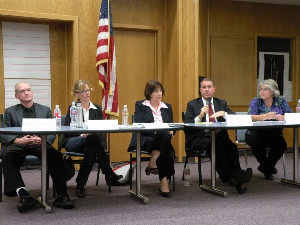 Hang on for a minute...we're trying to find some more stories you might like.
Students watching candidates speak at a political forum on Thursday gasped in surprise to hear a string of expletives come from a man hoping to help oversee the Ventura Unified School District.
Five candidates running for seats on the Ventura Unified School Board met at Ventura College's Guthrie Hall to participate in a question-answer discussion with the community, sponsored by the League of Women Voters.
Volunteers passed around blank index cards at the beginning of the forum, giving the approximately 100-member audience the chance to ask the candidates the questions most important to them.
But first each candidate was given time to read a personal statement, providing the audience with an introduction to their positions and beliefs.
David Norrdin, who has unsuccessfully ran for the position before, stressed the need for action against teen pregnancy at school.
"Unless we deal with overpopulation, we are heading for disaster," he stated.
Norrdin cursed twice in reference to modern-day politicians and their policies, receiving a startled uproar from the crowd. The moderator stepped in to ask Norrdin to stop, but he kept talking over the moderator and added another expletive. The moderator then cut Norrdin short and moved on to the next candidate.
Incumbent Mary Haffner, who also serves as a board member on the Ventura Education Partnership and the Ventura Unified Green Schools Committee, stressed that public education is under siege financially and recognized the need for strong leadership to help guide the district.
Monique Dollonne explained that the goal of the schools should be to prepare students for a "global citizenship" in our 21st century. Dollone's first goal, if elected is greater accountability and transparency of the school board and district.
"Let's not hide the broken leg anymore, let's fix it. Let's get a surgeon," Dollonne said.
Long-time incumbent John Walker, also a member of the California School Boards Association, explained that the current board has kept a healthy reserve of money strategically available to help keep class sizes small in trying economic times.
Walker said that the current board has "made things happen" and quoted 19th Century education pioneer Horace Mann, saying "Let us not be content to wait and see what will happen, but give us the determination to make the right things happen."
Incumbent Velma Lomax, formerly a PTA parent now seeking her fifth term, expressed that the board has the best interest of the children in mind when it makes any decision.
On the topic of violence in schools, all candidates recognized that there was a problem and offered various solutions and causes for it.
Norrdin blamed violence on neglected welfare children in schools, claiming that "these kids are monsters!" The crowd appeared shocked at Norrdin's assertion, but he kept going. He labeled children on welfare a "dirty little secret swept under the rug" and claimed that "we all know this is true!"
Walker said "we have issues, but it's not because of what the schools are doing." He acknowledged that we are living in violent times but that the board is working on alleviating the problem. Walker said that the board has been seeking grants and making partnerships to get extra money to use on projects such as FIRE and AVID, programs that help students improve grades or get ready for college.
Haffner talked about the need for "internal reflection" on the issue and for respect towards each other. She countered Norrdin's claims and said that schools "don't deal with the children in a vacuum" and that having programs in the Ventura Unified School District to help support families going through hard times was necessary to support education.
Photo: Candidates from left to right: David Norrdin, Mary Haffner, Monique Dollonne, John Walker and Velma Lomax discuss the issues with the community. Photo by Trevor Adams, The Foothill Dragon Press.