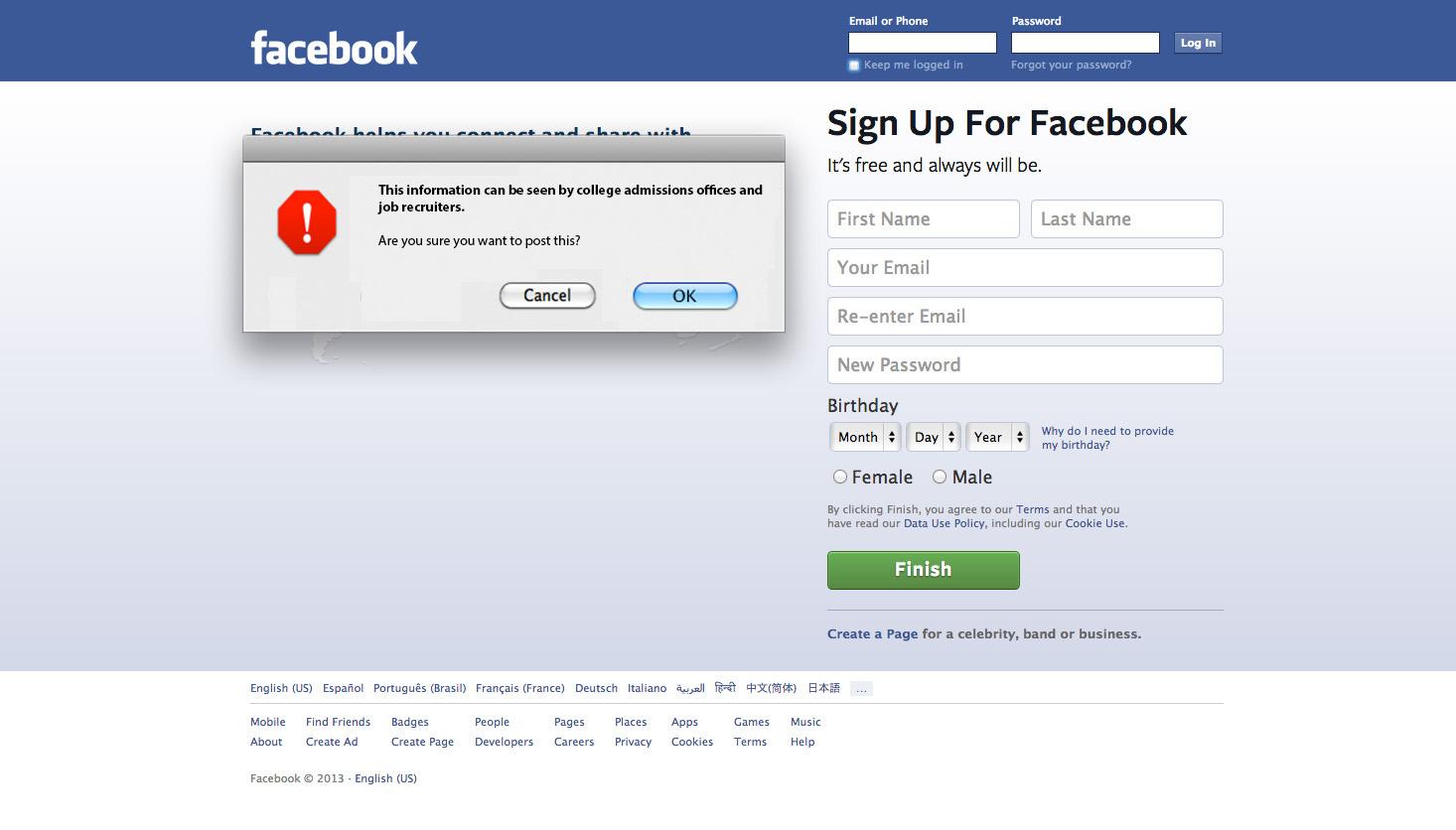 College application season is in full swing and high school seniors across the nation are pining to distinguish themselves in the hopes of impressing the schools of their dreams.
But with the possibility of admissions officers now background checking their applicants, the bar has been set significantly higher.
The possibility of colleges Google searching and Facebook profile checking has been discussed for quite some time but a recent press release by the Kaplan Test Prep proves the rumors right.
According to the survey, 31 percent of colleges surveyed said that they background checked their applicants, a considerable jump from the 10 percent that did in 2008, and 30 percent of the admissions officers found something in the searches that negatively impacted the applicant's chances.
The reason behind this sudden increase in background checking is credited to the ever-increasing use of social media among young adults.
"This is an issue Kaplan has been following since 2008 […] There's really been a drastic rise in social networking and that creates many channels of information," said Russell Schaffer, senior communications manager for Kaplan.
"Now everyone can take videos, pictures, and pop it online. Now, instead of just receiving test scores and polished applications from the students, admissions officers have access to everything online," he said.
Foothill parent Dr. Rose Hayden-Smith, an educator who advocates the importance of a professional digital footprint to other parents, also stresses the significance of keeping a clean technological slate.
"I worry more about it [social media use] now than I used to because I have a teen who is using these technologies. I also worry because I see things posted that I fear will come back and haunt them later," Hayden-Smith said in an e-mail. "Be positive. Create positive messages. Think about what you want to project about yourself."
The California State Senate has responded to the growing online community and its permanence by passing SB568, a bill passed into legislation and signed by the governor in September. Nicknamed the "Eraser Bill,"  the  law mandates that all websites must allow California minors to delete the content they post.  
While some colleges and universities are strongly following the practice of social media searching, other schools are continuing to rely on the traditional application process and do not feel that it is necessary.
Ventura Community College doesn't screen its applicants, nor do any of the community colleges in the state, said Susan Bricker, a registrar at Ventura.
"We never discussed [background checking] as a possibility but it may happen in the future. It just hasn't seemed necessary," Bricker said.
Other college representatives who visited Foothill's campus last week mentioned that they do not conduct background checks either.
"We don't do it because we get all the information for the admission process through their application,"admissions counselor Maria Mejia of Mills College said. "I don't see why we would need to. It's not in our plans to do so."
Others said there simply isn't enough time to check all of the applicants' internet history.
"We receive about 5,000 applications a year […] so it's hard to do that background check unless you're looking at one of the more selective schools," said Senior Admissions Officer Erik Coloma of St. Mary's College. "There's really no opportunity for us to do it or time for us to do it either."
 [soundcloud url="https://api.soundcloud.com/tracks/119664088?secret_token=s-Jq4x5″ width="100%" height="166″ iframe="true" /]
 Nonetheless, students watching what they post and keeping a clean digital footprint impacts them on all aspects of life.
"I think it's very much about treating it as a professional space," Mejia said. "There's certain things you don't do when you meet a college rep from a school that you're interested in going to as well as there are certain things that you just don't do [on social media] when you want to be perceived as someone who is professional." 
Social media itself can also be used as a tool for students to distinguish themselves from their peers by posting their impressive experiences.
"I believe that young adults have great expertise, experiences and ideas to share […] If you're involved in a community service activity, document it with photos and text. Maybe you're a writer or photographer and tell stories about yourself that way," Hayden-Smith said.
Schaffer reminds students that, ultimately, it's up to them as individuals to watch what they put online.
"Think now, post later," he said. "You don't have to share everything and just managing your private settings can go a long way to protect your digital footprint. Be really smart what you post online and remember that you have control."