Rachel Horiuchi: Nine years of dedication to figure skating (video)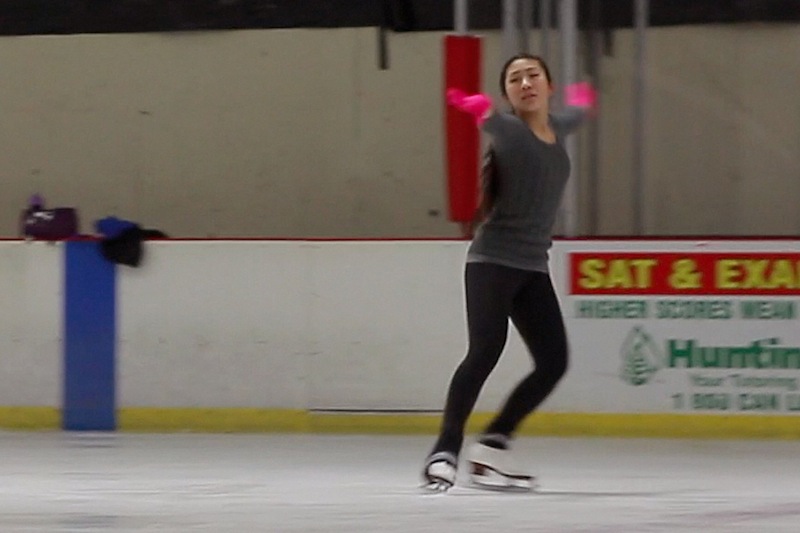 After getting on the ice for the first time when she was seven years old, sophomore Rachel Horiuchi instantly found her passion in figure skating.
As a young girl, Horiuchi had a difficult time picking a sport she was interested in. Before figure skating, Horiuchi tried out a number of different sports, such as soccer, swimming, ballet, gymnastic, but none of them interested her.
She was first introduced to ice skating by a couple of family friends.
"I heard they were skating and they took me here for the first time and I fell in love instantly and I didn't want to get off. I was doing laps and laps on the rink. It was a great experience," she said.
Horiuchi, who figure skates at Channel Islands Ice Center, attends dance classes in studios there as well, which helps improve her flexibility and techniques. She takes ballet and jazz, along with musical theater, lyrical, contemporary hip hop, and several other styles of dance.
Memorizing routines and spending hours a week in the rink can be draining, but Horiuchi believes it's part of participating in a competitive sport.
"Being very involved in this sport does take a lot of time out of your daily life, but that's just the sacrifice of any sport," she said.
Although figure skating is a stressful sport, over the past year, Horiuchi has learned to control her emotions and to stay calm. Keeping up with her schoolwork can be difficult, due to amount of hours spent at the rink, but she feels that it's just another sacrifice of being athletically involved.
"I skate so many days a week, sometimes it is very, very hard to keep up with school, [making] sure I have all my school work done," she said.
Over the years, Horiuchi has collected many gold and silver medals, but one of her best performances, in her opinion, was at her very first regionals competition.
[soundcloud url="https://api.soundcloud.com/tracks/118939472″ width="100%" height="166″ iframe="true" /]
Whenever her nerves kick in before a competition, Horiuchi likes to engage in conversations with her fellow skaters as a way to distract herself from it.
"I tend to get a little talkative, it helps me not get nervous. Other people might put in headphones and just like sit down and focus entirely on their program, but that would just make me go nuts," said Horiuchi.
After skating for almost nine years, Horiuchi's team and her coaches have become like a second family to her.
"I think it's because every time I'm on the ice, I remember how I felt when I was younger," she said. "I can see how much I improved and how much I've been able to bond with people here, and it's great knowing that I have a separate family here."
Credit: Kazu Koba/The Foothill Dragon Press