Foothill seeking to become AVID Demonstration School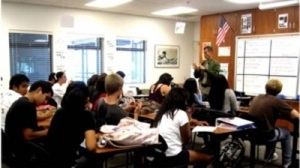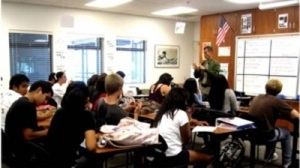 Foothill Technology High School has long been a school that prepares its students for college, and becoming a national AVID demonstration school is the next rung in the ladder of prestige. AVID represents Advancement Via Individual Determination and is a program long a part of Foothill's curriculum. Though AVID techniques have been incorporated in teachers' lessons for many years, many students are unaware of what AVID is.
"You've got to know that AVID means college ready," says Mrs. Duston, in response to many students believing AVID was only for students whose parents didn't go to college. "AVID teaches strategies needed to be successful in college."
And AVID isn't just for the students in the elective classes offered at our school; it's integrated into how every teacher instructs every student. Some of the AVID strategies that are common terms to all Foothill students are Cornell note taking, question levels, Venn diagrams and Socratic seminars.
Very few schools ever become AVID Demonstration Schools, and each one must represent the perfect model of AVID in all areas: the classrooms, the students and the activities.
When asked what makes Foothill a great candidate for becoming an AVID demonstration school, AVID coordinator Mr. Jason Dinkler answered that within the classrooms there must be a "high level of academic rigor" and that "writing is something that is a strong component."
Foothill AVID classes live up to the AVID mission statement, but rigorous courses are only one part of the desired AVID characteristics within demonstration schools that the representatives will be looking for at Foothill.
"I think we are up to the standards." Dinkler noted.  Foothill really does prepare every student to be ready for college and even in the past year every AVID senior was accepted into a four year college, he said.
AVID club president Gabriel Fregoso describes AVID as "helping students through the struggle to get to college."
The main reason for becoming an AVID demonstration school is to share with other schools the ways our AVID classes help Foothill students to become ready for college and to learn their ways as well. Also, as an AVID demonstration school teachers at Foothill will be funded to attend AVID training seminars. The money usually spent to send teachers will be spent on furthering AVID student opportunities.
And so as December approaches, Foothill prepares for the AVID visit and continues to provide its students with the tools they need for college.
Photo: Mr. Jason Dinkler instructs upperclassmen in an AVID course. Photo by Elizabeth Roemisch.