Seniors present Dragon Talks across campus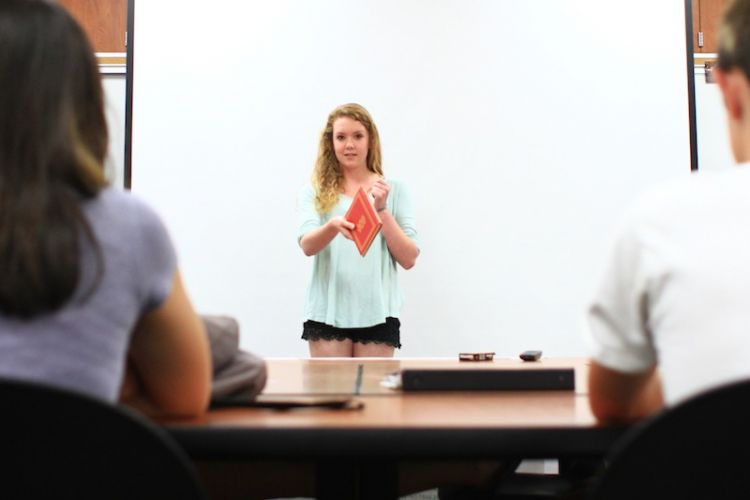 [dropcap size=dropcap-big]S[/dropcap]eniors wearing everything from a girl scout uniform to an explorer outfit took over every classroom on campus today as part of the new senior project titled Dragon Talks, Foothill Technology's version of TED Talks.
While in previous years, seniors have had to make an end of the year presentation called Hero Projects about a community service opportunity that they were a part of, this year, seniors were able to speak about anything that they were passionate about.
Senior advisor, Melanie "Captain" Lindsey, thinks that while the Hero Projects were more beneficial to the community, the Dragon Talks may be more beneficial to the students themselves.
"The whole point of this was for them to be able to step outside of the conventions of education and explore a passion," she said. "It's almost like a passion project, where they take something that they are truly passionate about and then are able to investigate that for the entire year or explore that or participate in that."
The seniors started presenting their Dragon Talks to their English classes a few weeks ago. Today, they presented to freshman, sophomores, and juniors alike, typically speaking in three or four classes throughout the day. Their speeches included a Powerpoint or Prezi presentation, and were supposed to be around ten minutes long.
The talks covered a wide variety of topics, ranging from sad, to funny, to inspiring, by telling a personal story or experience and enlightening the class on an issue.
Some of these inspirational speeches included one about how communication and public speaking should be key in our society by senior Marnie Vaughan. Senior Holly Tokar talked about the power of the Paralympics, an event like the Olympics, but for people with disabilities. Also, senior Siena Birdsall discussed ballet as an art form, and the positive and negative effects that it can have on a dancer.
Senior Emily Turnage talked about anonymity on the internet and its psychological effects on people.
"A friend of mine actually received some anon hate on the day that I was thinking about it and I was like, 'Oh, that'd be a good thing to think about,' so that's kind of where I got my topic from," she said.
Some students like senior Grayson Adams brought humor into their presentations. Adams talked about a new craze, typically among teenage and adult males called "Bronies." "Bronies" enjoy watching "My Little Pony," a show usually watched by young girls.
Adams decided to watch the show one day after he heard a friend talking about it.
"There was a sort of complexity to the characters. They actually changed as the show went on. They showed new character traits," he said.
Both students and teachers enjoyed spending a day listening to what the seniors had to say, rather than following a lesson plan, and found the speeches intriguing.
Junior Sophia Cyr said that her favorite was senior Joe Vielbig, who talked about how the past is really the present.
"It was really interesting. It just made you think a lot. He should do voice-overs, like he has the best voice I've ever heard. He did it way more confidently than a lot of the other people that I saw. He transitioned well between slides," she said.
Sophomore Lucas Stowell enjoyed Jackson Tovar's Dragon Talk about greed.
"He talked about how greed was a good thing and most people see it as a bad thing- putting yourself in front of others. That's cool," he said.
Spanish teacher Stephen Perfect was surprised to hear about what some of his students had experienced. Senior Tina Ramirez's talk stood out to him.
"I had her as a freshman and a sophomore and I didn't know that she was going through severe depression, and the courage it took for her to stand up in front of everybody and talk about that, that's amazing," he said.
Lindsey said that many students talked about depression, and hoped that they would pass on a helping hand to any other student battling it.
"We've probably seen eight or nine talks about depression […] I'm glad we have a place for them to be able to talk about something that is such an all-encompassing issue, and they're opening up to the entire campus," she said.
English teacher Jennifer Kindred was impressed by the seniors' ability to connect with the students in other grades.
"I think that in most cases, students really took pains to consider their audience," she said.
Overall, audiences in every classroom said that they enjoyed hearing about the seniors' passions and experiences.
"We have the potential to reach other kids who have been dealing with the same issues and it might give them hope […] so that they don't feel so alone. So if each senior reaches one other person today, it was a success," Lindsey said.