Syrian American protesters rally at government center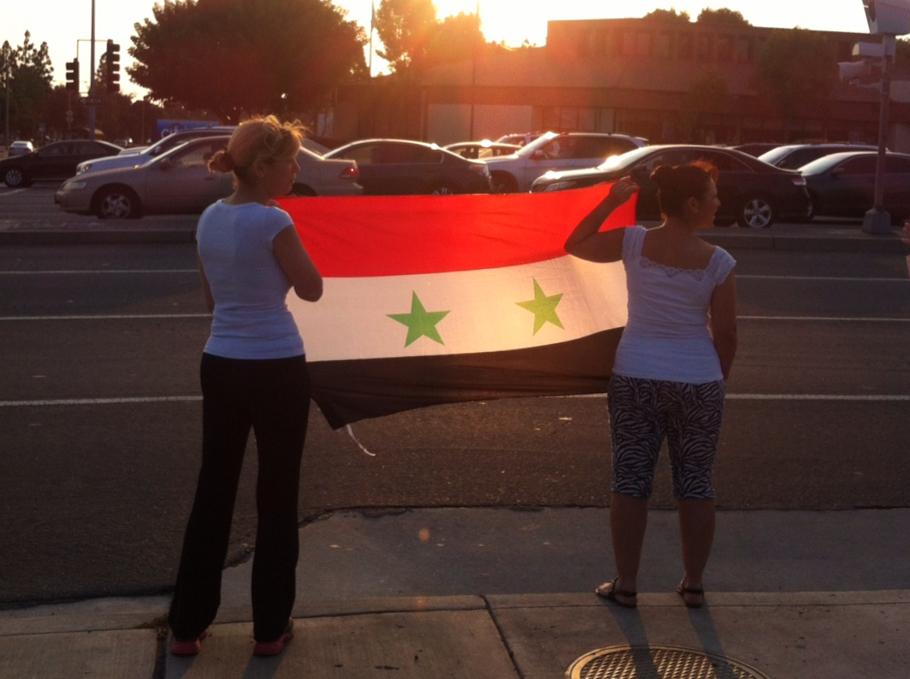 More than 200 people gathered along the streets surrounding the Ventura government center Tuesday night with children as young as three to adults of all ages holding banners, flags, and posters, hoping for onlookers' support. It was their second day of protest against the United States becoming involved in the conflict in Syria
As the microphones were passed around the leaders of the protest, the rest of the crowd chanted "the people united will never be defeated," "peace in the Middle East," and "hands off Syria."
The younger generation of Syrian Americans contributed to the crowd's energy and enthusiasm. Eleven-year-old Mary Hajjar was in charge of making posters for her family to wave.
"I'm really sad. Why are they doing this to us when we didn't do anything to them? My family in Syria tells us that they hear really loud noises and are really scared about what's happening," she said.
Unaware of the entirety of the presidents plans, six-year-old Christophe Issa still understood what changes could soon occur for the rest of his family in Syria. Issa said he would like to relay one message to president Barack Obama, "Don't kill my family."
Dina Abdolhai, a junior at Saint Bonaventure High School, was also very adamant about promoting the message of peace. Abdolhai travels to Syria every summer and does not want to see a place filled with people she loves in harm's way.
"America doesn't have firsthand experience with what is happening in Syria. You see it as this evil place, but everyone is like family and loves each other. If we go, we are going to kill more people than we'll save," she said.
Among the Foothill students who were in support of the protest were seniors Merai Dandouch and Janile Dabbous, and junior Naja Hawara, who all have families personally affected by the Syrian conflict.
Learn more about the Syrian crisis and views on the Assad government by clicking on mini-feature stories on three Foothill Syrian-American students Merai Dandouch, Janile Dabbous and Naja Hawara
Foothill junior Jakob Gossett joined in on the protest as well, despite not having any personal connection to the Syrian people. He views the issue as a problem that should concern the world, not just Syrians.
"I don't care what nationality it is, what's wrong is wrong. Killing more people makes no logical sense. I'm here to support them because I believe in what they are saying. I wish more people did too," he said.
Also hoping more people would also take interest in the cause was Ed Latiif, who brought all five of his children to the rally.
"I want to get the American people's attention to not send their kids to war that does not concern U.S interests," he said. "I would send all five of my kids to fight for the U.S but not for a war like this."
Vietnam veteran Gabriel Serrano has dedicated his life to protesting against wars since 1979. Similar to Latiif, Serrano believes firmly that the United States should not involve itself in the Syrian conflict. Serrano belongs to the Veterans for Peace chapter in Ventura and writes for the War Crimes Times. His mission is to advocate for peaceful solutions and has protested against nearly every potential war the U.S wants to engage in. Syria has been no different.
"It is a conflict that only Syrians can resolve, without the help of superpowers who abuse their powers," he said. "I believe the U.S and Russia should remove themselves completely. What's taking place is a potential Iraq."
As the traffic of cars continued to honk by and the sun set, protester Catherine Myers began to light candles to place around the flagpole in front of the government center. Security guards abruptly came and asked protesters to move away from the area and blow out the candles. Some people in the crowd shouted angrily in response, but Myers complied.
"On the eve of 9/11 I wanted to light some candles to symbolize peace. We were able to the first day of protesting without being harassed by anyone," she said. While Myers's intentions weren't able to be carried through she continued to wave her sign wanting to raise awareness for her feeling about U.S involvement.
She said, "I've watched the American government, and I really don't think they care about Syrian people because they have watched the people be slaughtered for two years."
[embedvideo id="74343291″ website="vimeo"]
Credit: Ana Bello/The Foothill Dragon Press