Finnish exchange student Maija Saarinen feels welcome at Foothill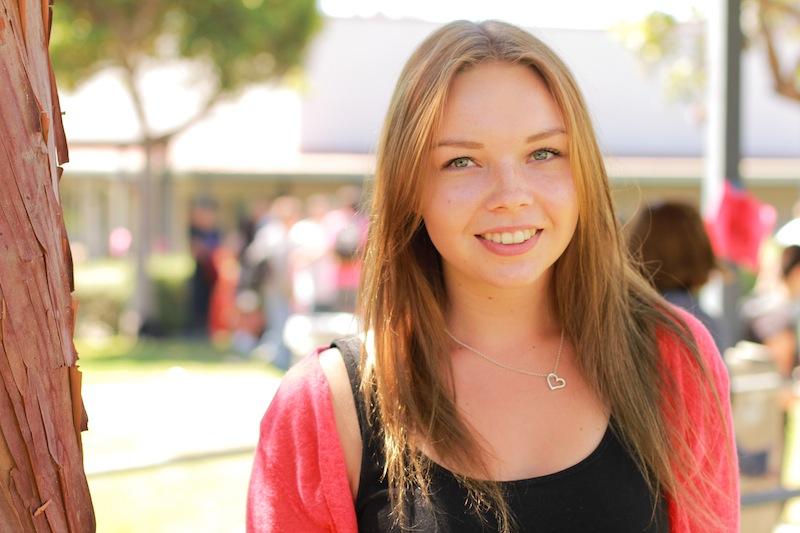 Finishing her senior year in the United States was not in exchange student Majia Saarinen's initial plans. A week after leaving Finland, Saarinen had to manage the first day of a new school in a language foreign to her. Knowing only her host student, junior Ben Newman, she quickly had to meet all of her new classmates.
"I was very nervous the first day and not sure how it would be. My school in Finland is very different," she said.
 The differences for Saarinen included different types of classes, languages spoken, and even the way students socialize with each other.
 "If someone from here was going to Finland, then its going to be a shock. People [in Finland] aren't as social or smiling as much as Americans," she said.
 Saarinen has also gotten used to socializing with her peers, despite the language barrier. She currently speaks Finnish, Swedish, and French and is taking Spanish as a class as well.
 "It's very weird but getting better. First I have to translate in English, then in Spanish, which gets confusing," she said.
Saarinen has grown to love her drama and English classes, which are both taught by Karen Rodrigues.
 "She already seems like the type of person who is enthusiastic and really cares about school. And she has a beautiful heart and a beautiful face. So it's a great combination," Rodrigues said.
 Saarinen's enthusiasm for school and learning more about different cultures raised her interest in the ASF exchange program. Through it, she connected with Newman and his family.
 "I thought about wanting to go to Australia at first, but wanted to come to United States to improve my English," she said.
 Newman was happy to hear that Saarinen would be staying with him and already sees her as a new addition to the family.
 "Having an exchange student is like having a sibling, except they want to be there and like to hangout with you," he said. "She is transitioning very well and is good at making friends and meeting new people."
 She easily found herself immersed in her new family and their Ventura lifestyle. From going to the beach to attending the fair, she has enjoyed her new experiences.
 "It's a very dark and cold winter in Finland, and here it's really nice," she said. "We went to the fair and it was like so many people and fun."
 The differences in language and culture interest Saarinen enough for her to consider making the United States her permanent home. With aspirations to continue to travel and go to college here, she wants to learn as much as possible.
 "I think she is going to be quite successful because she already has turned in papers which are quite extraordinary for somebody who speaks English as a second language," Rodrigues said.
 Even with different course material and classes, Maija hopes to complete the year as a part of the 2014 graduating class. Two weeks have already influenced her to continue her education in the United States.
 "I'm going back to Finland in July but I want to graduate here and come back. It's my dream to keep learning in America," she said.
[alert type=alert-red]Listen to Maija speak Finnish here.[/alert]
[soundcloud url="http://api.soundcloud.com/tracks/109821392″ params="" width=" 100%" height="166″ iframe="true" /]
[alert type=alert-red ]Listen to Maija translate into English here.[/alert]
[soundcloud url="http://api.soundcloud.com/tracks/109821044″ params="" width=" 100%" height="166″ iframe="true" /]