Seniors commit to "Finish Strong" (27 photos, video)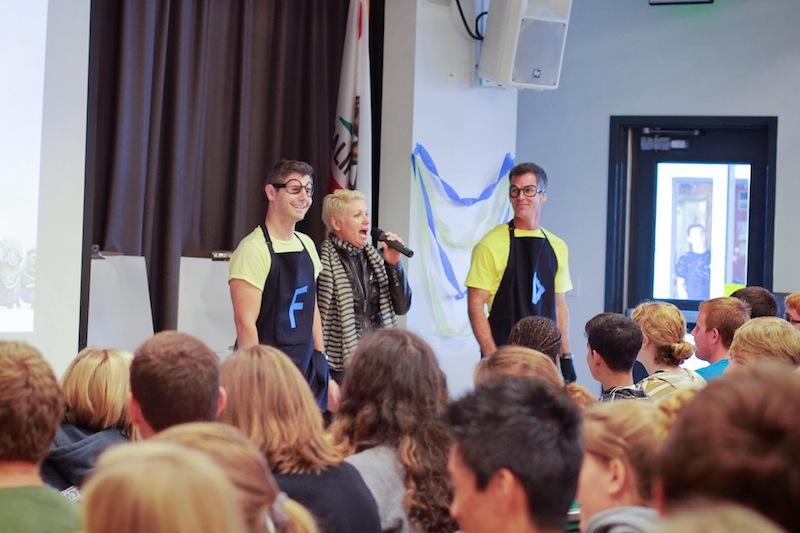 A contagion is slowly but surely spreading across the Foothill campus.
Known as "senioritis," this disease causes seniors to slack off during their last year of high school, and senior adviser Melanie "Captain" Lindsey won't stand for it.
"Life sucks, but you have to learn how to navigate through the poop," Lindsey told the seniors. "Sometimes life throws heaps of it at you and you pray that someone doesn't turn on a fan because you are about to get covered because you aren't done, it's not over, and everyday is a choice."
Lindsey led a Finish Strong rally held in Spirito Hall today during third and fourth period.
The intent of the Despicable Me themed event was to inspire seniors to commit to graduate.
"The point of the rally is just to get people motivated and bring the seniors together," senior class president Anna Cogswell said.
At the event, the seniors were also introduced to the Dragon Talks project.
"One of the things that is so negative about school is that they put you in a box that doesn't allow creativity or innovation," Lindsey said. "This is a chance for the seniors to explore their passions and buy back their freedom.
Modeled after TED talks, Dragon Talks are educational presentations written and presented by Foothill seniors on nearly any subject of their choosing.
Senior Lauren Pederson is excited about the Dragon Talks.
"I like the Ted Talk idea […] and I already know what I want to do my Ted Talk on," Pederson said.
Senior Hailey Winfield, however, misses the old Hero Project.
"I have seriously been looking forward to [the hero project] since sixth grade," she said. "I was going to do a girls group and it was going to be great."
Lindsey said the switch was due to the "whining" of previous seniors over the community service required for the Hero Project.
"Many of them did not see the power of service […] and we were aware of the irony that it was sort of forced altruism," she said.
The new project is in line with the actions of large companies like 3M and Google.
Just like Google allows its employees to spend 20 percent of their time pursuing their own interests, a senior's Dragon Talk will account for 20 percent of his/her grade.
For seniors, this is the opportunity to research something they truly care about.
"You've spent years in school following a prescribed curriculum learning about things that you may or may not care about and may or may not remember," Lindsey told the seniors. "Here is the freedom you have always wanted […] this is your passion, your project, your thing, your idea worth sharing."
Credit: Josh Ren & Lucy Knowles/The Foothill Dragon Press
[embedvideo id="74166678″ website="vimeo"]
Credit: Kazu Koba & Lucy Knowles/The Foothill Dragon Press