Class of 2017 commits to graduate (25 photos, video)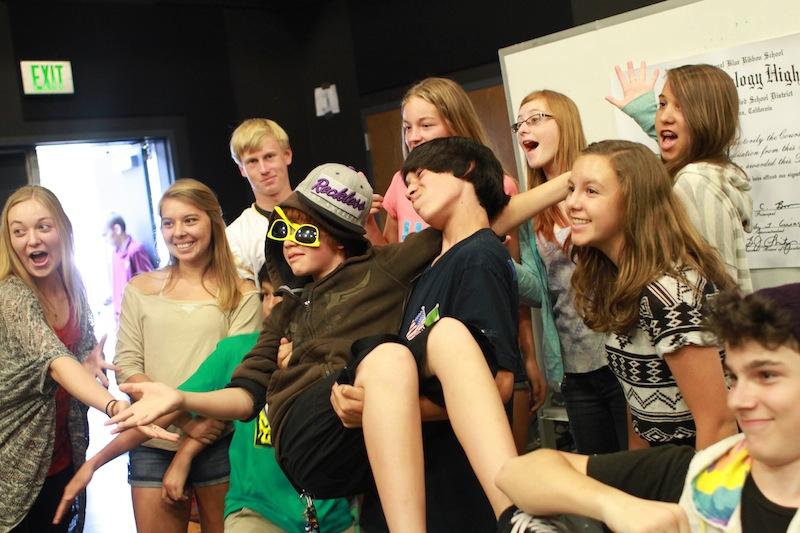 Science teacher Ryan Duston knew that this year there had to be cookies.
Duston brought the treats for the freshmen who attended the Commit to Graduate rally Friday in the black box.
Commit to Graduate is an annual event for Foothill freshmen to help them connect with the Foothill culture and give them a goal in the beginning of their high school experience. The 9th graders take a picture with their FIRE class in front of an enlarged diploma and then sign a cap and gown that will be worn by one of their peers at their graduation.
"We want to try and get them to commit to graduate right off the bat and give them a good strong start," Duston said. "We also want them to create memories because when they look back we want them to think about how hard they worked but also the fun times."
Commit to Graduate is part of Start Strong, a Renaissance program for Freshman that started three years ago. Start Strong activities include monthly raffles in classes and rewards for good grades.
Duston has worked with Senior Class Advisor Melanie Lindsey to connect Start Strong with Finish Strong, the Renaissance program for seniors.
"The idea is that you start strong as a freshman and finish strong as a senior," Duston said. "Just like in the Finish Strong program, freshmen get brag tags that they can use to get goodies and they now get Renaissance cards which they didn't used to get before."
Duston said that, although the first students to participate in Start Strong are currently juniors and have not yet begun Finish Strong, he feels less students are transferring out of Foothill.
Freshman Angel Castaneda said that he thinks the rally may motivate some students to work harder.
"I think it could inspire some people to do better because it gives them support," he said.
Senior and FIRE leader Sarah Jackson said that she hopes the students in her FIRE class will be inspired by the event.
"I hope they understand how important graduating will be for their life path," Jackson said. "When they see the cap and gown, I hope they are excited that one of them will wear it someday."
Credit: Aysen Tan, Lucy Knowles, & Maddy Schmitt/The Foothill Dragon Press
[embedvideo id="73497006″ website="vimeo"]
Credit: Bridget Parrino, Kazu Koba, Emily Chacon, & Ellie Morrison/The Foothill Dragon Press