"Bye Bye Birdie," a magnificent musical mastered by the VHS Theater Department (18 photos)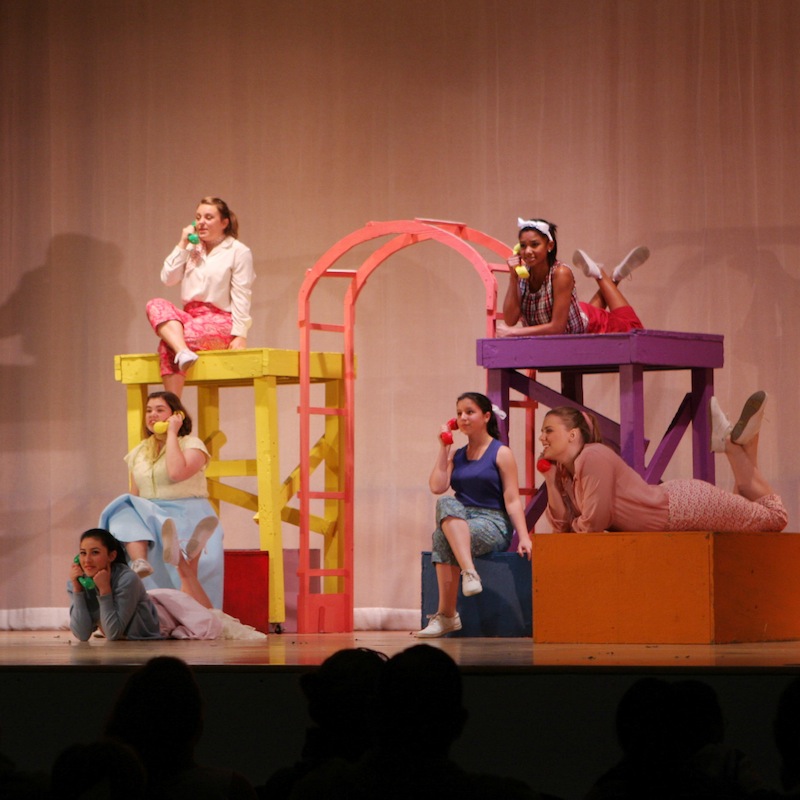 Amazing acting, lively music, and an exuberant atmosphere made the production of "Bye Bye Birdie" at Ventura High School an immediate hit on its opening night of April 25th.
"Bye Bye Birdie" is a classic American musical about heartthrob rocker Conrad Birdie's visit to the small town of Sweet Apple, and the events that unfold to create a love story between a secretary and a manager.
This musical was filled with hilarious scenes, even at the most tense moments. One such scene takes place during Conrad Birdie's welcome ceremony from the Mayor of Sweet Apple, where people drop at the mercy of Birdie's dance moves. Another great scene occurs when secretary Rose Alvarez has a strange visit into the "Private Dining Room."
Ventura High School sophomore Andrew Larson played Rudy in the musical and said, "My favorite part was the Shriners and when I did my cartwheel off of one of the guys."
After practicing three hours a day since February, Larson really enjoyed his first musical and he plans on continuing acting and possibly taking a lead role in the high school's next production.
Senior Christian Bennett played the role of Conrad Birdie in the musical and was very excited to take on this character after beating out hard competition for the spot. His favorite part was the dancing.
"The fact that if I pelvic thrust, someone is told to faint, and if I pelvic thrust towards them they have to faint. That was my favorite part," Bennett said.
He plans to participate in plays at the Rubicon Theatre over the summer and take part in theater in college.
Apart from the serious involvement of the actors, this musical included a strong soundtrack from the orchestra directed by Paul Hunt and excellent singing that was directed by Company's director, Heidi House. This was all laced up into a great package by Stefoni Rossiter, the director and choreographer of the play.
"The performance of the actors was really great. It was fun seeing some of my friends out there doing their thing," junior Austin Duncan said.
The story of star Conrad Birdie's visit to Sweet Apple and its resulting events were magnificently displayed in "Bye Bye Birdie," a wonderful musical that brought together great actors, beautiful singing and a solid soundtrack.